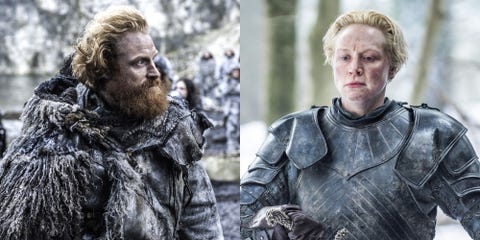 Is it too on-the-nose to suggest convincing your S.O. to dress up with you as a version of another modern power couple for Halloween? We say nay. After all, there's too much meme-ing fun to be had with the power duos of today, whether you're channeling Kendall Jenner discovering world peace or a political throuple.
1
Pennywise and the Raincoat Kid from 'It'
If people can dress their baby up in killer-clown cosplay thinking that it won't affect his development, then you and your person can go as the aforementioned killer clown and his prey. It's cute! Balloons! Variation: Pennywise and the Babadook, still a better romance than Twilight.
Stutterheim, $295
BUY IT: shopspring.com.
2
The "Guy Checking Out a Girl" Meme
Do you like the internet? Wanna buy some memes, kid? Have such a solid relationship that you can joke about one party straying? [The crowd avoids making eye contact.] Or you could just like memes.
Gap, $30
BUY IT: gap.com.

This will be one of the most popular costumes this year, but if you really want to.
Target, $38
BUY IT: target.com.
4
Kendall Jenner and the Pepsi Policeman, the Adam and Eve of World Peace
I think it'd be really fun to be the Pepsi can, but probably more feasible to pick up a policeman costume, while the other person does some sort of Canadian tuxedo and "I really thought this would go over well" routine.
Smoke x Mirrors, $245
BUY IT: smokexmirrors.com.
5
This Completely Neutral-Feeling Meeting of World Leaders
6
Tormund and Brienne of Tarth
Could easily be expanded into a massive group costume, but any combination will do, provided zombie Taylor is included.
Spirit Halloween, $13
BUY IT: spirithalloween.com.