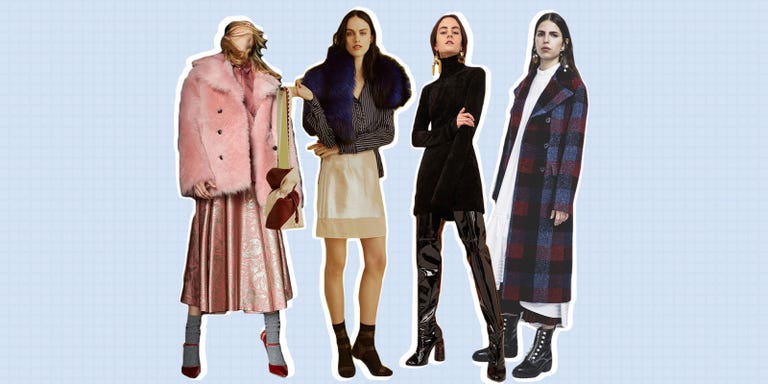 Courtesy, design by Betsy Farrell
Although the fashion industry is changing into more of a see-now-buy-now business, as it is, we're still being shown swimsuits in February and down coats in July. (#supplychainproblems) That, combined with a near universal hatred for winter, means we're all itching to go ahead and start wearing our warm-weather gear. Here, seven flexible outfits that work for practically any time of year, and exactly how to make the switch from season to season.
1
The Non-Threatening Version of "Dress Over Pants"
From his extremely wearable, extremely smart pre-fall collection, Phillip Lim brings us perhaps the most doable iteration of the dress-over-pants look yet. Take one long dress, one pair frayed, cropped jeans, and one pair boots a Dickensian orphan might steal from the vicar's niece or something. In the cold, you get extra insulation (could even add tights underneath the denim) and visual interest; in April, remove pants (ahhhh) and coat, keep the shoes.
2
The All-Year-Round Mini
People might shy away from exposing their knees to the wintry mix, but the miniskirt is highly adaptable as long as you've got quality leg-wear, preferably fleece-lined. For now, warm up this shivery-looking DVF ensemble with the aforementioned stockings, a tissue turtleneck under the shirt, less spindly shoes, and a good, long coat.
3
The So-Many-Layers-I-Can-Do-Anything Look
Let's break this Gucci masterpiece down, shall we? Closest to the epidermis, we've got a shirt with a gem-encrusted collar, a stripe-y sweater over that, then a bed jacket. With the cable-knit socks and tall boots, that ought to be enough fabric to get you through the changing of the seasons, when you can remove the jumper and tag in a pair of mules.
We've never met a monochromatic look we didn't like, especially when it's in the pink of un-renovated 1970s bathrooms. Here, Rochas has one of the prettiest old-new outfits a modern girl could wear: a full, pleated skirt, proper-lady blouse, and a double-breasted fur. Nix the chubby and socks when temps rise, and maybe mix it up with a slogan T and some sneakers instead.
Loved the group sittings at Marco de Vincenzo, but direct your eyeballs to our friend on the right, who has my next haircut, by the way. Another season-less workhorse, the slip dress can cover all sorts of thermals and ugly long underwear *and* stand on its own (with a pair of slides) when the world is sunny and welcoming once again. As pictured here, it can even make snow boots look cute.
While we're on the topic of footwear with traction, another popular, practical styling trick we're seeing is the use of boots as a tights replacement/supplement to a dress too abbreviated to stand alone in the cold. Ellery's, seen here, are high-shine (in the style of Now).
We don't have to tell you how to wear a top and jeans, but do keep in mind that layering can go both over and under, socks are the new midi rings, and capes, as seen here at Stella Jean, are criminally underrated.