7 Spring Outfits to Start Wearing Now Even Though You're Still Freezing
And wear again (sans layers) next season.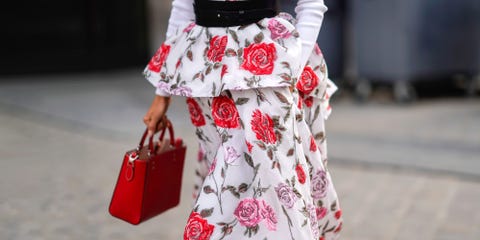 Although the fashion industry is evolving into more of a see-now-buy-now business, as it is, we're still being shown swimsuits in February and down coats in July. That, combined with a near-universal hatred for winter, means we're itching to wear our warm-weather gear now. Here, seven flexible outfits that work for practically any time of year, and exactly how to make them work season to season.
1
The Non-Threatening Version of "Dress Over Pants"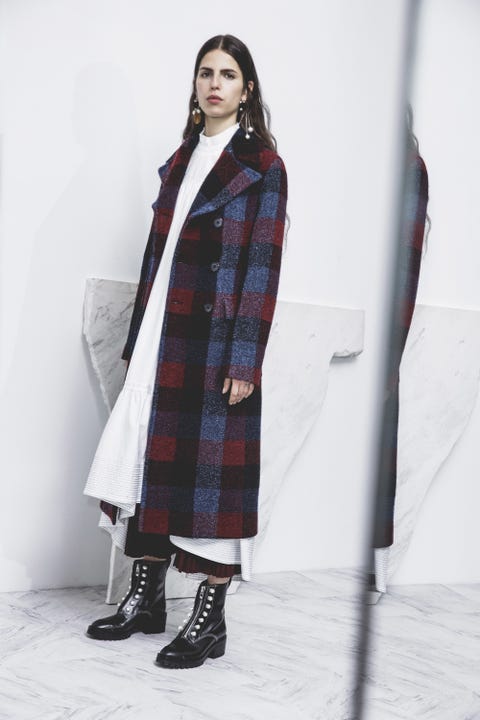 Take one long dress, one pair frayed, cropped jeans, and one pair boots a Dickensian orphan might steal from the vicar's niece. In the cold, you get extra insulation (could even add tights underneath the denim) and visual interest; in April, remove pants (ahhhh) and coat, keep the shoes.
Shop similar:
Urban Outfitters dress, $40
Topshop coat, $170
Dr. Martens boots, $135
2
The All-Year-Round Mini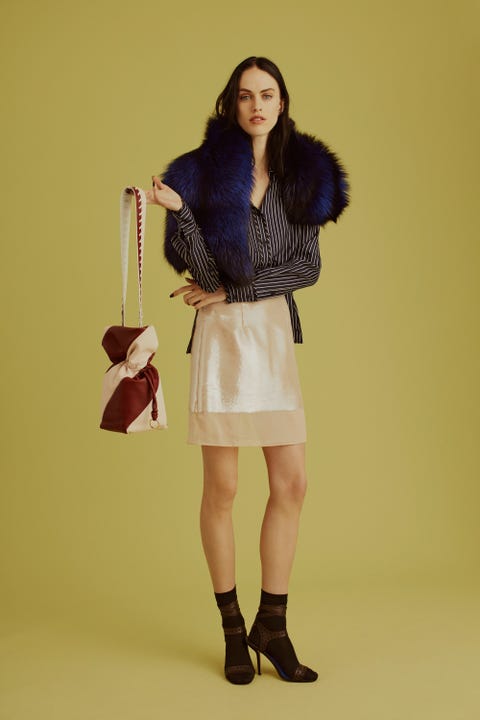 People might shy away from exposing their knees to the wintry mix, but the miniskirt is highly adaptable as long as you've got quality leg-wear, preferably fleece-lined. For now, warm up this shivery-looking DVF ensemble with the aforementioned stockings, a tissue turtleneck under the shirt, less spindly shoes, and a good, long coat.
Shop similar:
Zara shirt, $40
Ban.do skirt, $194
Ted Baker coat, $575
3
The So-Many-Layers-I-Can-Do-Anything Look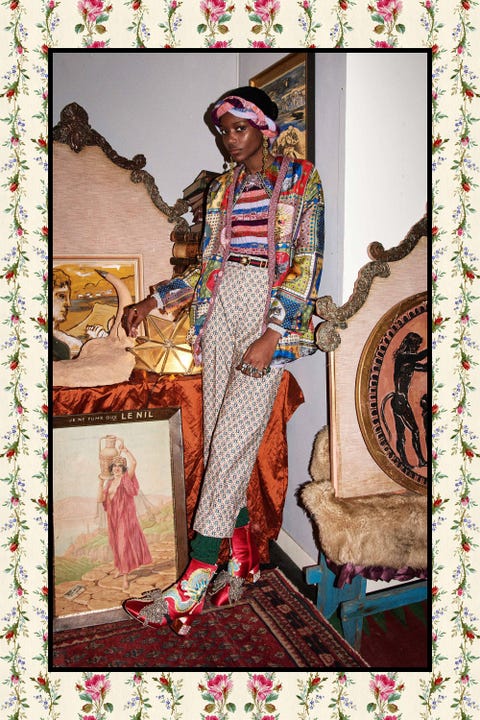 Let's break this Gucci masterpiece down, shall we? Closest to the epidermis, we've got a shirt with a gem-encrusted collar, a stripe-y sweater over that, then a bed jacket. With the cable-knit socks and tall boots, that ought to be enough fabric to get you through the changing of the seasons, when you can remove the knitwear and tag in a pair of mules.
Shop similar:
Everlane sweater, $38
Madewell, $148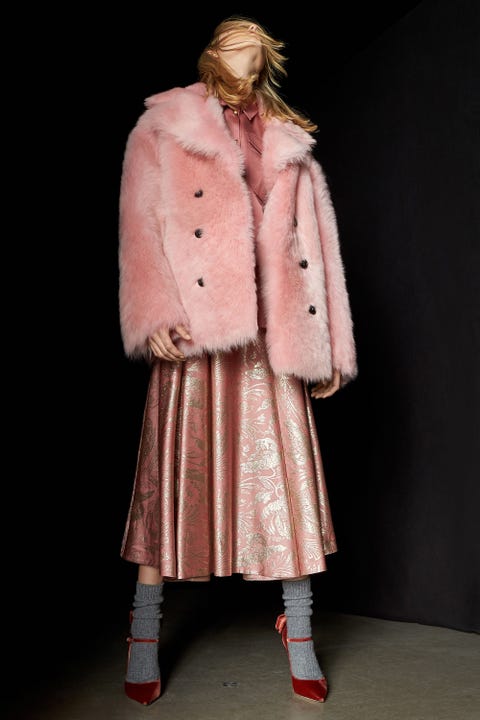 We've never met a monochromatic look we didn't like, especially when it's in the pink of un-renovated 1970s bathrooms. Here, Rochas has one of the prettiest old-new outfits a modern girl could wear: a full, pleated skirt, proper-lady blouse, and a double-breasted fur. Nix the coat and socks when temps rise, and maybe mix it up with a slogan T and some sneakers instead.
Shop similar:
Willow & Clay coat, $109
ASOS skirt, $45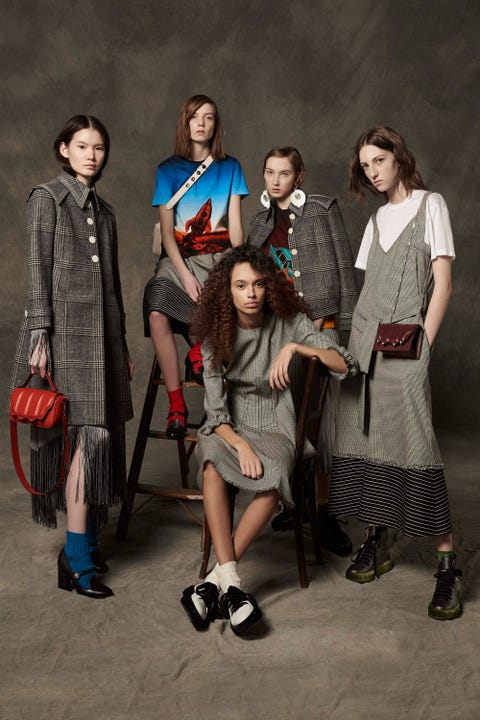 Direct your eyeballs to our friend on the right: Another season-less workhorse, the slip dress can cover all sorts of thermals and ugly long underwear and stand on its own (with a pair of slides) when the world is sunny and welcoming once again. As pictured here, it can even make snow boots look cute.
Shop similar:
Rag & Bone slip dress, $175
Madewell shirt, $20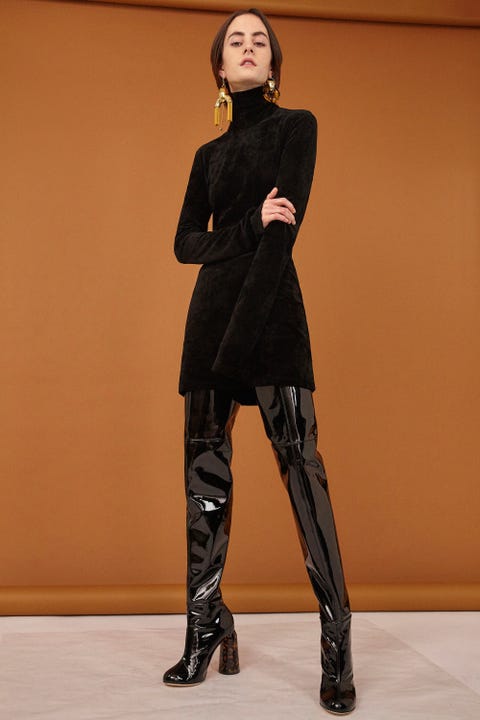 While we're on the topic of footwear with traction, another popular, practical styling trick we're seeing is the use of boots as a tights replacement/supplement paired with a dress too short to stand alone in the cold. Ellery's, seen here, are high-shine.
Shop similar:
Tom Ford boots, $2,190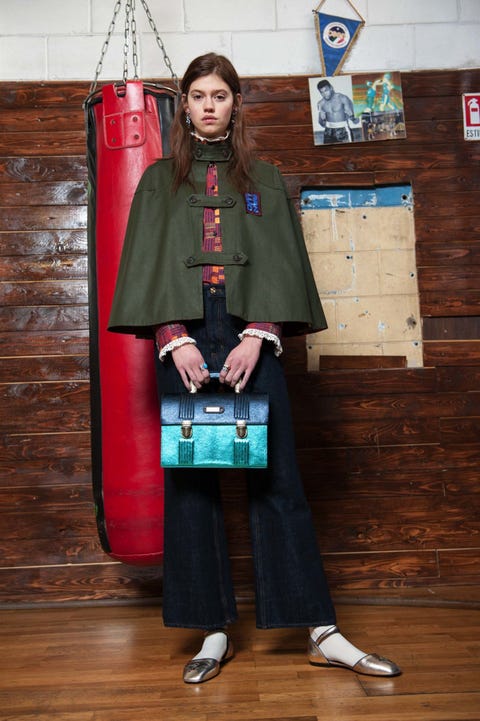 We don't have to tell you how to wear a top and jeans, but do keep in mind that layering can go both over and under, socks are the new midi rings, and capes are criminally underrated.
Shop similar:
J.Crew cape, $430
DL 1961 jeans, $89
This content is created and maintained by a third party, and imported onto this page to help users provide their email addresses. You may be able to find more information about this and similar content at piano.io