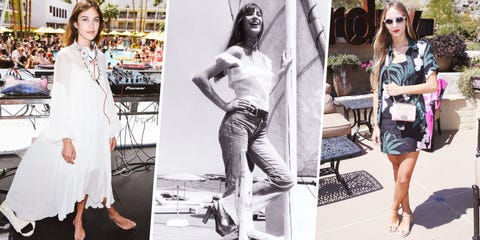 Some people like Paul Rudd have the luck to look moderately the same all their lives; others have to endure fluctuating weight and even more mercurial hair. But whatever nature has given you to work with, the deficit can be filled with clothes. So for Coachella, an event practically invented for exceeding your phone storage, we've put together seven outfits that will stand the test of time.
Camp Shirt + Matching Dress
The Prada way of styling a camp shirt is a bit hard to manage in the desert (no pencil skirts or pumps for me, please)—unless you go the Harley Viera Newton route with a minidress and sandals. You've still got the beach-holiday vibe with the breeziness of not having to wear trousers. Ahhhh.
The Photographer-Bait Dress
Alexa Chung worked the heck outta this Chloé number, and so should you, once you settle on your peacock-ing strategy. We'll always prefer more, twirly fabric than less, but up to you. (Think of the future children, though.)
There's a reason we still remember this photo of Dree Hemingway, and it's not (just) because of the Dolce & Gabbana chili-pepper print. A bra top and full skirt will never not be flattering, plus it makes odysseys to the Porta-Potty that much easier.
Though if the forecast calls for un-Indio-like rain, or you're heading to Glasto or any of the other 20,834 festivals with mega lineups this year, think Kate Moss, festival queen. While most of her outfit is utilitarian (denim, Wellies, army jacket), there's still that bit of glam with the lamé top.
As at home on the deck of a sailboat as in VIP, Jane Birkin's peasant top and wide-leg jeans have already stood the test of time. So no need to worry about the grandkids snickering—they'll probably ask if you've still got the bell-bottoms.