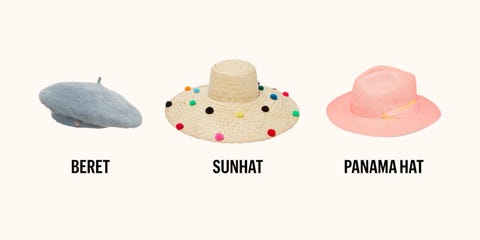 Okay, not completely true, but who doesn't like naming things correctly? While you might already be familiar with deerstalkers and truckers, here, our complete flashcard session of *every* headwear style you need to know, just in case you want something else to lord over your archenemy (but you wouldn't because nobody likes a pedant).
Also known as a snapback for—wait for it—the snaps on the adjustable band in the back. As Anna Suit once said, it's one of the most flattering styles on the face, and these days, can be used to express anything from your allegiance to sports teams and brands to anonymous daddies.
Harding Lane, $40
BUY IT: openingceremony.com.
A knit cap of variable slouchiness that be worn a few ways, including but not limited to, high on the back of the head, down over the ears with the brim turned up, or pulled all the way down but with the brim rolled up so far that it becomes a condom beanie. (Despite its popularity, the last styling trick should be carefully considered.)
Valfré, $14
BUY IT: valfre.com.

HON HON HON. I apologize for that. No longer reserved for caricatures of French people, this jaunty chapeau has made its way into the popular fashion lexicon, thanks to brands like Gucci and Dior. If only there were a universally known measurement at which you could angle a beret to take it from "poseur" to "rakish." Get on it, science side of Tumblr.
Charlotte Simone, $97
BUY IT: charlottesimone.com.
Pretty self-explanatory, but just for clarity, this is a flat-brimmed and -topped straw hat formerly worn by seamen (titters). Usually has a ribbon; would be better if said ribbon were trailing in the breeze as you made someone else row, row, row your boat (not a euphemism).

Lack of Color, $53
BUY IT: lackofcolor.com.au.
Thank you, Liam Gallagher. Having made a recent return to prominence, the preferred headwear of tourists and '90s cool kids fits close to the head and flares out to a discreet, wraparound brim. Kangol makes the standard. A cool/weird outfit makes the effect not unfortunate.
Adolescent Clothing, $35
BUY IT: asos.com.
Had a moment in the aughties, has since retreated back into the ether (only to be resurrected for 1920s-themed events). "Cloche" means "bell" in French, which makes sense because that is what it looks like: a hollow rounded cone thing engulfing your cranium.
Modcloth, $15
BUY IT: modcloth.com.
You know, I think it's making a comeback.
Nasty Gal, $20
BUY IT: nastygal.com.
If you are a man and not a surviving member of the Rat Pack, do not pass go (sorry). Thankfully, the same does not go for women (as much), though a full-on Menswear-Inspired Look can take this into similarly the-2000s-in-a-bad-way territory. Maybe it's the creased crown?
Maison Michel, $600
BUY IT: net-a-porter.com.
Are you on Instagram? Then you've seen this hat, with a puffy body and short bill, on a battleship's worth of influencers.
Brixton, $42
BUY IT: urbanoutfitters.com.
Customarily straw, capacious, protects your part from burning in the sun and peeling and you having to go, "IT'S NOT DANDRUFF."
Nannacay, $76
BUY IT: needsupply.com.
LOL, but they're made in Ecuador? Traditionally woven from a type of local palm, the gates have now been opened to include any palm/straw-like material.
Sensi Studio, $145
BUY IT: net-a-porter.com.
The kind of cake-shaped thing you see on flight attendants and in photos of Jackie Kennedy. Magic, willpower, and ramrod-straight posture is how they stay on.
Jacobson Hat, $12
BUY IT: amazon.com.
Characterized (usually) by an upturned brim in the back. Otherwise just another straw thing with a brim and a band.
ASOS, $16
BUY IT: asos.com.