Plus Size Coats for Fall
Full-figured fashionista Nicolette Mason offers up her favorite coats for fall!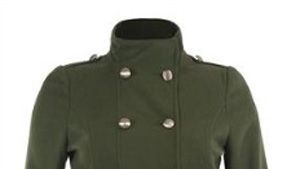 (Image credit: Archives)
If you picked up the October Issue of Marie Claire, you already got a small sampling of some of my favorite coats of the season, but why stop there? Despite the Indian Summer sweeping across the United States, it's October - and with an abundance of Autumnal foliage, pumpkins, and a bevy of store windows filled with boots and warm weather accoutrements, balmy temperatures demanding a sensible coat are inevitable. Check below for even more plus-size coat options! Do you have a favorite? Let me know!
Calvin Klein Double Collar Wool Coat, $209.99, Available at Macy's.
ASOS Curve Coat with Faux Fur Trim, $165.87, Available at ASOS.
DKNY Cascade Ruffle Cashmere Blend Walker, $289.99, Available at Macy's.
MICHAEL Michael Kors Faux-Fur Collar Coat, $350, Available at Michael Kors.
ASOS Curve Heritage Check Cape, $83.81, Available at ASOS.
Talbots Women Blanket Plaid Coat, $289, Available at Talbots.
Evans Grey Textured Coat, $125, Available at Evans.
Angel Ribbons Double Breasted Coat, $110, Available at Simply Be.
Eileen Fisher Asymmetric Zip Coat, $378, Available at Bloomingdales.
Yours Olive Military Coat, $71.10, Available at Yours Clothing.
Evans Light Grey Piped Edge Duffle Coat, $102, Available at Evans.