What Our Editors Are Wearing to Work This Spring
From dresses to accessories, spring into warm weather with these editor-approved staples.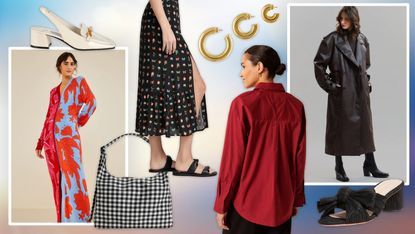 (Image credit: Future)
Warm weather lovers, rejoice: Spring is just around the corner, which means sunshine, al fresco dining, and, of course, the shedding of the many layers we've donned throughout the cold winter months. But while the prospect of pushing our thick outerwear to the recesses of our closets may seem tempting, spring weather can be unpredictable, and therefore difficult to dress for.
Thus, the editors at Marie Claire have rounded up the spring fashion we'll be living in this spring. Scroll on to check out our absolute favorite pieces for this transitional season, along with details on how we'll style them.
Sara Holzman, Style Director
"I'm always looking for great transitional wardrobe pieces for spring, including my footwear. This season, I plan to get great mileage from these Jimmy Choo block heel loafer pumps—the perfect workwear shoe post-boot weather. I'm styling these with a sleek pair of wide-legged black trousers, a blazer, or a midi-skirt, and a T-shirt—either would be perfectly polished as the weather starts to warm up. The mid-heel gives a bit of height while staying practical for everyday wear. I'm not big on changing out footwear for the commute! I love that the gold hardware adds a bit of detail to any outfit without overpowering it." -Sara Holzman
Shop Sara's Look
Emma Childs, Style Editor
"I'll forever be a kitsch-loving maximalist, but I'm starting spring 2023 with the intention of inviting more practical pieces into my wardrobe. I need to balance out my many statement pieces with sensible everyday clothing—and Reformation's Catrina Blazer is where I start my style quest. It's slightly boxy, perfectly achieving the oversized-on-purpose fit I like, and the grayish hue makes it endlessly versatile. Come spring, I'll be layering it over lightweight sweaters (opens in new tab), breezy floral dresses, and quirky vintage tees (hey, I'm still a fashion weirdo at heart!)." -Emma Childs
Shop Emma's Look
Jenny Hollander, Director of Content Strategy
"This spring—and, in truth, every spring—I'll be gleefully slipping back into my Rothy "The Point" flats. (opens in new tab) These chic, comfortable flats can go anywhere and with anything: I've worn them to weddings with long skirts, to brunches with jeans, and to work with...well, still jeans. The only places they can't go: Outside in the winter, by nature of their being flats; and in the dryer, which I learned the hard way after I forgot to pull a pair of mine out after tossing them in the laundry for the millionth time (oh, yes—they're machine-washable). So, come spring and warmer weather, I'll be once again pairing them with everything: I wear my red pair (opens in new tab) to brighten up neutral outfits, my black pair (opens in new tab) as a base for everything else, and, lest you imagine I am anything but obsessed with these shoes, I've already gotten a white pair (opens in new tab) to wear at my wedding this fall. So, yeah, I'll be wearing these to work...and everywhere else." -Jenny Hollander
Shop Jenny's Look
Gabrielle Ulubay, E-Commerce Writer
"We all know that when it comes to spring fashion, florals are far from groundbreaking. Still, I love this midi skirt from Paige for transitional spring fashion. It's covered in a pattern of tiny flowers and butterflies, but its whimsy is offset by its black colorway and by the subtle slit along its right side. I love pairing it with its matching crop top (opens in new tab) on weekends and evenings, but during the work-week, I tend to pair the skirt with a simple black bodysuit and shiny gold accessories." -Gabrielle Ulubay
Shop Gabrielle's Look
Julia Marzovilla, E-Commerce Editor
"It would not be an exaggeration to say that I never take these jeans off. They keep their shape and don't sag or stretch despite days of wear between washes, have the ideal straight leg, and are so comfortable to wear. As in, I wear these in lieu of leggings sometimes. I walk to the office nearly every day so I only buy jeans that won't pinch or feel too stiff as I sit at my desk all day long. Plus, the wash on these is perfect—I can wear them out at night with a going-out-top and heels or with a more casual sweater and sneakers. No other pair of jeans lives up to these, and they are 100 percent worth the investment." -Julia Marzovilla
Shop Julia's Look
Deena Campbell, Beauty Director
"I remember the days of wearing a black dress paired with a red lip to feel confident at work. At the time, black made me feel powerful and ready to conquer the world. That all changed a few years ago when I was introduced to Farm Rio. Now, my mindset has completely shifted. I love wearing colorful pieces, like this cardigan dress, to not only keep me warm but to make an important statement: clothing should always be fun, comfortable, and beautiful." -Deena Campbell
Shop Deena's Look
Samantha Holender, Beauty Editor
"There are two types of people when spring rolls around: Those that hold onto winter-wear like their life depends on it and those that are already one foot into summer. I fall into the latter camp and adopt sandals the second my little toes won't freeze to death. These Loeffler Randall ones are my personal favorites for many reasons. The black makes them season-appropriate, the bow detail adds a little excitement, and the baby heel makes it quite literally the most comfortable shoe to ever exist. I'm not lying when I tell you I walk miles on miles in these little guys. Right now, I'm pairing them with wide-leg jeans, a simple bodysuit, and a cool blazer. But they go with just about everything, so I can't wait to style them with skirts, dresses, and more." -Samantha Holender
Shop Samantha's Look
Neha Prakash, Entertainment Director
"One of my favorite things are jackets for fun instead of functionality (i.e. jackets you want to wear to pull an outfit together instead of needing a jacket to stay warm) which is what makes spring fashion so much more appealing to me than winter dressing. This faux leather trench is perfect for that—while it still can keep you toasty during those brisk or rainy late March/early April days, it also makes any look immediately polished. (It's like the older, sophisticated sister to those leather biker jackets that dominated wardrobes four or five years ago.) I'll be pairing mine with chic wide-leg trousers, a lightweight sweater, and some sunnies all season long while mentally channeling Neo from The Matrix during my meetings." -Neha Prakash
Shop Neha's Look
Lucia Tonelli, Social Media Editor
"Glasses are a wardrobe staple. I repeat: Glasses ARE a wardrobe STAPLE! We cannot continue to treat them as anything but. Like many of my fellow glasses-wearers (a rapidly-growing cohort, it seems), I stuck to the same frame shape for years. Then, I got a pair of JINS's Airframe Slim Oversized style; a pair that's compelled me to take a stand. They're ultra-lightweight (even endorsed by my ENT!), super durable (they survived a recent sat-on-my-glasses incident), and generally very stylish. I'm a gold girl through and through, so my signature stack of gold chains pair with these perfectly. Throw on a crisp black tee for contrast and a pair of patterned pants and you've got yourself the perfect uniform for transitional spring dressing." -Lucia Tonelli
Shop Lucia's Look
Tanya Benedicto Klich, Senior Editor
"I couldn't agree more when Rihanna told Vogue that dressing for postpartum was really difficult (opens in new tab). I am in love with Ingrid & Isabel for designing back-to-the-grind workwear for women at any phase, be it before, during, or after babe. The brand's Tunic Dress from its RTWX line is probably my go-to for days I need to go out and about, be it to the office or meetings around town. This short-sleeve tunic is flowy yet functional; effortlessly comfortable yet undeniably chic. Wear it with pumps, pointed mules, or boots of any length and you're good to go. Top it off with the light wash Mama Denim Jacket (opens in new tab) in case there's an unexpected chill in the air." -Tanya Benedicto Klich
Shop Tanya's Look
Brittany Holloway-Brown, Art Director
"I always joke that I'm a boring dresser—when the right (or more polite) term is laid-back and minimal. I prefer wearing all-black (New York!), neutrals, or jewel tones. I don't like to think too hard. Adornment and accessories have always been much more interesting to me and these Oma the Label Chubby earrings are something I reach for again and again. Not only are they attention-grabbing but incredibly lightweight, making them the perfect everyday earring if you love drama. It elevates the most laid-back outfit on its own or can provide the canvas for a truly piled on look." -Brittany Holloway-Brown
Shop Brittany's Look
Brooke Knappenberger, Editorial Fellow
"A plain button-up shirt is a must-have in my closet for every season. It really is a piece that has endless styling options and proves especially useful for the office. For spring, I love to throw one over a ribbed tank top and pair with chunky necklaces and a denim skirt. On chillier days, I'll button it all the way up and layer a lightweight turtleneck underneath. And If the fall 2023 runways are any indication, red is about to be huge in the upcoming seasons, so I will be adding this Abercrombie shirt to my cart ASAP." -Brooke Knappenberger
Shop Brooke's Look
Jonelle Afurong, Art Fellow
"I have been on the hunt for an everyday tote that doubles as the perfect work bag, and this bag is it. I love that this bag can fit so much, especially my 15-inch laptop, and the zipper gives me peace of mind that everything is secure. When I got this bag, I wanted it to go with everything since my style changes depending on my mood. I didn't want a plain black bag, so I opted for the Black & White Pixel Gingham. It's simple but still stands out as an accessory." -Jonelle Afurong
Shop Jonelle's Look
Gabrielle Ulubay is an E-Commerce Writer at Marie Claire and writes about all things beauty, sexual wellness, and fashion. She's also written about sex, gender, and politics for publications like The New York Times, Bustle, and HuffPost Personal since 2018. She has worked extensively in the e-commerce and sales spaces since 2020, including two years at Drizly, where she developed an expertise in finding the best, highest quality goods and experiences money can buy. As a film school graduate, she loves all things media and can be found making art when she's not busy writing.