The 30 Best Lightweight Summer Sweaters, According to Fashion Experts
From crochet cardigans to short-sleeve polos.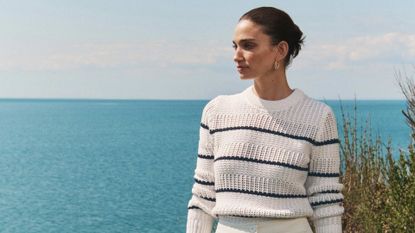 (Image credit: White & Warren )
Marie Claire Newsletter
Celebrity news, beauty, fashion advice, and fascinating features, delivered straight to your inbox!
Thank you for signing up to Marie Claire. You will receive a verification email shortly.
There was a problem. Please refresh the page and try again.
While, yes, warmer weather calls for easy summer dresses, a few pairs of trendy walking sandals, and the very best linen pants, lightweight summer sweaters should not be left off your shopping list. From an open-knit number that lives in your beach bag to a cozy crewneck as part of your summer work outfits since your office's air conditioning borders on the Arctic—the best summer sweaters offer breathability and the perfect amount of warmth, making them the quiet, unsung heroes of your warm-weather wardrobe.
However, there are a few key details to remember when shopping for the best women's sweaters to don during the dog days: heavy-duty wool, for example, is not the material to wear when temperatures are in the mid-to-high 80s. Ahead, the contributing fashion editor and sustainability consultant Mary Fellowes and fashion stylist Jay Hines explain what to look for in a summer sweater, including the best textiles, silhouettes, and brands. From classic pullovers and cardigans to trendier sweater vests and sportier polo-style sweaters, keep scrolling to peruse the best sweaters for summer 2023.
What to Look For in a Lightweight Summer Sweater
Perhaps it's obvious, but it's worth emphasizing anyway: sweaters with less fabric—either a short sleeve, sleeveless silhouette, or a few strategic cutouts—will inherently be breezier. The more skin that's exposed, the less coverage you have, and the easier it will be for you to stay ventilated and cool.
Fellowes urges you to look for "any sweaters that are designed to be worn next to the skin, or just over a simple cotton tank or slip top. That means zero synthetics, as no matter what the brand claims, any synthetic fiber will always be a bit more scratchy and/or sweaty to wear. This translates to silk or cotton blends with some wool if necessary—and absolutely zero polyester, acrylic, nylon, and so on."
Unlike with your winter sweaters, you can't necessarily just throw on a chunky turtleneck or thick cardigan and call it a day. With warm-weather knits, you need to be a bit strategic with your styling, as you want to avoid overheating. Balancing your outfit with breezy pieces is key, Hines shares with Marie Claire. An open-knit number layered over a breezy slip dress or a pullover and mini skirt combo, for instance, are outfits that ensure breathability while also offering as-needed warmth. "For me personally," Hines says, "I love to wear lightweight sweaters and mix them in with shorts. [Summer sweaters] can also be a cool accessory just to tie across your body or your neck."
The Best Summer Sweaters
Pullover Sweaters
Pullover sweaters are fundamental if you're just now building out your cozy collection. A casual crewneck, boatneck style, or plunging V-neck—the silhouettes range and vary, ensuring there's a sweater out there that matches your personal style best. For Fellowes, she already knows the pullover look she'll be wearing throughout summer 2023: "For transitional weather before high summer, the styles that caught my eye this season are all intarsia, which looks like motifs or other graphics in a version of patchwork at first glance. Isabel Marant really nailed it this season with often sporty, mixed textures, and colors," she offers.
Cardigan Sweaters
Next up on the list of the best summer knitwear options? Cardigans. And there's a gamut of silhouette and aesthetic options to try with the open-front style: sleek and barely-there or chunky with tactile bulk. Try a neutral style for the quiet luxury look, as Hines wears: "A nice sweater with a small logo does it for me—no crazy patterns or over-the-top details. One nice neutral color for the summer is my vibe. Fellowes, on the other hand, enjoys maximalist cardigans that pack an impactful punch. She says, "statement pieces can be paired with long, slinky, bias-cut satin or silk skirts and mini skirts or shorts. And when the chill of evening kicks in, reach for jeans or tailored pants."
Open-Knit Sweaters
"The best sweaters for high summer/hotter weather are crochet and open-knit," Fellowes shares. "To the eye, there are deliberate holes that form a pattern and a graphic effect, and they cover up enough to allow air so you get some coverage. They offer the statement of a piece with a strong silhouette and presence but as cool and easy-breezy as a lightweight shirt or t-shirt." Her go-to brand for open-knit boho styles? "Chloé. They're obviously hugely pricey, but if looked after well, they will do great on the resale or rental side," she offers.
Short-Sleeve Sweaters
You don't need always need a hefty, long-sleeve sweater to get the job done—the job being keeping you cozy during a heat wave. Opt for a short-sleeved style if you want a sweater that offers, yes, lightweight coverage, but also more of a casual feel. Consider a polo sweater as a preppy piece with an inherent summer feel (can't you envision wearing the collared style for a July tennis match?). As for how to style your sweater, team it with a pleated skirt for the ultimate prepster-approved combination.
Sweater Vests
Grandpa-inspired sweaters are no more! This summer, try styling your best sweater vests on top of a bralette for a subtly sexy way to show some skin. Or, wear them to the office over a T-shirt to make them feel warm-weather friendly. As for wear to shop, Fellowes has a suggestion: "Sheep Inc. is always my go-to for [summer sweaters.] Not because of any real push design-wise (their look is classic and simple) but because I have spoken at length to the founders and designers and their process, policy, and supply chain are streets ahead."
Meet the Fashion Expert
Creative director, stylist, editor, and now sustainability expert Mary Fellowes has operated in the top echelons of fashion and media for two decades. Based in London, she currently styles leading Hollywood entertainment talent for promo and red carpet while also consulting with fashion and luxury brands on being responsible, ethical, and transparent.
Jay Hines is a global fashion stylist originally from London, UK. He has worked with a range of celebrity clientele, including Paul Bettany, Jaden Smith, Gunna, Eddie Redmayne, Chiwetel Ejiofor, Josh O'Connor, Trippie Redd, and Hit-Boy. In addition to his celebrity styling Hines is a contributing editor at Flaunt Magazine, and has worked with a number of other publications, including Paper, Vogue, Wonderland, and The Sunday Times.
Celebrity news, beauty, fashion advice, and fascinating features, delivered straight to your inbox!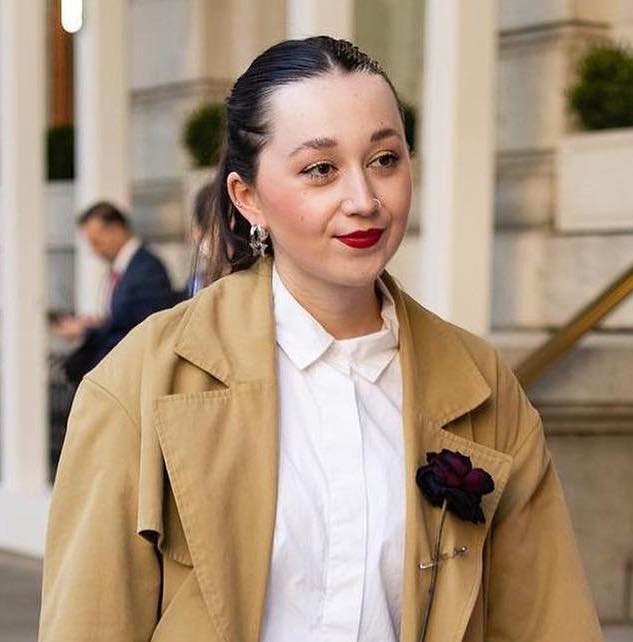 Emma Childs is the Style Editor at Marie Claire, where she researches up-and-coming trends, curates shopping guides, and gushes about the must-buy items she can't stop thinking about. She previously wrote for TZR, Editorialist, Elite Daily, and Mission Magazine and studied Fashion Studies and New Media at Fordham University. When she's not writing up fashion deep-dives or finding the season's best pieces, you'll find her fiddling around in Photoshop and perusing HBO Max for the next show to base her personality on (currently, it's "Succession").