11 Benefits of Eating Breakfast For Dinner
The #Brinner train is leaving the station, it's time to get on board.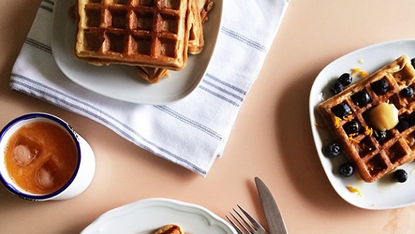 (Image credit: Archives)
I've always been a brunch girl. My friends, past relationships, and earlier writing samples are proof of this. There was also that time that I dressed up as brunch for Halloween.
So when it came to my attention that Krusteaz's most recent survey revealed that a whopping 91 percent of Americans are eating breakfast for dinner, I was intrigued. In fact, 77 percent of breakfast for dinner meals are made with items already found in the pantry or fridge (Naturally. This is how I basically make dinner nightly).
I couldn't help but wonder (in my best Carrie Bradshaw voice-over), "Is #Brinner the new #Brunch!?" If so, it was time to hunker down and give this new trend some careful thought. I took myself to dinner at Soho's newest eatery, Egg Shop, where organic and locally sourced egg sandwiches make up the entire menu. Needless to say, the place was packed and brimming with stylish twentysomethings. Apparently, there's been a quiet crusade of people ditching traditional dinner plates for the eggier variety, and I couldn't be more on board. So, in the name of science, here are 11 reasons why eating breakfast for dinner is absolutely beneficial.
1. Eggs are SO cheap. I mean really, when else can you make a proper dinner with approximately $4.50 in your bank account and whatever cheese and greens are left over in your fridge? Plus, if you eat 2 eggs a night you'll have dinner covered for the entire workweek.
2. There are many options. Maybe eating breakfast for dinner means you don't get your Pad Thai fix until next week, but #Brinner still allows for a huge variety of flavors. There's sweet, savory, and then there's that perfect balance of sweet and savory when your maple syrup accidentally (on purpose) mixes with your bacon and potatoes. And hot sauce.
3. It feels special. Everyone is guilty of spreading out on the couch with Chinese take-out after a hard day of work. But that gets old and expensive. Treat yourself to something out of the ordinary like a lovely portion of poached eggs served atop an even lovelier helping of Hollandaise sauce, with a side of Bloody Mary. It's as close to breakfast in bed as you're going to get on a Tuesday night.
4. It's faster than delivery. You'll be munching down on all that #Brinner goodness in 10 minutes or less while your favorite pizza delivery guy sadly won't ring your doorbell in less than thirty.
5. You'll stop overeating. It's easy to down a whole bowl of pasta and glass of wine in about the same amount of time it takes to get through one rerun of Friends. Studies show that adults typically overeat by 500 calories a day, resulting in nine pounds of extra weight a year. But if you make yourself just two eggs, you're much less likely to reach for seconds (protein keeps you full longer).
6. Because eating bacon shouldn't have time constraints. Why limit your bacon intake to just weekends and special occasions? Bacon is divine and should be treated with the respect it deserves. Don't believe me? Check Cara Delevingne's Instagram and you'll see just how trendy bacon is.
7. Nothing is more comforting than an egg and cheese sandwich. Whether you're going through a rough patch at work or going through a breakup (or both), all your problems will feel less substantial with your favorite breakfast in your mitts.
8. Eggs have tons of protein. Breakfast foods also tend to have fewer calories, and health is important! Just ask my hot yoga instructor Lars. He'll tell you.
9. Because #Brinner is the new #Brunch. Calling all trendy, bottomless, fashion brunch peeps! #Brinner is the new black. And admit it, it's always fun to add a new hashtag to your repertoire. Not everyone can pull off #blessed and #nofilter on every post.
10. You can pile whipped cream on top of your waffles and it's dinner and dessert. And who doesn't love a double-duty deal?
11. Bacon, egg, and cheese is the only threesome you're cool with. Sorry boys, this girl's a one-man-at-a-time kind of gal, but I am readily available for a breakfast a manage trois.
Photo via @TwentyPies, @gouldhallie, @CaraDelevingne
Related:

11 Reasons Twentysomethings Love Brunch

17 Ways You're Eating Breakfast Wrong

Recipes For a Chic Sunday Brunch

Marie Claire email subscribers get intel on fashion and beauty trends, hot-off-the-press celebrity news, and more. Sign up here.
Hallie has worked in beauty editorial for ten years and has been editorial director at Byrdie since 2021. Previously, she was a senior editor at Byrdie since 2016. During her time at Byrdie, she's written hundreds of high-performing stories on skincare, wellness (including fitness, diet, mental health, body image, et al) makeup, and hair. She's a regular on set, helping to source inspiration for makeup and hair looks, as well as interviewing celebrities, models, and other notable women and men in the beauty space.
Before that, Hallie ran Marie Claire's social media and wrote beauty and culture stories for the site, and helped launch Time Inc.'s digital-only beauty brand, MIMI. After college, she contributed to Time Out New York's Shopping & Style section before landing her first beauty editor gig at Hearst's Real Beauty. Hallie's writing has also appeared in ELLE, Cosmopolitan, and InStyle. Hallie graduated with a BA in Communication Arts from the University of Wisconsin-Madison.