Why You Should Be Drinking Soju
The Korean spirit deserves a front-row spot on your bar cart.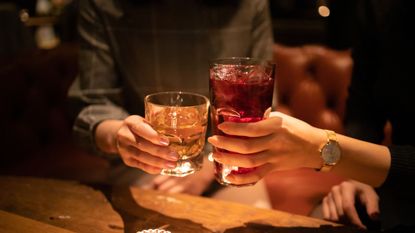 (Image credit: Satoshi-K)
The first time I tried soju was at New York City Korean barbecue spot Takahachi a few years ago. My date and I were greeted with a mysterious peach-infused glass upon entering because our table was still being prepared. I took a sip, and discovered it tasted like an elevated Capri Sun: juicy, fruity, delightfully sweet, and devoid of the boozy sting I was anticipating. I then took about ten more sips in quick succession before we reached our table. Multiple rounds were ordered throughout our meal, and I do not remember dessert. The end!
Flash forward to a slightly more formal dinner on a press trip to Seoul, South Korea in 2018. Myself and my fellow editors have just sat down for some bibimbap, and our host whips out a bottle of cloudy, clear liquid and pours us shots. "Soju!" she chides us, and I freeze. I imagine myself fading into blackness like the last time I indulged in the spirit. But we cheers and throw our glasses back, and I'm met with a different flavor entirely. It's floral and dry, and tastes like booze in the best way. It's transcendent. I sip it for the remainder of the meal, appreciating its complexity. When it's time to go, we end up boosting the unfinished (and paid for!) bottle—we couldn't bear to let it go to waste.
Like many Americans, I didn't know what to expect from soju, a Korean spirit that's been around for centuries.
"It was first distilled in Korea during the 1300s," says Victoria James, Beverage Director at New York City Korean steakhouse Cote. "Historians believe that the Mongols brought the Persian technique of distilling arak to Korea. The word soju means "burned liquor," referring to how the alcohol is distilled at a high temperature." Mild in flavor and typically distilled from rice—though James warns against buying from "green bottle" low-quality producers, who fake the process with chemicals—it's different varieties sit around 16 to 45 percent ABV. For context, that's stronger than beer or wine, but less alcoholic than most vodkas. Flavors can vary and aren't strictly traditional, though historically, natural flavors like plum were often added to temper the taste of alcohol.
While James suggests soju is more for a "karaoke and dancing" kind of night, denoting the alcohol's effect on the palette, the soju-philes at late-night Koreatown jaunt Pocha32 pairs soju in fun, fruity flavors with their belly-busting fare.
"Soju goes especially well with barbecue, strews, and spicy meals. Think iconic dishes like Korean fried chicken or tteokbokki, or rice cakes in gochujang sauce," says Jay, one of the team members at Pocha32. The restaurant combines their supply with honey, Sprite, and fresh fruit for a more whimsical presentation and taste—definitely akin to my first experience with the spirit—and it's easy to accomplish at home. "Typically, it's equal parts of fresh watermelon juice and soju. It may be topped with lemon-lime soda, and is most often served inside a hollow, seedless-watermelon," Jay says says.
New soju drinkers can stick to another traditional Korean bar beverage: Somaek, maekju in Korean, combines soju and beer for a two-ingredient cocktail. The ratio preferred in Korean bars is three parts soju to seven parts lager, and is sometimes served in special glasses that mark the exact pours. The bottom of the glass is tapped with a spoon to trigger the beer's carbonation, which mixes the drink. But whether you'll be mixing drinks or drinking your soju straight, finding high-quality bottles are vital.
"The best bottlings in the US market right now are Yobo, Tokki, and Hwayo, so stick to those," James suggests. And if you're short on another neutral spirit like vodka, you're in luck: one of these bottles can be a great substitute for your old standby in cocktails. I, for one, plan on whipping up a Soju Collins in the near future... and I'll try and remember dessert this time.
For more stories like this, including celebrity news, beauty and fashion advice, savvy political commentary, and fascinating features, sign up for the Marie Claire newsletter.

RELATED STORIES
Taylore Glynn is the Beauty and Health Editor at Marie Claire, covering skincare, makeup, fragrance, wellness, and more. If you need her, she's probably roasting a chicken, flying solo at the movies, or drinking a bad Negroni at JFK.