How To Send A Truly Thoughtful Thank You
It's more than a simple note.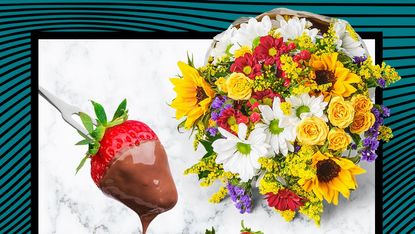 (Image credit: Marie Claire)
Marie Claire Newsletter
Celebrity news, beauty, fashion advice, and fascinating features, delivered straight to your inbox!
Thank you for signing up to Marie Claire. You will receive a verification email shortly.
There was a problem. Please refresh the page and try again.
More than any other type of present, the art of the thank-you gift is all about showing the recipient that time and consideration went into its selection (which is why a re-gift is never a good option). Personalization is essential for handwritten notes, as well. If you take the time to write and express your gratitude—whether it be to a teacher, mentor, or a weekend host—they'll know the sentiments are really about them, and not just a copy-and-paste job.
When determining how to say thank you beyond the note, one of the first things to decide is whether you want to send the gift or give it in person. Etiquette pros suggest the taking cues from the occasion. A key rule of thumb is to avoid gifts that could end up being a burden to you or the recipient—which is why sending thank you after is never a bad idea.
Stressing over what you pick should be avoided at all costs, so do yourself a solid and arrange a gift ahead of time that's easy to pick up (or have delivered). Read on below for our suggestions on how to hit the mark with your thank you every time.
Make it timely
Whether you bring them yourself or have them delivered after, flowers are a classic thank-you gift for a reason. They're cheerful, work in anyone's space, at any time, and are appropriate for new or old friends. Showing up with blooms is a nice way to give the recipient something to put out immediately (pro tip: offer to pop them in a vase yourself if the host is busy with other guests); on the other hand, sending them afterward as a thank you is a quick way to brighten up a random day.
Edible Arrangements' new FruitFlowers does chic, ready to go pairings such as handpicked roses and lavender or sunflowers and chrysanthemums that create a thoughtful bounty that anyone will love. They don't come alone, either, which addresses our second suggestion...

Go above and beyond
If you want to bring something, an edible spread is a great option that a recipient (such as a dinner host) can put out for other guests right away. The chocolate-dipped fruit included in the FruitFlowers makes for a perfect dessert that can be shared after a meal and will mix in easily with whatever was already on the menu (a thank you immediately becomes less thoughtful if it throws a wrench in the plans). If you opt to send an arrangement after as a thank you instead, it'll be a decadent treat to be enjoyed by the recipient with absolutely no pressure to share.
When picking out a thank-you gift for a family or a couple, look for something that'll please a crowd. The combo of flowers and sweet treats in Edible Arrangements' FruitFlowers offers something for everyone (plus, who can say no to chocolate-covered strawberries?).
Send something personalized
A simple thank-you note is standard whenever it's important to leave a good impression (Think: professional moments like a job recommendation or a generous stay at the home of a new acquaintance). To make your note stand out from the crowd, be sure to get specific about what are you are grateful for and why it meant so much. Don't rush: Taking your time and really thinking through what you want to convey is key for crafting a note that captures your sincerity. The handwritten note costs nothing, and best practice is to send one even if you brought a hostess gift as a preemptive thank you. Aim to get it out within the week following the occasion.
In short, the art of the thank you is about being thankful—and making sure the other party knows it. Bookmark a crowd-pleasing flowers-and-chocolate gift and invest in a set of cards so you always leave a lasting impression.
Celebrity news, beauty, fashion advice, and fascinating features, delivered straight to your inbox!
Leah Melby Clinton is a writer, editor, and serious shopper who loves discovering new labels, detailing the best ways to build a wardrobe, and interviewing interesting people.