Thanksgiving with a Far-East Flair
Roast Goose Recipe - Asian Recipes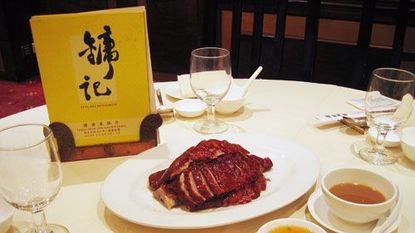 (Image credit: Courtesy of Yung Kee)
Marie Claire Newsletter
Celebrity news, beauty, fashion advice, and fascinating features, delivered straight to your inbox!
Thank you for signing up to Marie Claire. You will receive a verification email shortly.
There was a problem. Please refresh the page and try again.
Hong Kong is a city of contradictions. Futuresque skyscrapers soar over ancient temples, Mercedes-driving alpha men and women make their way through dense rush-hour traffic alongside traditional Junk Boats that fill the picturesque Victoria Harbour; and street markets selling t-shirts for three dollars straddle Armani Emporiums. But one of the most notable aspects of Hong Kong is the food - this is a city that knows how to eat! In fact, it's been said that Hong Kongers go out to eat more than anyone else in the world, and they do so as a family. From the most unassuming hole-in-the-walls to the most extravagant establishments – multi-generational families join together for their meals. In fact, tables with parents, children and grandparents far outnumber romantic dates of two. The Hong Kong way is to order and share food family-style - lending to a celebratory feeling in the air. In short, eating out in Hong Kong was like Thanksgiving every day of the week.
The restaurant Yung Kee in Hong Kong's upscale Central neighborhood is known for its world-famous roasted goose. So much so that travelers often order Roasted "Jet" Goose to take home with them even (when permissible) on the plane. What started out as a food stall almost 68 years ago is now an award-winning Michelin starred landmark. Westerners know roast goose as a holiday tradition where Germany, England and early America have all taken part. Here Keven Kam, Yung Kee's assistant manager and third generation lineage to the restaurant's founder, shares tips on how to cook a holiday feast featuring Roast Goose with Hong Kong flair.

Roast Goose

Ingredients:

1 goose (about 2.1 kg when gutted)
Marinade:

Soy bean paste, oyster sauce, sugar, salt and spices to taste.
Ingredients for "skin tuning":

White vinegar, maltose
Method:

1. Add maltose to white vinegar and cook to a syrup.
2. Cut the goose open and evenly spread the marinade mix inside and close.
3. Through the neck, pump air into the goose body to swell it up. Briefly poach the goose in boiling water to firm its shape.
4. Run syrup evenly over the goose. This is called "skin tuning," an essential step for crispy skin.
5. Set the goose aside for 30 minutes to air dry.
6. Set the goose over a charcoal fire for 40 minutes until skin turns a maroon color. During the process of roasting, rotate the sides of the goose twice to allow for even heating.
7. Leave the roasted goose to cool for 10 minutes. Chop into pieces and serve while the goose is still warm.
Q&A: Keven Kam, Yung Kee's assistant manager and third generation lineage to the restaurant's founder.
China is also known for Peking Duck but Roast Goose is a traditional Cantonese dish popular in Hong Kong. Will you share a bit of the history of these two dishes?
Peking Duck is only famous in the northern part of China where Beijing is. (Peking and Beijing are the same words in Chinese writing). Hong Kong is located in the southern part of China where geese are raised. I believe only 2% of Chinese Restaurants in Hong Kong serve Peking Duck since it is not popular here at all. Goose is usually bigger in size around 3.5kg [A reason why goose is a better choice for a holiday meal than duck] whereas duck is only around 2.5kg before they are ready to cook.
How do you pick out a good goose? What makes one goose better than the other?

Goose is best picked at the weight of 3.5kg (standard size) for roasting - 3 to 4 months old. The bigger the goose the tougher texture it is which is no good. Say if you want to boil the goose instead of roasting, it is better to have the goose weight around 2.5 to 3kg.
Wow! I just watched the following video of air being pumped into the body of the goose at Yung Kee. Why is it good to do this?

We pump air into the geese to enhance the shape of the finishing product. When you place a normal goose in a very hot 120'C oven, the body and bones of the goose collapse right away, so we use air to stabilize the shape until the goose is properly cooked.
[youtube]http://www.youtube.com/v/cw40eXulebw&hl=en&fs=1&[/youtube]
Is there a traditional way to carve roast goose? Are there traditional side dishes?
There are two ways of serving a roast goose; either chopping up the goose vertically with bone attached which is the proper way or sliding out the meat without bones.
Why is dining in groups so important in Hong Kong? And how is it that people in Hong Kong seem to dine out with their children and grandparents all together so often?
There are so many good restaurants on the street, why cook at home? There are more than 20, 000 restaurants and food stalls in Hong Kong, and 400,000 workers out of the 7,000,000 population are working in a food-related industry.
3 Must-Visit Restaurants in Hong Kong

Yung Kee Restaurant
32-40 Wellington St
Hong Kong, China
+86 852-25221624
Bo Innovation
60 Johnston Road
The private lift entrance is at 18 Ship Street.
Hong Kong, China
+ 85228508371
Island Tang
Shop 222, The Galleria
9 Queen's Rd. Central
Hong Kong, China
+ (852) 2526-8798
Alene Dawson is a Los Angeles based writer. She's written for national and international award-winning publications including The Los Angeles Times, Town & Country, Town & Country Japan, Marie Claire, Elle, InStyle.com, The Nest, Sunset Magazine, Variety, The Hollywood Reporter and Fodor's Travel. She has also written a syndicated health & beauty column. Her specialties are luxury travel, beauty, lifestyle, trends, entertainment, fashion and dating & relationships.
Celebrity news, beauty, fashion advice, and fascinating features, delivered straight to your inbox!