Outdoor Grilling Tips for Women: 5 Common Problems Solved
Elizabeth Karmel, author of the St. Francis Girls' Guide to Grilling, schools us ladies on how to take back the tongs.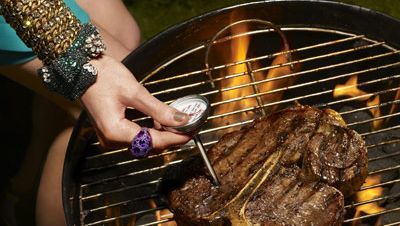 (Image credit: Bill Diodato)
MC: I just got my hair to cooperate in this humidity, and sweating over a hot grate all night isn't in the cards for me (or these beach waves). What are some pre-party time savers that will let me kick back and relax with my guests?
EK: I grill up an antipasto appetizer platter before I get dressed. Since it's served at room temperature, I can set it out before the party starts. And once your main dishes are cooking, you can close the lid and let the grill do all the work while you pour yourself a glass (or goblet) of Pinot.
MC: I asked my guy to watch the grill for five minutes, and now the kabobs I spent all last night chopping veggies for and marinating are incinerated. What gives?
EK: That's why women make better grill masters. For men, grilling can be a testosterone-fueled game with fire — the bigger the better. But in reality, a grill is just like an oven: You have to cook things at the proper temperature. If you're using gas, there's no reason to go above 500 degrees. For charcoal grills, pour in 50 briquettes, not half the bag. This isn't a bonfire.
MC: I even nuke my hot dogs. How do I avoid giving my guests a parting gift of salmonella?
EK: Know when to use direct or indirect heat. Direct heat means the fire is under the food and is used for anything that cooks in 20 minutes or less — burgers, shrimp, and skirt steaks. For bone-in chicken and fish fillets, the indirect method is best so that heat comes at the food from the sides. Don't skip the 10-minute preheat, and coat your food in olive oil to prevent grate stickage — a little EVOO isn't bad for the cuticles, either.
MC: Dry rubs, slathered sauces, marinades — does my food really need all that to taste good?
EK: All it takes for great-tasting grilled food is olive oil, salt, and pepper — which also makes it blissfully swimsuit- and diet-friendly.
MC: How do I make sure my Peter Som dress isn't splattered with food by the time I'm done?
EK: Food needs to be turned, at most, once. Invest in 12-inch-long locking tongs, then pull long hair back into a chignon and roll up billowy sleeves (you can let both down once you're done).
Want more of Karmel's tips? Download her booklet, St. Francis Girls' Guide to Grilling, for free at StFSavorTheFlavor.com (opens in new tab).