Get Your Drink On With Tina Fey and Amy Poehler: 4 Boozy Cocktails for the Golden Globes 2014
Delicious and yummy, these four drinks with matching film nominations are your best complement to a night of the Golden Globes. Hosts Tina Fey and Amy Poehler also suggested a few corresponding drinking games for those of age to participate: Every time you see a dress with sleeves, drink. And everytime Poehler drinks, take a swig of your cocktail. We think we can handle that.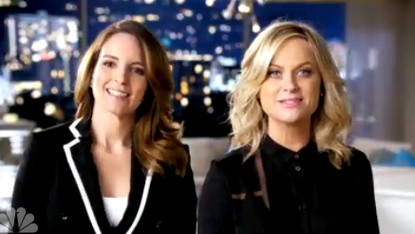 (Image credit: NBC)
1. The Jasmine Fizz, for nominee Cate Blanchett and Sally Hawkin's film Blue Jasmine.
Created by Nick Van Tiel, US Brand Ambassador for Plymouth and Beefeater Gins
· 1 part Plymouth gin
· 1/2 part Plymouth Sloe gin
· 1/2 part Fresh grapefruit juice
· 1/2 part Fresh lemon juice
· 1/2 part Simple syrup
· Drizzle Hiram Walker black raspberry liqueur (float on top)
· SplashSoda/seltzer water
Shake & Strain the first 5 ingredients into a long Sling glass over fresh ice. Top with a little cracked ice, add a splash of soda and a drizzle of raspberry liqueur. Garnish with 3 blackberries.
2. Lemon Rush, for Best Motion Picture nominee Rush, starring Olivia Wilde.
Created by Trevor Easter, US Brand Ambassador for Beefeater and Plymouth Gin
· 1.5 part Beefeater
· .75 part Lemon Juice
· .5 part Simple Syrup 1:1
· 3-4 Black Berries depending on the size and freshness
Combine all ingredients into a cheater tin or a mixing glass add ice and shake. Strain the drink over ice into a double old fashioned glass through a tea strainer to remove seeds and berry chunks. Garnish with fresh Black Berries and enjoy.
3. Vermouth Bale, for American Hustle's Best Actor Nominee Christian Bale
· 1 1/2 parts Beefeater Gin
· 3/4 part Sweet Vermouth
· 3/4 part Dry Vermouth
· 3/4 part Orange Juice
Shake all ingredients vigorously with ice and strain into a chilled cocktail glass.
4. Captain's Coconut Crave, for fellow Best Motion Picture nominee Captain Phillips starring Tom Hanks.
· 1 part Coco Lopez Cream of Coconut
· 3/4 tsp Curry powder
· 2 1/2 parts Beefeater 24 gin
· 1/2 part Fresh Lemon Juice
Stir together the cream of coconut and curry powder to make a paste. Add the paste and the remaining ingredients to a shaker. Fill with ice and shake vigorously. Strain into a chilled cocktail glass and garnish with a sprinkle of additional curry powder.