Fed Up Director Stephanie Soechtig: 'The Film Unraveled a Bit Like a Murder Mystery'
The Sundance hit documentary is poised to be the Inconvenient Truth of the obesity epidemic.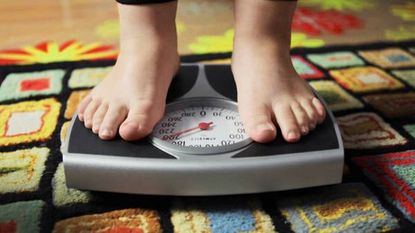 (Image credit: Archive)
Marie Claire newsletter
Celebrity news, beauty, fashion advice, and fascinating features, delivered straight to your inbox!
Thank you for signing up to . You will receive a verification email shortly.
There was a problem. Please refresh the page and try again.
Director Stephanie Soechtig, 37, spent more than three years investigating obesity in America. She tracked four families' efforts to lose weight, interviewed experts, and pored over testimony from food industry officials who, like the Big Tobacco executives of the 1980s, claim their products are healthy. Her research resulted in the buzzy new film Fed Up (in theaters May 9), narrated by Katie Couric, which reveals a 30-year campaign by the food lobby, aided by the U.S. government, to mislead the American public.
MARIE CLAIRE: How did Fed Up come together?
STEPHANIE SOECHTIG: It was Katie's idea. I was promoting my last film, Tapped, about the bottled water industry, on her show and told her if she wanted to do a documentary to give me a call. It was a cavalier thing to say, and I never expected her to call, but she did. She asked me to take a look at obesity because she felt there hadn't been a comprehensive look at the problem. So I started digging, and the film unraveled a bit like a murder mystery, a whodunit.
MC: What jumped out at you?
SS: Initially I was struck by how we can pinpoint the start of the obesity epidemic to roughly 30 years ago, when the government issued its first set of dietary guidelines.
MC: That's counterintuitive. Did the government's dietary guidelines kick-start the obesity epidemic?
SS: The government saw an increase in heart disease and other dietary-related illnesses and wanted to get Americans to cut back. But the food industry completely revolted. Once they got involved, "eat less" became a different message: It became "eat more low-fat items."
Stephanie Soechtig
MC: The families you follow experience a lot of setbacks despite their efforts to diet. Was it heartbreaking to observe their struggles?
SS: I never felt hopeless, because they're so determined. To me, showing their struggles was a really bold cinematic thing to do, because people want a happy ending. But the truth is, all the willpower in the world isn't going to protect kids from a school environment that is basically a 7-Eleven with books. The families really grounded me. As a filmmaker, I find it's easy to get caught up in the business of things, but when I talked to the parents who just didn't know what to do anymore because they thought they were doing all of the right things, it was a good reminder of why I was making the film.
MC: How did it feel to get such great reviews after the premiere at the Sundance Film Festival? Some compared Fed Up to An Inconvenient Truth, which seems pretty huge.
SS: Oh, my God, it was totally surreal! A film becomes your baby, and it's terrifying to share it with the world. Sundance was chaotic and I never really felt like I was in the moment. It felt like it was happening to someone else—like a dream. Being compared to An Inconvenient Truth is a really high bar, but if we have half the impact that film had, I'll be nothing but thrilled.
MC: What change do you hope the film brings?
SS: I'd feel really successful if we got junk food out of schools. They say we're doing that, but we're not. I also think if we saw sales of processed food declining, that would be a real accomplishment. Ultimately, I want to empower people. There's this one mom in the film who really got it. She's not dieting; she's just eating real food. She's lost 90 pounds, and she's a different person as a result. She believes in herself in a way she didn't when I first met her. To have more people wind up like her would be incredibly gratifying.
From left: Fed Up executive producer Laurie David, narrator Katie Couric, and director Soechtig.
Kayla Webley Adler is the Deputy Editor of ELLE magazine. She edits cover stories, profiles, and narrative features on politics, culture, crime, and social trends. Previously, she worked as the Features Director at Marie Claire magazine and as a Staff Writer at TIME magazine.