Editors handpick every product that we feature. We may earn commission from the links on this page.
The 8 Best Mug Warmers to Keep Your Coffee Warm
See ya later, lukewarm lattes.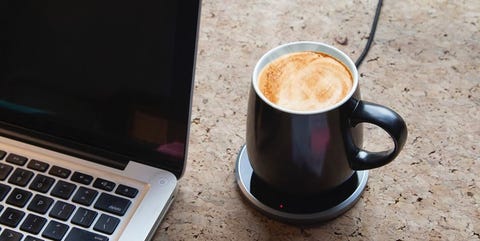 Nothing beats your first cup of piping-hot coffee in the morning. From the first few sips of that caffeine-rich elixir, your body warms up and you're ready to face the day. Unfortunately, coffee doesn't stay hot. At some point, you're going to reach for that freshly made java and it'll be lukewarm. But things don't have to be like that! There's a much better way, we promise.
Arm yourself in the fight against cold, stagnant coffee by investing in an electric mug warmer. To make your shopping journey easier, we've rounded up these top-rated mug warmers to keep your coffee or tea toasty all season long.
1
Cosori Coffee Mug Warmer and Mug Set
This high-tech stainless steel coffee warmer from Cosori features touch-tech controls, a vivid and easy-to-read LED display, and a water-resistant warming plate.
The heating element allows the plate to go up to 230 degrees Fahrenheit, which means users can customize the temperature of their beverage to anywhere between 77 and 158 degrees Fahrenheit.

This affordable electric mug warmer from Mr. Coffee is just over 5 inches wide, providing a roomy perch for a small bowl of soup or a massive mug of joe. The cord is also extra long, so you can plug it in at your desk even if the nearest outlet is just out of reach.
No frills, no nonsense, and no need to follow pages of lengthy instructions. Mug warmers have one job. This one from Home X does it, plain and simple, and at a price that's hard to beat.
This chic ceramic mug and warmer set comes with a sleek, aluminum charging plate that uses magnetic induction energy to heat up the metallic layering on the bottom of the coffee mug. It's science!
Oh, and did we mention the warming base doubles as a wireless cellphone charger? The perfect multitasker, in our opinion.
5
Norpro Decorative Mug Warmer
Who says your mug warmer can't double as cute decor? This fun mug warmer features a crackled, minimalist design that will add a chic (and totally functional) touch to your desk or kitchen table.
6
Nomodo Wireless Fast Charger with Mug Warmer
This warmer is not only attractive, but high-tech, killing two birds with one stone! You can keep your coffee or other warm beverage hot and ready while also keeping your devices juiced up with its wireless Qi charging mat.
Just be careful not to spill anything on your phone while you're in your caffeine-induced rush to get ready in the morning.
7
Ember Temperature Control Smart Mug
If you're gifting more of a traditionalist who likes simple kitchenware, go for this sleek black Ember Temperature Control Smart Mug. It has a clean aesthetic and will keep their coffee at the perfect temperature while they work from home or read the paper.
Work with a crew of other coffee addicts? This high-end warmer is great for commercial use or for caffeine-addicted households.
A multilevel interior (divided between espresso, cappuccino, and coffee) can hold a total of 15 cups. A closed system maintains uniform results by locking in heat to preheat your mug.
This content is created and maintained by a third party, and imported onto this page to help users provide their email addresses. You may be able to find more information about this and similar content at piano.io