20 Chic Ideas for Your Grown-Up Halloween Party
No spaghetti brains here.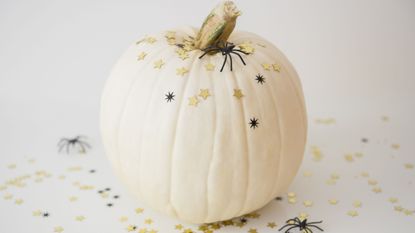 (Image credit: getty image)
If the thought of throwing a Halloween party mostly conjures up memories of the jello eyeballs and the toilet paper-strewn lawn of your childhood, maybe it's time to rethink your sweet (but dated) traditions. Below, some entertaining tips and tricks for a modern gal's Hallow's Eve, whether you're planning a fright fest or a charming costume party.
RELATED STORY
1. Better-Than-Your-Average-Blood-Punch Boozy Cocktails
2. Glam White Pumpkins.
3. Mummy Dogs
4. Turn Your Home into a Bat Lair
5. Deconstructed Decor
6. Haunted Gingerbread
7. Put Some 👀 on It
8. Poisoned Candy Apples .
9. Shadow Play
10. Bloody Flowers
11. Disco-ify Your Fall Squash
12. Color-blocked Party Favors
13. A Pumpkin Punch Spigot
14. A Sweet Treat You'll Just Want to Keep For Yourself
15. Scare All the Kids Away Jack-o-Lantern16. 'Nightmare Before Christmas' Pies
16. 'Nightmare Before Christmas' Pies
17. Murder, She Baked
18. As If Mannequins Could Get Any Creepier
19. A Joke Your Cats Won't Appreciate.
20. Gingerbread Skeletons
Follow Marie Claire on Facebook for the latest celeb news, beauty tips, fascinating reads, livestream video, and more.