50 Halloween Songs to Soundtrack Your Spooky Soirée
Before you shimmy into your costume, you have to set the mood first. Here, 50 hair-raising Halloween songs that comprise our ultimate spooky playlist.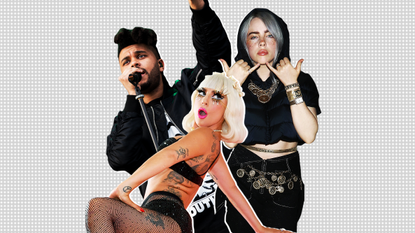 (Image credit: Morgan McMullen)
If you're a dark-tempered hostess devising scare tactics for your next Halloween party, you're going to need a chilling playlist to set the scene. To help you and your guests channel your inner ghost, ghoul, or goblin this year, press play on these hair-raising Halloween tracks—including hits from Kanye West, Lana Del Rey, Missy Elliot, and the Yeah Yeah Yeahs. (We've also put together guides to costume ideas (opens in new tab), makeup ideas (opens in new tab), and 2020-themed outfits (opens in new tab).)
Download our Halloween Party playlist below, then subscribe to the Marie Claire Spotify profile (opens in new tab) for all of the best music.
"SICKO MODE" - Travis Scott ft. Drake
"Toxic" - Britney Spears
"Sweet Dreams (Are Made of This)" - Eurythmics, Annie Lennox, Dave Stewart
"She Wolf" - Shakira
"Supermassive Black Hole" - Muse
"Sex & Candy" - Marcy Playground
"F**k it I love you" - Lana Del Rey
"I Know" - Big Sean ft. Jhené Aiko
"Darkside" - Blink 182
"Bad Guy" - Billie Eilish
"Sweet but Psycho" - Ava Max
"The Hills" - The Weeknd
"Bury a Friend" - Billie Eilish
"Royals" - Lorde
"Runaway" - Kanye West ft. Pusha T
"Bad Romance" - Lady Gaga
"I Put a Spell on You" - Nina Simone
"Dark Horse" - Katy Perry ft. Juicy J
"Beware" - Big Sean ft. Lil Wayne and Jhene Aiko
"Alice" - Avril Lavigne
"Did It On 'Em" - Nicki Minaj
"Bring Me to Life" - Evanescence
"Dirty Talk" - Wynter Gordon
"Black Magic Woman" - Fleetwood Mac
"Heads Will Roll (A-Trak Remix)" - Yeah Yeah Yeahs
"Monster" - Kanye West, JAY Z, Rick Ross, Nicki Minaj
"Demons" - Sleigh Bells
"Bionic" - Christina Aguilera
"E.T." - Katy Perry ft. Kanye West
"Psycho Killer" - Talking Heads
"Superstition" - Stevie Wonder
"The Ghost Inside" - Broken Bells
"Witches' Rave" - Jeff Buckley
"Somebody's Watching Me" - Rockwell
"Get Ur Freak On" - Missy Elliott
"Scary Monsters (And Super Creeps)" - David Bowie
"Puttin' on the Ritz" - Taco
"Disturbia" - Rihanna
"Wolf Like Me" - TV On the Radio
"The Killing Moon" - Echo & The Bunnymen
"Maneater" - Nelly Furtado
"Killer Queen" - Queen
"Ghost Town" - The Specials
"Love Potion #9" - The White Stripes
"The Twilight Zone" - The Ventures
"Haunted" - Beyoncé
"Cannibal" - Kesha
"Ghostbusters" - Ray Parker Jr.
"Time Warp" - Patricia Quinn, Richard O'Brien, Little Neil
"The Addams Family" - TV Themes
RELATED STORIES