Yes! An Important New Reason You Should Drink All the Coffee
As if you needed one.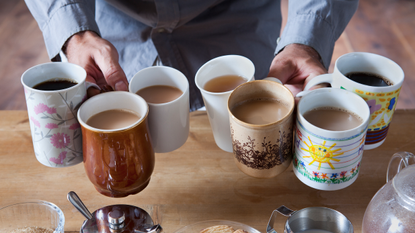 (Image credit: Archives)
You sip a cup or three in the a.m., head to Starbucks for an afternoon pick-me-up, order a post-dinner espresso, and all the sudden you realize you've downed the equivalent of a whole bag of coffee beans in a day, only to do it all over again when you roll out of bed in the morning.
You can stop feeling guilty about your coffee consumption, like, now, because the U.S. Government's Office of Disease Prevention and Health Promotion just announced that it's totally okay (healthy, even!) to drink three to five cups of coffee a day (opens in new tab). This insight is according to America's top nutrition experts, who presumably know what they're talking about, so you should listen to them—and make it a Venti while you're at it.
In fact, the panel reported that Americans, who average just one cup a day, actually aren't drinking enough coffee. Not only are there minimal health risks associated with consuming moderate amounts of java, but the stuff can actually lessen the risk of cardiovascular disease and type 2 diabetes. Double shots mean double the health benefits, it seems.
Keep in mind that this life-changing news doesn't give you license to guzzle Starbucks' new caramel flan lattes with reckless abandon. Coffee may be good for you, but sugar's not. Yet, at least.
You should also check out:
The Surprisingly Good Thing Coffee Does to Your Skin (opens in new tab)
Starbucks Is Going to Start Delivering Its Coffee (opens in new tab)
No Barista Needed: How to Brew Your Own Coffee at Home (opens in new tab)