People Could Not Keep Their Hands/Mouths Off the Benedict Cumberbatch Chocolate Statue
Death of a Choco-batch.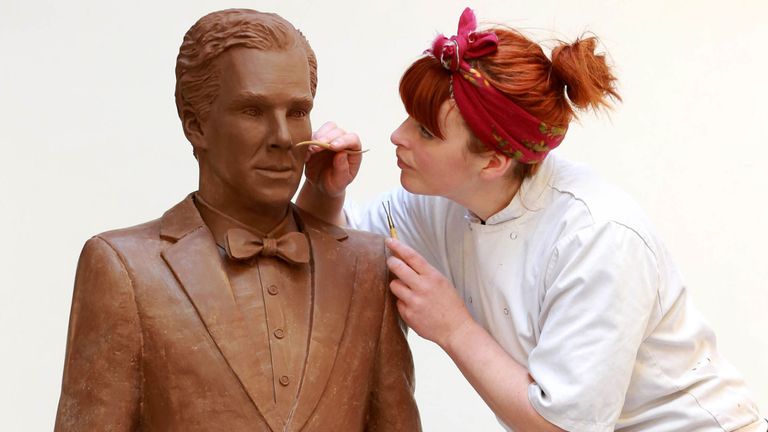 (Image credit: PA Wire)
Update, 4/8: Choco-batch is no more—this is what happens when you leave him unattended in the middle of a mall on Good Friday.
In the hidden-camera footage, the more tame shoppers lick and nibble on his arms, while the naughtier ones snap off his fingers and, um, other appendages. WE MEAN HIS NOSE, YOU PERV.
It's not like any of us would have done differently, so no judgment here, Grabby Old Lady. Watch the video below.
Original post, 4/1: On the list of Things That Women Love, Benedict Cumberbatch and chocolate occupy some pretty prime spots. So perhaps it was only a matter of time before some genius combined the two to make a version of the actor that's perfectly socially acceptable to salivate over.
According to Digital Spy, it took 250 hours and 80 pounds of hollow Belgian milk chocolate to create "Choco-batch," who towers at an impressive 6 feet tall. It's a lot of work for a novelty treat, but lead sculptor Tim Simpson knew he was making the modern version of Michaelangelo's David.
"You can't rush perfection. Benedict has such a distinctive look that it was a challenge but a pleasure to recreate him in chocolate," he said. "A secret combination of methods ensured we got a great likeness—we're sure his legions of fans will approve!"
You can see the statue on display at the Westfield Stratford City Shopping Center in London on Good Friday, or, alternatively, in your fantasies.
You should also check out:
Benedict Cumberbatch Skips His Honeymoon...to Honeymoon with Jimmy Kimmel
Kit Harington Wants Us to Stop Talking About His Sex Appeal
Benedict Cumberbatch Believes in the Power of Man Makeup