Wait—They're Making *Blue Wine* Now
It's what all the cool young people in Europe are having, apparently.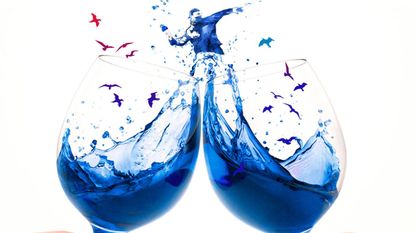 (Image credit: Gik)
You've had red wine and rosé and white wine and maybe even orange wine, but have you expanded your alcoholic horizons to blue? According to several news outlets, it just may be next year's hottest drinking trend among millennials.
Invented by six young Spanish entrepreneurs, the wine is a blend of white and red grapes harvested from vineyards outside of Madrid and colored blue with grape skin pigment, indigo dye, and a non-caloric sweetener. It's supposed to taste like a sweet white, is meant to be chilled, contains 11.5 percent alcohol, and sells for $10 euros (about $11) for a 750-milliliter bottle.
The company, Gik, had a soft launch last year via their website, but the wine will be rolling out in Europe over the next two months. After that, it'll be making it's way to American shores.
Whether or not it tastes any good is a toss-up. The website emphasizes that the creators have no previous wine-making experience and are "designers, programmers, artists, and musicians" who "work without hierarchy; horizontally." So...do with that what you will.
FWIW, if we're being honest, the people in this blind taste-test made by Gik don't look super impressed.
But regardless of how it holds up taste-wise, the color sure would liven up a dinner party.
Follow Marie Claire on Facebook for the latest celeb news, beauty tips, fascinating reads, livestream video, and more.
My writing has regularly appeared in The New York Times, The Paris Review, Salon, VICE, Guernica, The New York Observer, BuzzFeed, Cosmopolitan, Seventeen, Esquire, Elle, Harper's Bazaar, and many more publications.

I was previously the Senior News Editor at Best Life Online and the Viral Content Editor in the Newsroom of Hearst Digital Media. My portfolio consists of a vast and diverse body of work that includes personal essays, lifestyle articles, breaking news posts, and viral content. My areas of expertise, however, are Russia, sex and relationships, and mental wellness.