7 Tropical Drinks That Will Make You Feel Like You're Already on Vacation
Think of them as mini getaways.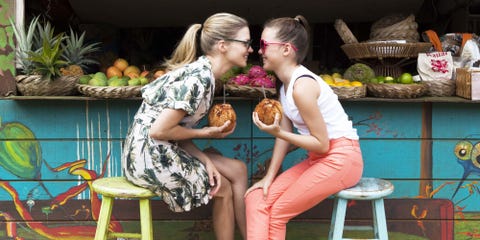 Even if you can't afford a trip to out of the state (we hear ya), you can definitely probably afford the ingredients to make (one of) these drinks. Close your eyes and pretend you can hear the waves outside your door. *Gulp.*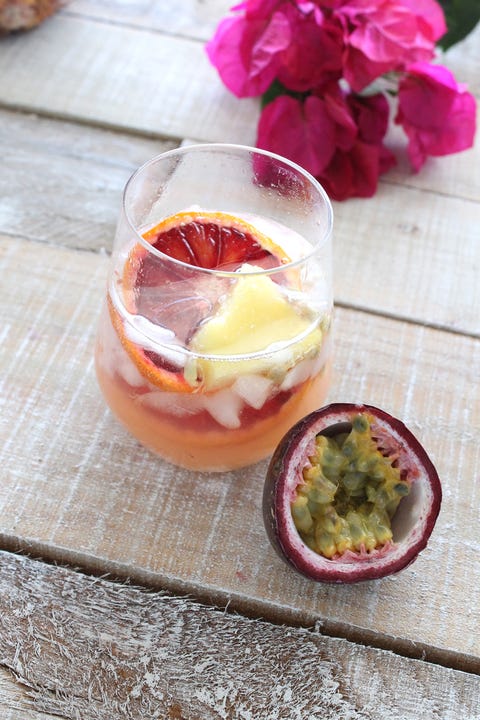 Tropical Sangria
This sangria packs a punch (pun fully intended) with guava, orange, blood orange, mango, passion fruit, and pineapple.
Ingredients:
1 bottle of ONEHOPE Sauvignon Blanc (half of the profits go to Save Our Planet)
1/2 cup guava juice
1/4 cup orange juice
1 cup pineapple (cut into 1″ wedges)
orange slices
blood orange slices (optional)
mango slices
passion fruit (seeds and juice from 1 passion fruit)
Directions:
1. Combine all ingredients in one of your sangria bar carafes and seal tightly. Refrigerate for at least 2 hours and up to 24 hours.
2. Fill glasses with crushed ice and garnish with fresh blood orange, pineapple and mango if desired. Makes 4 to 6 servings.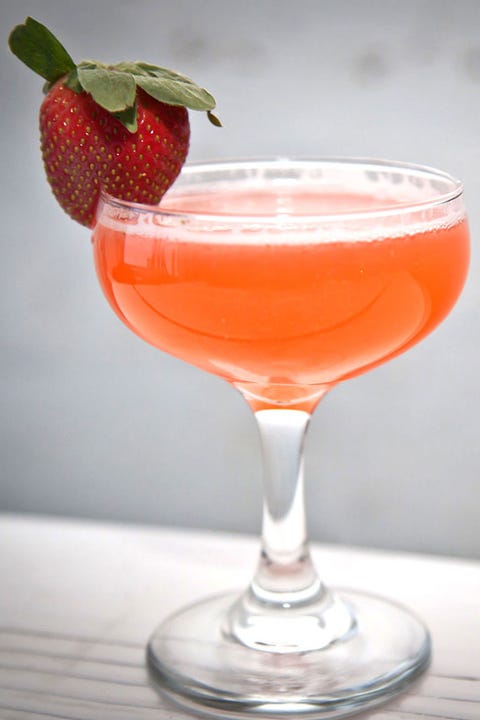 The Volstead
This drink from Lazy Point bar in NYC is all about the strawberry flavor.
Ingredients:
.75 oz Reyka vodka
.75 oz St. Germain elderflower liquor
.75 oz fresh lemon juice
.75 oz simple syrup
4-5 strawberries
prosecco (to top)
Directions:
1. Shake hard with ice and strain into coupe
2. Top with prosecco
3. Garnish with either a lemon zest or a whole strawberry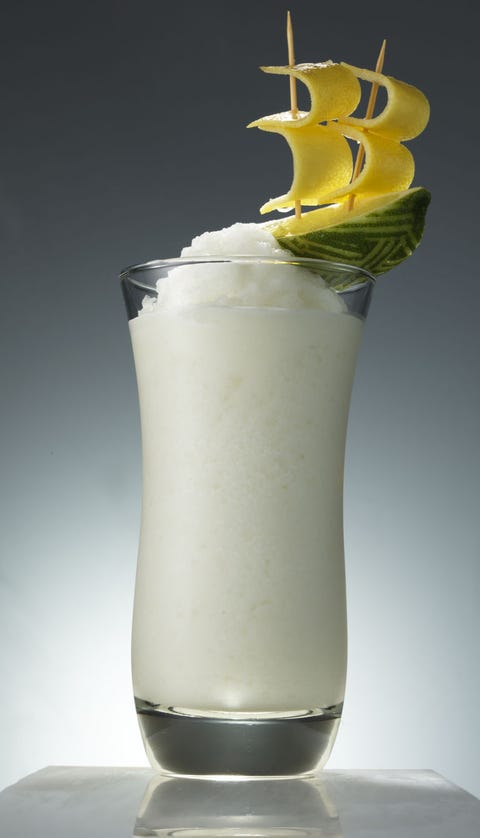 Pina Thunder
Frozen slushy goodness, because that's totally allowed on "vacation."
Ingredients:
1.5 oz. Captain Morgan Pineapple Rum
.5 oz. lime juice
1 oz. cream of coconut
.5 oz. coconut water (we like Goya)
.5 oz. pineapple juice
Directions:
Combine all ingredients including Captain Morgan® Pineapple Rum with ice in a blender and mix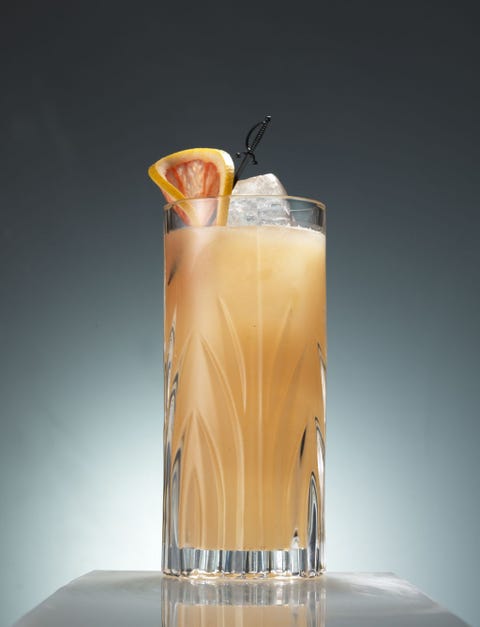 Palomaloha
Three ingredients, three steps, and—oh look at that!—you're on an island. (Kind of.)
Directions:
1.5 oz. Captain Morgan Grapefruit Rum
Juice of ½ lime
Grapefruit soda to top
Ingredients:
1. Fill tall glass with ice
2. Pour in Captain Morgan® Grapefruit Rum, lime juice and grapefruit soda
3. Garnish with grapefruit wedge
The Shark Puncher
Live every week like it's Shark Week.
Ingredients:
9 oz. Captain Morgan Coconut Rum
9 oz. orange juice
3 oz. ruby red grapefruit juice
6 oz. cranberry juice
Directions:
1. Combine all ingredients including Captain Morgan® Coconut Rum in a pitcher and stir. Done!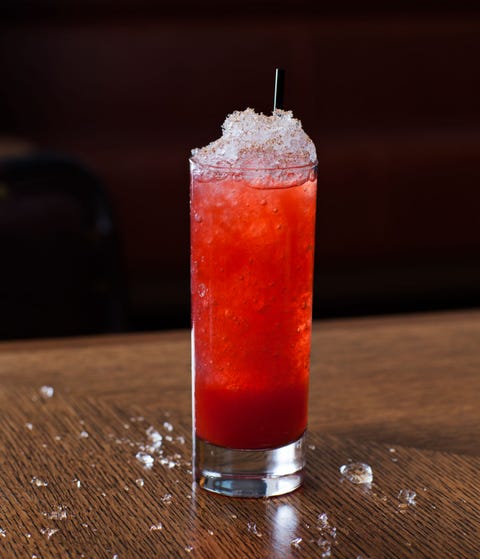 The Irvington
This drink—by NYC's Irvington restaurant—are for those who don't like, you know, clear alcohols, but still want to feel like they're lounging in a hammock by the waves.
Ingredients:
5 raspberries
1 oz. Jameson Black Barrel whiskey
1 oz. Appleton V/X rum
1 oz. fresh lime juice
.75 oz. simple syrup
2 dash Bittermens Elemakule Tiki bitters
Club soda
2 cubes of ice
Directions:
1. Shake in a cocktail shaker and double strain (strain twice)
2. Pour over crushed ice in a tall (highball) glass, top with club soda and grated nutmeg
Grand Raspberry Peach Margarita
Sweet (raspberry peach) with a kick (tequila) to take you away to sunshine and happiness and no e-mail.
Ingredients:
0.75 oz. Grand Marnier Raspberry Peach
1.5 oz. tequila
0.5 oz. fresh lime juice
0.5 oz. simple syrup
Directions:
1. In a shaker, add Grand Marnier Raspberry Peach, tequila, lime juice and simple syrup
2. Fill with ice, shake well and strain into a margarita glass or over fresh ice in a rocks glass
3. Garnish with a peach slice or lime wheel and a raspberry
This content is created and maintained by a third party, and imported onto this page to help users provide their email addresses. You may be able to find more information about this and similar content at piano.io