You Can Now Make a Political Statement with New Hillary Clinton Hair Scrunchies
NEED.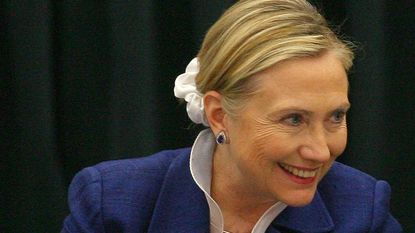 (Image credit: Archives)
Never has there ever been a more exceptional way to show support for a presidential candidate until now. Obviously, we're not talking about bumper stickers here (so tacky) or even pins (so passé). We're talking about a very vintage trend that has finally (!!) been made into political apparel.
That's right: our favorite childhood style staple, the scrunchie, is BACK. And better than ever (in our opinion at least), because you can now get one with Hillary Clinton's face all over it. Allow us to introduce you to Hillary Scrunchies (opens in new tab), a new line of hair ties created by young entrepreneurs and Chillary (opens in new tab) crusaders, Morgan Gerard, 28, and Meredith Fineman, 26.
"We're celebrating boss ladies and creating something positive," Fineman tells Mashable (opens in new tab). "It's chic [and] positive." The collection was not only inspired by Clinton's affinity for the hair accessory during her First Lady era in the '90s, but also by an important feminist message—which can be easily summed up by saying: Please stop judging Clinton solely for her fashion choices.
"It was a giant f—k you when people tried to riff on her for her appearance," Fineman explains. "She's called out for whatever she wears and, in 2015, I'm not sure if her criticism of what she wears is even fair. Why not take it back and celebrate her?"
After Fineman spotted a Hillary Clinton pillow (which was sold out much to her dismay) during a D.C. shopping trip several years ago, she knew immediately that scrunchies would *have* to be the next product made in the 67-year-old's honor.
"I was like, 'I can't believe they don't have a scrunchie available," Fineman says. "She's known for that!'" So that's when she and Gerard went to work—not just on ponytail holders, but on bandanas too. See below:
And if you don't happen to be on team HRC, no need to panic—because there's a Michelle Obama print available as well. Phew.