How Sophia Bush Is Helping Lead the Resistance to Brett Kavanaugh
The 'One Tree Hill' star has become a major player in the movement.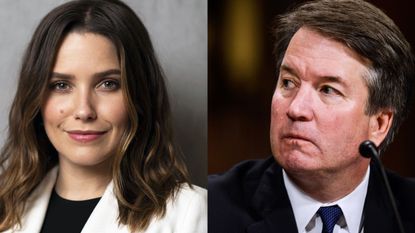 (Image credit: Getty Images)
In the 18 months since Donald Trump was elected president, a handful of Hollywood actors have taken on part-time roles as political activists. Among them is former One Tree Hill star Sophia Bush, who can currently be found fighting the confirmation of Brett Kavanaugh tooth and nail—protesting, petitioning, tweeting, and passionately siding with Dr. Christine Blasey Ford, who has accused Kavanaugh of sexual assault in the '80s. (Bush has even been mocked by Breitbart, which is how you know you've made it in 2018. I'm not going to link to that.)
A lifelong activist, Bush has emerged as a major player in the resistance movement. She's a founding member of TIME's UP, delivered a speech at the Women's March this year, partnered with The Outrage to create a clothing line that benefits causes like Planned Parenthood and the ACLU, and tweets almost constantly about Trump and the (many) people his administration marginalizes, to the point that she's gotten death threats over it. So it should come as no surprise that Bush is vehemently against the confirmation of Kavanaugh to the Supreme Court, which looks like an increasingly likely prospect this weekend.
"To everyone saying "why did they wait? The timing feels suspect," etc...Just remember Bill Cosby," Bush wrote on Twitter on the eve of Dr. Ford's testimony. "No one wanted to believe it about him. It was true. And he's going to prison. I'd wager more women victimized by Kavanaugh will vome [sic] forward. Women feel safety in numbers." (Indeed, two more women have accused Kavanaugh of assault since Dr. Ford stepped forward—claims Kavanaugh denies.)
Like other stars with huge fan bases independent of politics—Bush, of course, starred as the sharp, fierce Brooke Davis in the CW's One Tree Hill, a character often described as an OG feminist—Bush actively encourages her social-media following to practice activism in their own lives, from registering to vote to showing up to support women. "I'm a social liberal," she told Refinery29 in December. "I believe in equality for all...I believe we should smash the patriarchy and systemic racism and actually make healthcare more easily accessible than weaponry."
Central to Bush's belief system is her feminism, which she proudly went on the record about in 2014. "I don't think there was ever a time where I wasn't [a feminist]," she told Teen Vogue in 2016, just before she went out on the campaign trail with Hillary Clinton. In 2017, she quit the NBC drama Chicago PD, hinting that her departure was related to a negative atmosphere for Bush on set. She told Refinery29:
"I couldn't do that job anymore...[I told them that] if something really drastic doesn't change, I'm leaving at the end of the year...I'm giving you 23 episodes' notice. There will be no conversation in which I was hysterical, emotional, in which I was being a quote "irrational female" or whatever you want to put on it. I'm literally sitting in front of you, like, cool as a cucumber."
Bush has also gone on the record about how being a woman on the set of One Tree Hill became unexpectedly devastating, joining the rest of the show's female cast to accuse creator Mark Schwahn of sexual harassment and emotional abuse. (Schwahn has not commented publicly on the claims.) "Why am I supposed to suffer and kill my own career because somebody else can't keep their dick in their pants?" Bush later said in an interview with Sirius XM.
Now, in the run-up to the midterm elections, Bush is amping up her activism as much as her time allows: Even though she just scored a leading role in new show Surveillance, she tweets almost exclusively about politics and the "blue wave" she and other activists are pushing for in November.
We need this #BlueWave now more than ever. I literally do not care what party line you've drawn in the past. We are witnessing a coup by a hostile ruling body. Our sacred laws have been tossed aside for party profit. Period. Shame on them all. https://t.co/NeCkqI218yOctober 4, 2018
See more
The President has said that if you tell a lie three times people start to believe it. The fish rots from the head. Is it ANY WONDER the entire Senate and all of Congress on his team are no playing by his rules? They're lying to us. For tax cuts. For $$$. Revolting. https://t.co/ZrTlszNxEGOctober 4, 2018
See more
To learn more about what the midterms are, why they matter, and how you can easily find a candidate that aligns with your values, click here.
Celebrity news, beauty, fashion advice, and fascinating features, delivered straight to your inbox!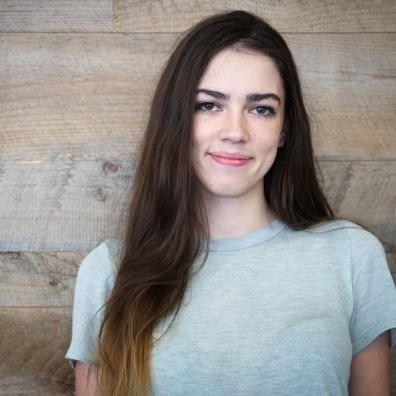 Jenny is the Digital Director at Marie Claire. Originally from London, she moved to New York in 2012 to attend the Columbia Graduate School of Journalism and never left. Prior to Marie Claire, she spent five years at Bustle building out its news and politics coverage. She loves, in order: her dog, goldfish crackers, and arguing about why umbrellas are fundamentally useless. Her first novel, EVERYONE WHO CAN FORGIVE ME IS DEAD, will be published by Minotaur Books on February 6, 2024.