I Don't NOT Want This Ruth Bader Ginsburg-Themed Bra?
Maybe it's a lesson that we should all keep our political leanings close to our chests.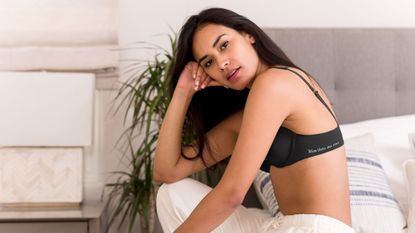 (Image credit: Harper Wilde)
Marie Claire Newsletter
Celebrity news, beauty, fashion advice, and fascinating features, delivered straight to your inbox!
Thank you for signing up to Marie Claire. You will receive a verification email shortly.
There was a problem. Please refresh the page and try again.
Let me begin by saying that I find much of the pseudo-activist sloganeering that many people on the internet adapt to be, ultimately, Bad for the Cause. "Nevertheless, she persisted" has basically become the "Live, Laugh, Love" of performative feminism, the problematic nature of pussy hats has probably outlived any usefulness they ever had, and do not even get me started on the word "feminism" as a fashion statement. I know Beyoncé did it once but have you seen her do it recently? That's because she realized pretty quickly it was Bad for the Cause.
So naturally, since I'm such a stickler for ideological consistency, you would think I wouldn't want the Notorious RGB Edition of the Base Bra from Harper Wilde ($45)—the one that has the phrase, "When there are nine" embroidered on the side as a nod to Ruth Bader Ginsburg's famous quote about how she'll know there are enough female judges on the Supreme Court. But you would be wrong!
I don't know whether it's the sheer absurdity of an otherwise perfectly sober bra that touts a rabble-rousin' message (like, this isn't FEMEN—no one is going to see this), or whether it's the subtle, even vague nature of the message itself when taken in literally any context outside of a press release ("When there are nine?" Nine what? Nine boobs?!), but I dig the RGB bra! If it's performative in its political ideology, it's only performing for the self, making it the Strong Feelings equivalent of writing in a diary versus posting on Twitter. Who wouldn't be able to get behind that? Did you feel how annoying just reading about my politics at the top of this story was? And that's with good politics! Imagine if I was really into guns or something?! What if, instead, I just tucked my preachy thoughts about performative feminism away under my shirt? Wouldn't that be wildly preferable?!
And just when I started to think that being drawn to this clothing item could maybe go against some of my own political leanings, I found out that 5 percent of the proceeds of this bra go to She Should Run, the nonprofit interested in getting more women candidates to run for office. That's a really good cause that this silly item had no need going out of its way to support (it's already supportive by design).
I hope the Notorious RBG Base Bra from Harper Wilde signals a new shift in our political landscape—one where people maybe just keep their thoughts close to their chests rather than feeling the need to show everyone how woke they are. Really close to your chest. Like, literally covering your chest.
Just a thought.

For more celebrity news, beauty and fashion advice, savvy political commentary, and fascinating features, sign up for the Marie Claire newsletter.
Celebrity news, beauty, fashion advice, and fascinating features, delivered straight to your inbox!
Cady Drell is a writer, editor, researcher and pet enthusiast from Brooklyn.