Who Is Jonathan Gillibrand, Kirsten Gillibrand's Husband? Here's Everything We Know
Who Is Jonathan Gillibrand, Kirsten Gillibrand's Husband? Here's Everything We Know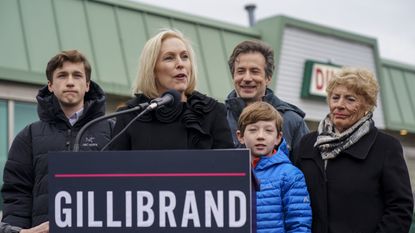 (Image credit: Drew Angerer)
Back in January, New York's Senator Kirsten Gillibrand officially announced her 2020 presidential bid on an episode of The Late Show with Stephen Colbert. "I'm going to run for president of the United States because as a young mom, I'm going to fight for other people's kids as hard as I would fight for my own," she stated. "I know that I have the compassion, the courage, and the fearless determination to get that done." Along with the passion and drive to run for president, Kirsten also has a stellar support system: her precious sons as well as her husband Jonathan Gillbrand.
If Kirsten is successful in two years' time, Jonathan will be the United States' first-ever First Gentleman in 2020. Here's more about the low-key, supportive husband who might become the first First Husband in the next presidential election.
Jonathan is a British-American who has worked a venture capitalist, where he was a successful trader, and a finance manager at GBS Holdings.
RELATED STORY
According to Kirsten, he's had a number of different jobs over the past six years, each with varying levels of flexibility, but has always been firmly supportive of his wife's political career.
He met his wife on a blind date.
When the couple first met, Jonathan was in New York getting his MBA at Columbia University (he was studying abroad from his native England), and Kirsten was just starting out as a lawyer. Their meet-cute came in the form of a blind date that was set up by mutual friends, and unlike most blind dates, it was nothing short of a success. "We hit it off right away," explained Kirsten to New York Family. The two were married in 2001 and have since had two sons, Theodore and Henry.
He's very different from her, personality-wise.
Kirsten and Jonathan are the total opposite of each other, and the differences in their personalities totally explain their divergent parenting styles. "We're very much the yin and the yang," she told New York Family. "I'm a very encouraging parent. I like to let my children express themselves and explore new things."

"Jonathan is very focused on academics and reading. So we balance each other well in letting our children develop as young people who will hopefully be strong adults with strong character and good integrity."
Interestingly enough, their children have taken after them and have similar personality traits as a result. "They both have a great sense of beauty and design," Kirsten said of her two sons. "They're both sensitive boys, very sensitive of other people, but very different in personality. Henry is much more like me, and Theo is much more like Jonathan."
He supports her efforts.
While being the significant other of someone heavily involved in the grueling world of politics is anything but easy, Kirsten says she couldn't have asked for a better partner. Jonathan has always been her biggest cheerleader, even when it meant taking on more work hours that would potentially drag her away from their family. "He's always said, 'As long as you're making a difference, as long as you're helping people, this is something we're going to do. And the day that you're not is the day we're not going to do it!'" she explained in her New York Family interview.
He's kind.
Kirsten told Vogue in 2011 that what initially attracted her to Jonathan was his kindness. "I thought he was one of the nicest and kindest people I'd ever met," said the senator. "That's what charmed me."

By the same token, Jonathan hates the more vicious aspects of politics because things tend to get very hostile—he's especially unenthused by the potential of personal attacks on his wife. "Not many husbands want their wives to be in politics, because it's intense," she admitted. "The only thing he doesn't like is when I'm attacked. He gets very upset."
They make sure to spend special moments together.
Per Kirsten's Instagram, the couple makes sure to always be together for birthdays and holidays despite her busy, busy schedule. They also try to balance the workload: "On the weekends, both Jonathan and I try to take as much time off together as we can so we can have family time," Kirsten shared with New York Family.
For more celebrity news, beauty and fashion advice, savvy political commentary, and fascinating features, sign up for the Marie Claire newsletter.
RELATED STORIES
Katherine's a Boston-based contributor at Marie Claire who covers fashion, culture, and lifestyle—from "Clueless" to Everlane to news about Lizzo. She's been a freelancer for 11 years and has had roles with Cosmopolitan and Bustle, with bylines in Parents, Seventeen, and elsewhere. It's "I go to dinner," not "Her huge ego," but she responds to both.