Cory Booker and Rosario Dawson's Relationship Is No More
After three years of dating, the power couple have decided they're better off as friends.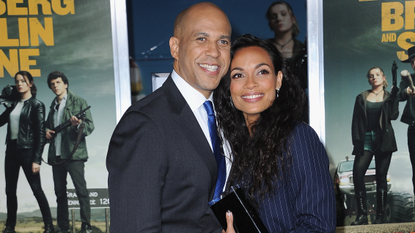 (Image credit: Getty)
Washington's coolest couple has called it quits. New Jersey Senator and former Presidential candidate, Cory Booker, is no longer dating his A-list action star and activist girlfriend, Rosario Dawson, Marie Claire has learned. According to an exclusive source close to the couple, after nearly three years together, Booker and Dawson decided to break up this summer, but remain friends. "The distance made it difficult," says the source. Booker, of course, balances his time between N.J. and D.C., where he has been working to get President Biden's agenda through the Senate. Meanwhile, Dawson spent the summer filming Clerks III.
Although Booker very rarely talked about his love life in the past, he sensationally admitted that he had a "boo" on radio show "The Breakfast Show" in February 2019, during his presidential campaign; Dawson admitted weeks later to a TMZ reporter at the airport that, yes, the two were in love.
Apparently the pair initially met at a fundraiser for then–Maryland gubernatorial candidate Ben Jealous, likely in the fall of 2017. Dawson was still in another relationship at the time, so nothing came of the encounter, but the politician and actress reconnected roughly a year later. Booker told CNN at a Town Hall in March 2019, "So we met again, and I had one of those really awkward experiences. I'm a United States senator, and I had to get up the courage to walk up to her and ask her for her phone number. And [being on TV] doesn't make me nervous, but that made me nervous."
The couple went on to have a very public courtship, appearing on the campaign trail and at movie premieres together. They were even able to weather the early days of the coronavirus pandemic. Although many Booker fans were hoping this relationship would stick—Dawson even sold her California mansion to live with Booker on the East Coast earlier this year—a second source confirmed to Marie Claire that the relationship is over. A representative from Senator Booker's office declined to comment for this story.
A complete history of the couple's time together is below, if you're feeling nostalgic.
---
January 2019
Rosario and Cory are spotted being "flirtatious" at the Broadway show "Dear Evan Hanson," fueling initial speculation that the two are together. The two pose with cast members backstage and Rosario is overheard telling Cory she loves him. "Dawson—who was walking across the empty stage on her way to the exit—began fooling around and singing a made-up song to Booker that went, "I love you; te amo [as in, the Spanish for 'I love you']."
Page Six explains that the two have known each other for "years."
A few days before that, the two had been spotted catching a movie together in New York.
February 2019
Cory hilariously confirms that he is in a relationship but doesn't say who it is. "[B]efore I declared president, I'm dating somebody really special," he told "The Breakfast Club." He added, "I got a boo."
March 2019
Rosario confirms the relationship to TMZ, saying, "I am just grateful to be with someone that I respect and love and admire so much." She added, "He's an amazing human being...It's good to spend some time together when we can."
At the CNN Town Hall where he talked about how they met, Cory also says, "I have an incredible girlfriend." He added, "She is just simply amazing and I am hopeful, as is my mother."
Cory Booker calls actress Rosario Dawson "an incredible girlfriend" and says they met at a fundraiser for former Maryland Democratic gubernatorial candidate Ben Jealous. #BookerTownHall https://t.co/ImVpNAcLHG pic.twitter.com/mZFDpOfhBXMarch 28, 2019
See more
April 2019
Cory makes an appearance on Rosario's Instagram, in which they both geek out over their shared excitement for Avengers: Endgame.
June 2019
In an interview with RuPaul, both Rosario and Cory are incredibly effusive about their relationship. Rosario made a video in which she told RuPaul, "Thanks for inviting my boyfriend to be on your show so I could be in the audience and clap and cheer and scream for you." So, she was in the audience when RuPaul questioned Cory about their relationship. And Cory really brought it.
RuPaul, who's the real MVP in this situation, quizzed the presidential hopeful. "If elected, you would be the first unmarried president in a long, long time." Cory didn't miss a beat. "The swearing in isn't until the 21st of January, 2021. You never know what might happen between now and then," he said, cheekily. The camera panned to Rosario, who smiled.
July 2019
Cory makes another appearance on Rosario's Instagram. In it, Rosario tells Cory (the pair are riding in a car together), "Love you!" He replies, "I love you so much." She captioned the photo, "Psst...pass it on. #LetLoveRule."
August 2019
Cory and Rosario take to social media to prove that, yes, they are still dating, despite the fact that she hasn't been to every single one of Cory's campaign events. In response to a recent article that said Rosario's absence at the event was "noticeable," Cory texted Rosario to tell her, "You made it."
Rosario screenshotted the texts and captioned the photo: "I made it! To all the working mothers out there. Keep shining!" The sarcasm is perfection. Yes, Rosario has a kiddo and work of her own, and yes it is ok for her to do that while still supporting her politician boyfriend. It seems silly for them to have to reiterate it, but there we go. The two are still blissfully happy!
October 2019
Dawson took to Instagram to gush about Booker and their relationship for their one-year anniversary. In a cleverly-framed photo, Rosario is seen making a kissy-face at her BF, with whom, according to the caption, she has "never felt more connected."
Later that month, Cory gave an interview to Cosmopolitan as part of his campaign for President. In between policy talk, Cory shares insights into the couple's home life: They both love the book City of Thieves, he sends her a song every morning they don't wake up together, and cuddling up together watching TV makes him feel "cozy."
Also in October, the couple walked the red carpet together. Booker escorted his A-list girlfriend to the premiere of her movie Zombieland: Double Tap, where the two looked absolutely adorable in matching navy suits. The two looked very in-love, snapping selfies and indulging in some PDA. Though Cory is campaigning for President, it's great to see him taking time to support Dawson's equally-as-important career.
December 2019
The couple get a profile in the New York Times! A reporter for the paper of record followed the couple along the campaign trail and the two really opened up. "This stuff is intense. It's really strenuous," Dawson said of Booker's run for President. "And it's so public all the time, that there's a really beautiful intimacy somehow that we've created and maintained on this journey."
January 2020
Cory decides to end his presidential campaign. Citing a lack of resources and the looming impeachment trial of President Trump (which would keep the Senator off the trail), Team Booker announced they would close up shop. Rosario took to social media to show her support, writing, "Cory, you continue to inspire me everyday. On this journey you and your remarkable team have represented the best in us and I know you will continue to. Thank you. I see you. I love you," according to Hola! magazine. Two days later she posted another supportive message on Instagram with a picture of the two embracing.
June 2020
Rosario and Cory are moving in together! After quarantining separately, the couple are cutting the distance between them and taking the next—big!—step in their relationship. As first reported by People, Dawson says that she's "excited" to be living with her boyfriend, after being apart since February.
January 2021
The A-list couple attend the inauguration of Cory's colleagues and friends (and former campaign trail competitors) Joe Biden and Kamala Harris as President and Vice President, respectively. Booker and Dawson had prime placement alongside former Presidents Obama, Clinton, and Bush, as well as Senator Bernie Sanders, Kamala's niece Meena Harris, and more. Rosario wore a very chic blue cape for the occasion; Cory coordinated in a blue tie.
Around the same time as the inauguration, the New York Post publishes news that Rosario sold her home in Los Angeles for $2.3 million, seemingly confirming that the star is giving up the Hollywood life in favor of romance.
May 2021
Cory, a self-professed nerd, takes to Instagram to celebrate Star Wars Day and shouts out his girlfriend, who plays Ahsoka Tano in The Mandalorian. Dawson snapped the adorable pic of Booker holding a lightsaber gifted to him by his staff.
November 2021
After months without any social media posts about each other or public appearances together, Marie Claire confirms with two sources close to Booker and Dawson that the couple is no longer together. Apparently it was distance that did them in. Booker has been working hard on Capitol Hill to pass President Biden's Build Back Better agenda and Dawson has been working on several projects, including Hulu's Dopesick, out now. We wish both of them the best!
RELATED STORIES
Marie Claire is committed to celebrating the richness and scope of women's lives. We're known for our award-winning features, thoughtful essays and op-eds, deep commitment to sustainable fashion, and buzzy interviews and reviews. Reaching millions of women every month, MarieClaire.com is an internationally-recognized destination for celebrity news, fashion trends, beauty recommendations, and renowned investigative packages.