Behind the Scenes, Cory Booker and Rosario Dawson Are Even Cuter in Real Life
A New York Times profile shared all the details of their campaign trail love.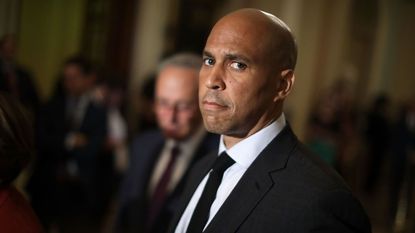 (Image credit: Getty Images)
Marie Claire Newsletter
Celebrity news, beauty, fashion advice, and fascinating features, delivered straight to your inbox!
Thank you for signing up to Marie Claire. You will receive a verification email shortly.
There was a problem. Please refresh the page and try again.
Update, 12/13: The New York Times just did a profile on Cory Booker and Rosario Dawson's relationship, and the details are honestly just too cute. A few snippets:
They yell at each other while food shopping frantically: "'Baby, if you want salsa it's in the last aisle!' shouted Rosario Dawson, the actress, activist, singer and fashion designer, as Mr. Booker dashed past the organic chips, tossing a bag of their favorite, Forager Super Greens, onto their growing checkout counter pile."
They've been dating for a year, but have been so busy—she's made a dozen movies this year, and he, you know, is running for president: "'It was a very emotional night last night because we haven't seen each other,' Ms. Dawson said on Saturday, in the midst of campaigning with Mr. Booker. On top of a busy professional schedule, she has been helping her 62-year-old father through surgery for pancreatic cancer. 'This stuff is intense. It's really strenuous,' she said. 'And it's so public all the time, that there's a really beautiful intimacy somehow that we've created and maintained on this journey that's been really important for me going through this personal journey.'"
They talk every day and he reads to her over the phone (swoon!): "Mr. Booker famously reads her books over the phone, and sometimes leaves the day's passage on voice mail, as he goes page by page. They're currently working their way through 'Welcome to the Monkey House,' a selection of short stories by Kurt Vonnegut. 'The first story we read, it's a romance story about a bumbling guy reaching for a woman well out of his league,' Mr. Booker said of the short story 'EPICAC' in the Vonnegut book. 'That was his choice,' Ms. Dawson said, as they both started giggling. 'He was like, I know the first one to start with.'"
He also comes to her film premieres like Zombieland, leaves her snacks at the front desk when she comes in, and mentions her regularly in his speeches. Aaaand I'm in love with this couple all over again.
Update, 10/30: In more delightful news if you happen to be a Booker-Dawson fan, Booker just gave an interview to Cosmopolitan in which he gave us more behind-the-scenes looks at his super-strong relationship with his girlfriend. Behold, when asked about dating or getting married if he becomes president:
Wait, so does that mean they're already engaged?? Or that it's, like, IMMINENT (he asks someone who had a question for him what her engagement was like, so it's clearly on his mind).

When asked what his favorite book was: "Well, first of all, City of Thieves was a really good book, and maybe that's the one that has the best memories because my girlfriend and I shared that together, so I'll stick with that."
When Jessica Pels noted that he and Dawson are both Tauruses (which is often a bad thing, as that sign can be stubborn): "Well, she had somebody that did our charts for her...It was very specific, that I guess we're very different signs but we complement each other very well, our personalities. She keeps me grounded. She doesn't let me take myself too seriously. She thinks I'm really corny, but she thinks it's really adorable. But we just definitely have personalities I think that resonate like a symphony and not a cacophony, so I feel very, very lucky. I don't know if that has anything to do with our stars or just the fact that I feel like the luckiest guy on the planet Earth."
On songs he has on repeat: "On the days that I'm not with Rosario waking up, I send her a song every morning, which she is merciless in telling me whether she likes it or not."

When asked what made him feel cozy: "What makes me feel cozy? I'm literally going to be mocked by my own girlfriend because: cuddling up with my girlfriend watching TV. This is horrible. I've got to do something. Can we talk about football again?"
Guys, this is the cutest thing ever. Just thought you should know.
Update, 10/14: Ooooh this is a fun one! Dawson has continued to post adorable Instagram images and video of Booker, and one of the posts gave us exact insight into when their anniversary is and how they spent it.
Technically, Dawson posted the anniversary message very very late in the day of October 13. She captioned the photo, of them just chilling in front of the couch, "Near or far I've never been or felt so connected. I love our daily communications. The creativity with which we find ways to share and express unconditional love despite distance and these busy times. I celebrate you and all that you do and am grateful for the myriad ways our love lifts us both. It's been an incredible rotation around the sun. I look forward to exploring more of this life journey with you." It's really, really cute.
Also, the pair was initially spotted in January 2019, so now we know that they'd been dating for a FULL three months before then and successfully managed to hide it from everyone until they were ready to go public. Way to go, guys.
Here's the anniversary post:
Ugh, so adorable. And here are Dawson's other recent posts. She's officially cooler than Booker, because she's a crossword puzzle answer!
And Booker came to support her movies, and she in return asked people to watch the next debate:
Heart. Eye. Emoji.
Update, 8/15: Proving that Booker and Dawson 1) are still together and 2) can find the humor in some of the ridiculous headlines about them right now, Rosario shared a screenshot between the two of them. Cory shared a news story that seemed to call out Rosario for not attending one of his campaign events, saying that her absence was "noticeable." Cory said sarcastically underneath the story, "You made it." (as in, look! You're famous! Also, look how ridiculous this story is!) Rosario captioned the photo, "I made it! To all the working mothers out there. Keep shining!" So, lest we all be worried, Rosario is busy at home, and also has work of her own, so everyone chill about her showing up to every fundraiser, thanks.
Also, in other news, Cory was interviewed for an E! pop culture survey, and in it he was asked what his first song at his wedding was: "Guess we'll have to wait and find out on this one." and his hidden talent: "It's not too hidden and some probably don't consider it a talent, but I've got a lot of dad jokes in my system. Not only do I tell the best dad jokes—I can tell a whole lot of them in a minute, as I recently discovered on a long road trip through Iowa." Soooo I feel like marriage and babies might be on his mind?? Just sayin'.
Here's the exchange between Cory and Rosario:
Jokes aside, I do love their sweet, sarcastic connection.
Update, 7/9: Not that we didn't already know, but in case it wasn't absolutely crystal clear, Cory and Rosario really love each other a whole bunch. Rosario just shared a video on her Instagram, in which the pair tell each other how much they love each other (according to Cory, "so much.").
This isn't the first time they were on Instagram video together. That particular honor (in least in terms of their feeds; they might have been on each other's Stories before) was for their very cute and adorkable shared interest in Avengers: Endgame. If I had to guess, they were about to watch or had just watched together, but their mutual geekdom is a joy to watch. Cory's busy campaigning, but when they do spend time together, it's apparently epic and adorable.
No updates on whether the pair is engaged, or planning to get engaged, since Cory's interview in June with RuPaul, but I imagine that'll probably be kept quiet until the actual event happens. I do wonder if it'll happen between now and 2020, though—which would make for an interesting, busy time for the couple. People would be very interested in their relationship in a new way, I think.
Here's the "I love you" video:
And here's the "assemble" video:
They seem sooo sympatico and into each other. I really dig it.
Update, 6/13: In an interview with RuPaul and reported by the Daily Mail, Cory Booker had a very interesting exchange that hints there might be wedding bells in his future. "If elected, you would be the first unmarried president in a long, long time," RuPaul said. In reply, Cory said with a smile, "The swearing in isn't until the 21st of January, 2021. You never know what might happen between now and then."
What's even better is that Rosario was in the audience while he said it, and the camera totally panned over to her. She grinned and looked really sheepish. Note that it doesn't say she looked surprised, so (if I had to guess) this might have been something they've talked about? I would love that. They're so cute.
In a separate video, Rosario told RuPaul, "Thanks for inviting my boyfriend to be on your show so I could be in the audience and clap and cheer and scream for you."
I imagine his fans would go nuts—especially since Cory has been known as a single guy for so long, and this is the most public he's been about the relationship.
Update, 3/14: Speaking to TMZ on Thursday at a D.C. airport, Rosario Dawson confirmed she's dating Cory Booker. "I am just grateful to be with someone that I respect and love and admire so much," she told the outlet. "He's an amazing human being...It's good to spend some time together when we can." This comes a month after Booker said he's seeing someone, confirming, "I got a boo," but didn't reveal her name.
Update, 2/1: This week, Senator Cory Booker announced he's running for president in 2020, making him the latest of many Democrats (including BFF Kirsten Gillibrand) who have entered the race. Booker has never really talked about his private life, aside from the fact that he's never been married. What we do know is that he's been seen with Rosario Dawson over the last couple of months, and prior to Dawson he was thought to have been dating nonprofit director Chanda Gibson.
RELATED STORY
This winter, Booker was spotted with Dawson at the movies in New York and at a Broadway performance of Dear Evan Hanson, where she reportedly said "I love you" to him (omg!).

Here's what we originally knew about Dawson and her reportedly budding relationship with the senator.
She's incredibly talented.
You've probably heard of Dawson, an actress who's been in the game since 1995 (although her bio indicates it might have been even earlier, with a cameo on Sesame Street). Some of her most notable film roles included Sin City, Alexander, The Lego Batman Movie, as well as TV roles like Jane the Virgin and Luke Cage. Her next project is reportedly the Zombieland sequel, so her career's still going strong.
She's a New Yorker.
Dawson was born in New York City, and grew up with her mom, stepfather, and brother. She grew up in poverty, Dawson has said in interviews, and family members in the area helped raised her.
She recently dated comedian Eric Andre.
The pair reportedly broke up in 2017. Dawson confirmed the relationship (which is rare for her) to Stephen Colbert the previous April, talking about how sweet and caring he was.
Before that, Dawson's exes may include Danny Boyle, Michael Fassbender, Gerard Butler, Quentin Tarantino, Joshua Jackson, and even Jay-Z—although the actress rarely if ever comments about her private life, so some of that might be speculation.
She actively supports political causes.
Dawson supports underserved populations like minorities, women, and the LGBTQ community, and is a committed activist for the environment. Most recently, Dawson recently helped spread the word for people to vote in the November 2018 midterm elections. "Without you democracy can not be realized," she wrote. "I am only one vote, but together we are many...!"
She's known Cory a long time.
According to Page Six, the liberal actress supported Bernie Sanders in 2016 and Green Party candidate Jill Stein. She actively attended rallies in the run-up to the 2016 election and has known Booker for "years."
Since she's so politically active, she may have met Booker at one of the events she attended. She hadn't endorsed anyone for 2020 (I feel like she probably has a clear favorite, if she's dating Booker). She did retweet a tweet from Booker condemning the racist and homophobic attack on Jussie Smollett.
She's apparently super in love.
According to someone who spotted the couple at the Broadway performance of Evan Hanson, "They were so cute together and seemed so flirtatious." Apparently, "they were fangirling over everyone in the cast, and the cast was fangirling over them," per Page Six.
If these reports are accurate, it would seem pretty obvious Booker and his previous relationship (Chanda Gibson, below) have gone their separate ways, although Booker has not commented on either relationship.
Original post: Here's what we know about Chanda Gibson, the former executive director of the Council of Urban Professionals (CUP), who actually worked with Booker on his mayoral campaign, and who he reportedly dated until Dawson.
She works at a nonprofit.
Gibson was the former executive director at CUP until December 2018, and prior to that was the COO of the Employee Resource Group at Goldman Sachs. According to her LinkedIn page, she now works at DREAM, which helps youths in the South Bronx, East Harlem, and Newark. There, Gibson works on communications, marketing, and development efforts.
She's private, like Cory.
Gibson has an Instagram account, but it's private. She has a LinkedIn page, where she details her recent professional accomplishments, but otherwise she seems to want to stay out of the spotlight. Booker obviously has a more public profile, being a politician and all, but recent posts don't show Gibson anywhere. No surprise, probably.
She worked on one of Cory's campaigns.
She has called Booker a "spiritual advisor" and, according to LinkedIn, worked as a scheduler for his mayoral campaign between January and June 2002.
Cory inspires her.
Apparently Booker got Gibson to work for him by inspiring her to embrace change for a good cause. "If you want to do something you believe in, quit your job and come help me run for mayor," she told Forbes. "Within eight days, I had quit my job and found myself sleeping on an apartment floor in Newark. I had never been to Newark. I had never been to the East Coast! But I believed in Cory. I believed in what he was trying to do. It felt great being part of this amazing experience."
She's a mom.
The PR Mommy blog did a feature on Gibson, who's the mother of two boys. "Even though the boys are being raised by a working mom and dad that live in two different cities with no family nearby, we ensure they are surrounded by love whenever we are together for 'family time' and our friends are all their aunts, uncles, grandmas, etc.," Gibson explained.

She also had advice for other working moms: "Value all aspects of who you are and be gentle with yourself in those moments when you don't get it all right. Stand in your strength through the exhaustion, guilt, and frustrations because the world needs us. We are the best moms when we are our best selves. It's okay to want it all. We earn it and deserve it."
She's passionate and outgoing.
Gibson told The PR Mommy, "People are a definite passion of mine and I love it when I make authentic connections; it is the best feeling to be trusted with someone's story and to feel like you are able to make a positive difference."
In Forbes, Gibson added, "I always had a boiling outrage around social injustice, and that outrage has driven many of my career decisions."
She's close with her family.
Gibson told Forbes, "I grew up in a small river town in northern California, the child of a white mother and black father who divorced when I was young." Her mom and step-father were bar owners, and she came from humble beginnings. She was in the first generation in her family to finish college, graduating from Stanford.
She had a particular connection with her mom, until she passed away: "The fierce, unequivocal, unconditional love that she had for me and my sister and our kids is something I'll always cherish," she told PR Mommy.
For more stories like this, including celebrity news, beauty and fashion advice, savvy political commentary, and fascinating features, sign up for the Marie Claire newsletter.
RELATED STORIES
Celebrity news, beauty, fashion advice, and fascinating features, delivered straight to your inbox!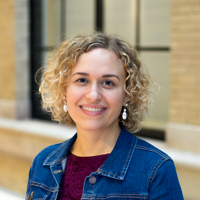 Katherine's a Boston-based contributor at Marie Claire who covers fashion, culture, and lifestyle—from "Clueless" to Everlane to news about Lizzo. She's been a freelancer for 11 years and has had roles with Cosmopolitan and Bustle, with bylines in Parents, Seventeen, and elsewhere. It's "I go to dinner," not "Her huge ego," but she responds to both.