Sean Spicer's Legacy, as Told by Melissa McCarthy's Best Impressions
RIP motorized podium and eternal happiness.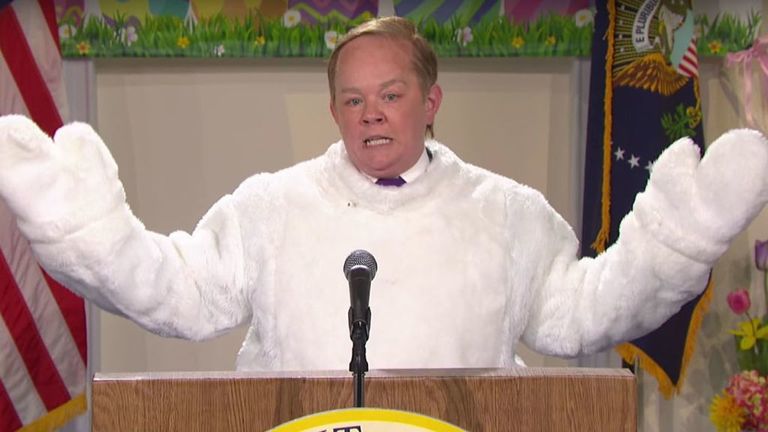 (Image credit: NBC)
It was the shot—okay, press release—heard 'round the world Friday: Sean Spicer, White House press secretary and serial gum-eater, has officially resigned, according to the New York Times.
This should shock pretty much no one who has had even a remote grasp on the news, as President Trump has reportedly been unhappy with Spicer's press conference performance over the past few months.
What does this mean for America? For starters, Spicer will now be allowed to hide in as many bushes as he'd like, and the White House will need to put out a listing on Indeed for a new permanent press secretary.
But where we'll really notice the hit is on Saturday Night Live, where Melissa McCarthy has been delighting viewers with hilarious impressions of Sean Spicer being Sean Spicer for the past seven months.
But because we're not good with goodbyes, we refuse to accept that her SNL reign is over, and instead turn toward our denial toward the past by re-watching all of McCarthy's best Sean Spicer impressions ever. Scroll through to take a very nostalgic trip down memory lane, and then, please, a moment of silence for this tragedy.
1. When Sean Spicer Took on Easter
2. When Sean Spicer Unleashed a Box of Props
3. When Sean Spicer Played With Russian Nesting Dolls
4. When Sean Spicer Took His Podium to the Streets
5. When Sean Spicer Sang "I Feel Pretty"
Follow Marie Claire on Facebook for the latest celeb news, beauty tips, fascinating reads, livestream video, and more.