Where Kamala Harris Stands On Marijuana
She and Biden don't exactly see eye to eye on the subject.
Marie Claire Newsletter
Celebrity news, beauty, fashion advice, and fascinating features, delivered straight to your inbox!
Thank you for signing up to Marie Claire. You will receive a verification email shortly.
There was a problem. Please refresh the page and try again.
Unless you've been hiding under a rock (or have used quarantine as a much-needed excuse to hide from 2020), you'll know that Democratic presidential candidate Joe Biden has announced his VP pick as California Senator Kamala Harris. On a majority of issues, the two have much in common, but Harris and Biden are on opposite ends when it comes to one: The prospect of legalizing marijuana.
Biden hasn't fully supported the legalization of weed. Meanwhile, Harris has come around to support the idea—but she says she has no plans to push her beliefs on Biden. But Harris wasn't always on board with the legalization of marijuana! I present to you: a complete guide to Harris' evolving position on everyone's favorite green leaf.
At first, Harris only supported medical marijuana.
When Harris was first elected as California attorney general in 2010, she opposed the initiative to legalize marijuana. "Spending two decades in court rooms, Harris believes that drug selling harms communities," said her campaign manager, Brian Brokaw, to Capitol Weekly. "Harris supports the legal use of medicinal marijuana but does not support anything beyond that."
Four years later, when she was campaigning for attorney general again, a reporter asked about her opponent's support of cannabis legalization. She paused for a moment before laughing while replying that he was "entitled to his opinion."
She also opposed California's marijuana legalization ballot measure that voters ultimately approved in 2016.
Harris has recently endorsed multiple acts supporting marijiuana legalization.
Harris started to come around in recent years, and has endorsed numerous bills pertaining to marijuana. Some examples include:
In her 2019 book The Truths We Hold: An American Journey, she spoke in favor of cannabis legalization.
"Something else it's past time we get done is dismantling the failed war on drugs—starting with legalizing marijuana," wrote Harris, adding that, "we need to expunge nonviolent marijuana-related offenses from the records of millions of people who have been arrested and incarcerated so they can get on with their lives."
Harris revealed she'd smoked pot before.
Early on in her presidential campaign, Harris appeared on the radio show, "The Breakfast Club," and co-host Charlamagne Tha God asked if she had ever smoked weed. "I have. And I inhaled, I did inhale. It was a long time ago, but yes," the Californian senator responded.
Harris explained that she smoked a joint in college while listening to Snoop Dogg and Tupac Shakur, but someone on Twitter was quick to point out that couldn't be factually correct. Harris graduated Howard University in 1986 and UC Hastings College of the Law in 1989, but it would be years before the rappers released any music.
Hear what #KamalaHarris thinks about legalizing marijuana 💬 pic.twitter.com/YGZlCAKUZ0February 11, 2019
See more
Harris told the host, "Look I joke about it, half joking—half my family's from Jamaica—are you kidding me." She continued, "I have had concerns, the full record, I have had concerns, which I think, first of all, let me just make this statement very clear, I believe we need to legalize marijuana... Now, that being said, and this is not a 'but,' it is an 'and,' and we need to research, which is one of the reasons we need to legalize it. We need to move it on the schedule so that we can research the impact of weed on a developing brain. You know, that part of the brain that develops judgment, actually begins its growth at age 18 through age 24."
Harris' father, Donald Harris, called his daughter's remarks on the radio show "a travesty." In an interview for the Jamaica Global Online, he said:
"My dear departed grandmother (whose extraordinary legacy I described in a recent essay on this website), as well as my deceased parents, must be turning in their grave right now to see their family's name, reputation and proud Jamaican identity being connected, in any way, jokingly or not with the fraudulent stereotype of a pot-smoking joy seeker and in the pursuit of identity politics," he said. "Speaking for myself and my immediate Jamaican family, we wish to categorically dissociate ourselves from this travesty." Harsh!
Correction: We previously wrote Representative Alexandria Ocasio-Cortez as Senator Alexandria Ocasio-Cortez. We apologize for the error.
Voter Merch to Help You Spread the Word This November
Celebrity news, beauty, fashion advice, and fascinating features, delivered straight to your inbox!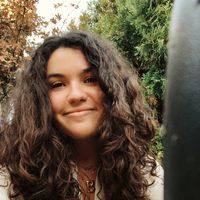 Bianca Rodriguez is the Fashion & Luxury Commerce Manager at Hearst Magazines, covering fashion, beauty, and more for Cosmopolitan, Elle, Esquire, Harper's BAZAAR, and Town & Country. She likes lounging about with a good book and thinks a closet without platform sneakers is a travesty.