The First Presidential Debate of 2020 Left People Overwhelmed
"This debate is what you see when you actually inject bleach into your veins."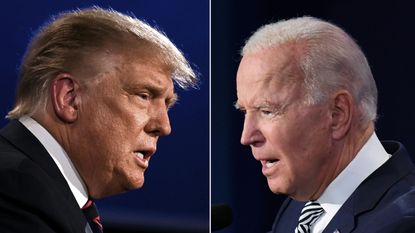 (Image credit: JIM WATSON)
Hello, everyone, and welcome to the first presidential debate of 2020! So far, we have: That iconic "Will you shut up, man?" (opens in new tab) line, a tussle over which presidential nominee was more "smart," (opens in new tab) at least one creepy sex joke, (opens in new tab) and so much interrupting that I have the beginnings of a migraine! Very few issues that we actually need to talk about, like the ongoing pandemic (opens in new tab), structural racism (opens in new tab), or Roe v. Wade (opens in new tab) have been addressed in a productive or even vaguely lucid way!
Chris Wallace did try to calm things down so that we could have some semblance of a real debate, but totally failed. (opens in new tab) Here's how people reacted—and spoiler alert: they need a drink just as much as you do.
We Need a Mute Button, People
WYD, Chris Wallace?!
What About Herman Cain?!
No Condemnation of White Supremacists
This Is Exhausting
Sorry, Women Are Emotional?!
Here's an Idea!