Pope Francis Says It's "Pure Scandal" That Women Don't Have Equal Pay
Preach! Literally!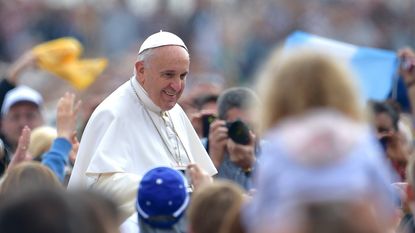 (Image credit: Archive)
The movement for equal pay just got a powerful new ally: the Pope. During his general audience at the Vatican Wednesday morning, Pope Francis spoke out in support for equal pay for equal work.
According to the National Catholic Reporter (opens in new tab), the pontiff talked about the concept of "radical equality" between a husband and wife that Christianity mandates, and argued that extends to gender equality altogether. Christians must be "more demanding" for equal treatment, he said. "For example: supporting with conviction the right of equal compensation for equal work. Why is it expected that women must earn less than men? No! They have the same rights. The disparity is a pure scandal."
The Pope also emphasized the importance of marriage and family, especially at a time where fewer people are marrying, Vatican Radio (opens in new tab) reports. And he made it clear that dads are just as important as moms. "At the same time," he said, "we must recognize the maternity of women and the paternity of men as a perennially valid treasure, for the benefit of children."
Francis' remarks are definitely a positive sign for the Catholic Church, and the world. But seeing that women can't be Catholic priests and the church is vehemently anti-abortion, it's still got a long way to go before getting feminist brownie points.
You should also check out:
Even the Pope Wants to Change the Conversation on Women's Rights (opens in new tab)
Obama Administration Responds to Catholic Group's Birth Control Case (opens in new tab)
The 10 Biggest Supporters of Women's Rights in the U.S. Government (opens in new tab)
Megan Friedman is the former managing editor of the Newsroom at Hearst. She's worked at NBC and Time, and is a graduate of Northwestern's Medill School of Journalism.