How Pissed Off Are Republican Women?
The Republican Party's "war on women" is one of the biggest political stories of the year. So are female GOP voters standing by their party?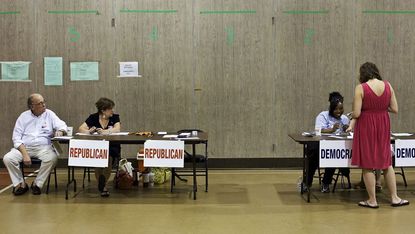 (Image credit: Archives)
Marie Claire Newsletter
Celebrity news, beauty, fashion advice, and fascinating features, delivered straight to your inbox!
Thank you for signing up to Marie Claire. You will receive a verification email shortly.
There was a problem. Please refresh the page and try again.
Is the Republican Party antiwoman? In recent months, (mostly male) Republican pols have pushed for or passed numerous measures making it more difficult to get birth control and abortions. In Congress, Republicans lobbied to create a stricter definition of rape and to weaken the Violence Against Women Act, and opposed a bill addressing gender-based wage discrimination. High-profile Republican men have also made several off-key remarks about women, most notably, Rush Limbaugh's notorious comment that a Georgetown University student was a "slut" and a "prostitute."
Coming into the campaign season, Republicans already had a woman problem: In a 2011 Pew Research survey of registered female voters, 52 percent said they were Democrats and 40 percent said Republican. And as of May, President Obama appears to have a sizable lead among female voters, beating out Republican candidate Mitt Romney by 12 points among women in key battleground states, according to a USA Today/Gallup poll.
Even many Republican women say the party's attitudes are behind the times—and are causing a rift in their loyalties. "More women are concerned about the party's direction on social issues," says Kellie Ferguson, executive director of Republican Majority for Choice. This is "galvanizing Republican women to speak up," she says.
And they are. Retiring GOP Senator Olympia Snowe of Maine called recent debates about contraception a "retro-debate that took place in the 1950s." Alaska GOP Senator Lisa Murkowski expressed her frustration on a radio show: "If you don't feel this is an attack, you need to go home and talk to your wife and your daughters." And former GOP New Jersey Governor Christie Todd Whitman tells MC, "These are not issues the center wants to concentrate on, and they are pretty offended by how they are being framed."
No one can predict, of course, what will happen in the elections this fall. Despite the party's record on women's issues, many Republican women may still choose Romney over Obama. Some disenchanted Republican women may just stay home. Margaret Hoover, an author and Republican pundit, says the real danger for the party may lie in Republican-leaning independent women, whose support, she says, could be essential for Republicans to win the White House or make gains in Congress. Right now "they are not voting Republican or identifying with the Republican Party," she says.
In the end, Hoover and others say the best solution may be electing more female Republicans who support reproductive rights. Says Candy Straight, the cochair of Republican Majority for Choice, "The party is too white male, and it's in its own cocoon."
Celebrity news, beauty, fashion advice, and fascinating features, delivered straight to your inbox!