Rebranding Feminism: We Are The XX
What's up with dissing the F word?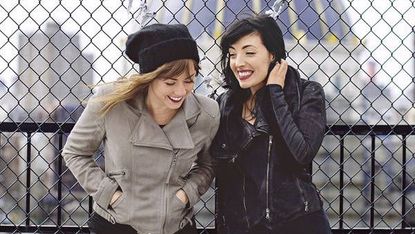 (Image credit: Naomi Shon)
Allison Rapson, 30, and Kassidy Brown, 28, founders of the website We Are the XX, are disappointed when strong, empowered women like Katy Perry, Susan Sarandon, and Yahoo Chief Executive Marissa Mayer publicly eschew the "feminist" label. They decided it was time to give feminism a new spin so more people would feel comfortable embracing the concept. On International Women's Day, March 8, they'll launch an online campaign (wearethexx.com) aimed at closing the gender-equality gap.
Marie Claire: Why do you think it's important to re-brand feminism now?
We Are The XX: This is a movement that needs the energy of our generation. The reason people shy away from feminism is because the proliferation of what it isn't- anti-man, pro-leg-hair, etc.-is often what people hear first and loudest. At its core, feminism means the social, economic, and political equality of the sexes; by getting back to its original meaning, we're showing how appealing it actually is.
MC: What do you hope to achieve?
XX: We want to show people that feminism is not a movement of separation, competition, or comparison. So-called feminist issues do not belong just to women-they belong to everyone.