'Love Island USA' Host Sarah Hyland Served Up a Quick Comeback to a Contestant's Insult
"Boys will be boys."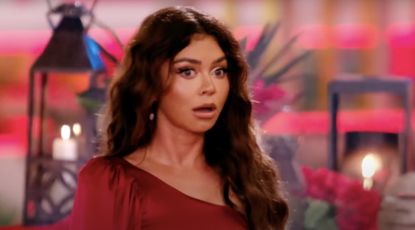 (Image credit: Love Island USA / Peacock / YouTube)
Marie Claire Newsletter
Celebrity news, beauty, fashion advice, and fascinating features, delivered straight to your inbox!
Thank you for signing up to Marie Claire. You will receive a verification email shortly.
There was a problem. Please refresh the page and try again.
If you know anything about the hit UK dating show Love Island and its juicy U.S. equivalent, it's that there's never a shortage of drama. But it's pretty rare that the hosts themselves are brought into the crossfire—until a recent episode of Love Island USA, which airs on Peacock.
First, some background: The show's basic premise is that a bunch of hot people are put in a house where they pair off with the person they think they have the best shot at love with, in the hopes of winning a cash prize at the end (and, you know, going home with their true love or whatever). Along the way, they can vote their fellow Islanders off the show, usually for strategic reasons.
In this specific instance, which occurred on the U.S. version of the show that's hosted by Modern Family actress Sarah Hyland, the unlucky contestant set to leave the island was Keenan Anunay, who at the time was paired up with fellow contestant Vickala "Kay Kay" Gray.
Now here's the twist: Kay Kay decided to voluntarily leave the island alongside Keenan, since she valued their relationship more than staying in the show and "found what [she] came for" in Keenan. (You might think that's the point of the show but actually it's very rare this is the case!)
Watch the drama unfold in the clip below:
But that's not the end of it!
As the contestants, clearly rattled, watch on, host Sarah asks Kay Kay if she was really certain she wanted to leave the show for her man: "Before you go anywhere, I just [want] to make sure that you're absolutely happy with your decision." A typical host response! It's a big call!
Smiling, Kay Kay replies, "No regrets."
But then, from the peanut gallery, another contestant named Mike Stark pipes up and reprimands Sarah, asking, "Why are you saying it like that?"
Sarah, confused, asks, "Me?" And Stark says, "Yeah, it sounded mad disrespectful."
Clearly off-put and annoyed, Sarah turns toward the camera with an "OK then," and even gets an apology from another contestant who blames Stark's comments on "the heat of the moment."
Then, cool as a cucumber, Sarah remarks, "Boys will be boys."
It's a real mic drop moment for Sarah, and proof that if you're not watching Love Island USA then you're missing out on some primo reality TV. Fortunately, we've rounded up all the ways you can stream the show, if you want to catch up.
Celebrity news, beauty, fashion advice, and fascinating features, delivered straight to your inbox!