I'm a Feminist Pornographer
Let's just say Erika Lust's workday is probably very different from yours.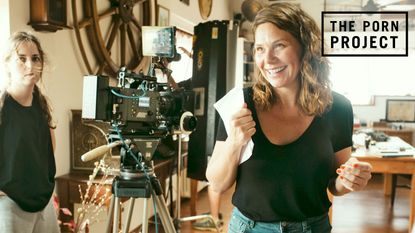 (Image credit: Courtesy the subject)
Erika Lust has been creating content about female desire since 2005—movies like Barcelona Sex Project; books like Good Porn: A Woman's Guide; and now her site XConfessions.com, which offers short films and written stories based on viewer-submitted fantasies (and where she uses a 90% female production crew). Here, she talks about a being a feminist in porn.
Marie Claire: How did you start making porn?
Erika Lust: I first watched porn with a college boyfriend. He liked it, I didn't. Women's role was to please men. They were portrayed as beautiful objects, but it wasn't really about them. I thought, sexuality is so much more than this.
I was studying film, and for my final project I made an explicit short film called The Good Girl that flipped the script of the typical pizza guy porno by having a woman narrator. I released it free online and within a few months it was downloaded over two million times. That was when I knew there was a market for female-led erotica. But my motivation was personal; I wanted something that represented my needs and my sexuality better.
MC: What's involved in your workday?
EL: Our shoots are like any indie film—the only difference is we shoot real sex. I make sure the environment is relaxed and the performers feel safe. I tell the performers what I'd like to see, the mood of the scene, and where the characters are coming from.
MC: Your films all have a plot. Is this important to female viewers?
EL: Very much so. Narrative is so important for building the sexual tension. Can you imagine a horror movie that only shows the blood, with no context? I think women need to get to know the characters before they start stripping.
MC: How do you find actors?
EL: Often through Twitter, or recommendations, or someone I've seen in another film. Most are professionals, but we sometimes use amateurs. They open up the possibilities of representing more body types with natural looks and different age ranges.
MC: How much say do your actors have?
EL: I always ask my actors with whom they'd like to work. Before shooting we discuss how their characters are supposed to have sex. Everybody knows that communication is important; it's no problem to say you need a break.
MC: How is the sex different from mainstream porn?
EL: It's not so concentrated on the technical part. I tell the actors I want to see more cunnilingus, intimacy, and kissing. Porn of the last four decades has taken love away from sex and entrenched athletic positions, gynecological shots, rage, and chauvinism instead. I tell my performers to forget all the porn they've watched and make love like you'd do it at home. Sex is a give and take; it's not going from kiss to blowjob to penetration to blowjob and then we're done.
I have them whisper in each other's ears during sex scenes. There are a lot of feelings and expressions and reactions. It's important to see female pleasure. I don't mean necessarily having an orgasm. I tell them to do what feels natural, but I don't put pressure on the women to orgasm. I want them to enjoy themselves first and foremost.
This article is a part of our series on women and porn, and appears in the November issue of Marie Claire, on newsstands now.
Follow Marie Claire on Instagram for the latest celeb news, pretty pics, funny stuff, and an insider POV.
Celebrity news, beauty, fashion advice, and fascinating features, delivered straight to your inbox!