I Became Completely Obsessed with My Boyfriend's Sex Obsession
Like Huma Abedin, I too couldn't escape my partner's endlesss sexting habits.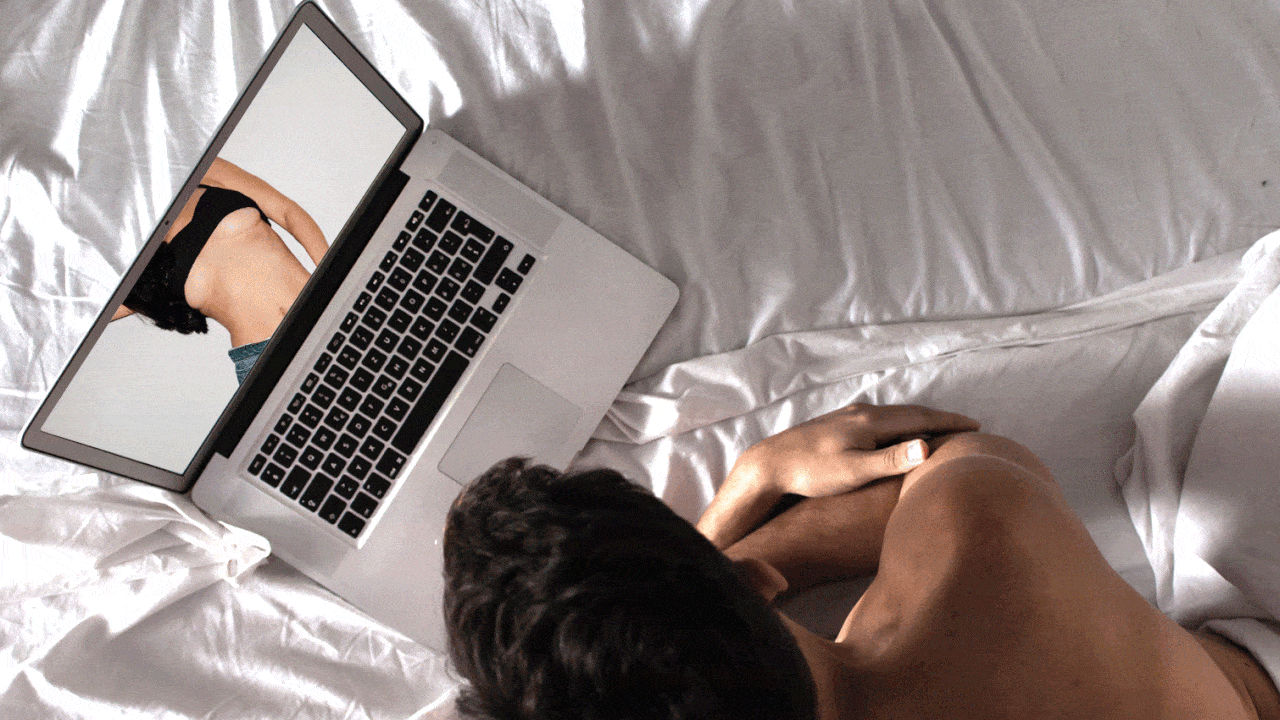 (Image credit: Getty; design by Dana Tepper)
During sex, my boyfriend would bring up other women's names.
He would just spring them on me with no warning. Sometimes the names were familiar, other times they were from his past. I pretended to be excited about them at first. "Oh yeah, talk about that waitress," I'd say in an effort to be the cool, edgy girlfriend who would never be threatened by other women.
But the longer we dated, I began to see it didn't just stop at foreplay. Everywhere we went, he would point out potential threesome candidates. Did I like her? What about that blonde over there? What about her crossing the street? I started to get visibly irritated—a major dent to my "cool girlfriend" PR campaign. One time we were at a religious service and he asked me, "Would you be less mad if the women were complete strangers? What if they didn't look like you? What about OLDER? How about pregnant?"
It wasn't always like this.
When I first met him on JDate.com, I was the sexual obsession—he was so good to me. And our dynamic wasn't solely sexual. We would go out to eat and laugh all night. He was humble, kind, and a little overweight, which I thought was adorable. He was my little Pillsbury Doughboy, always making me feel important, special, and loved. This is it, I thought.
Until what felt like overnight, the madness started. Hypothetical conversations about other women escalated to him constantly chatting with ex-girlfriends and new prospects on Facebook. He would show sexual interest in my friends—and any woman—we crossed paths with.
I never got any sleep. I couldn't focus on anything important. I couldn't focus on myself. I was a 24-hour watchdog, making sure he wasn't looking at porn after we had sex 10 minutes earlier or soliciting yet another naked photo from a woman online. I would walk in the bedroom and know what had just occurred, no matter how much he denied it.
As his behavior escalated, so did my reaction. My emotions were completely out of control—I would flip out all the time. I was screaming, throwing lamps, getting angry all day, looking through his phone, Facebook, Twitter DMs, even checking his pockets for "evidence." I would smell his underwear, that's how involved I was in seeking the truth.
I assure you, this is no way to live. Not if you want to enjoy life. When you're faced with this scenario you have two options: Give up or work on it. I looked through my phone of ex-boyfriends, vomited, and decided to work on it. I've had much worse!
The real problem was I had very little confidence to start. I had failed at everything in my life—fired from a famous band right before they had a hit record, laid off from my radio show, closed down by the platform that hosted my web show—and it felt like the only thing I was successful at was keeping a boyfriend around.
What was left for me? The answer, as it is for a lot of women, was loud and clear: marriage and children. No matter that I was dating a crazy-horny-sex-addict-porn-connoisseur-attention-seeker.
We went to couples therapy, which for some reason made me even more angry. Every time he said, "but she's just my friend," I flipped out and ran down the 38 floors of stairs to where my therapist's office was. It was infuriating. Why didn't he get it? No matter what I said, no matter how many times I cried, he kept acting out sexually. Following attractive women in short skirts down the street, trolling Craigslist for MILFS who wanted to be dominated, watching porn before, after, and DURING sex—it was all too much for me.
We separated for a few months, I got my own place, and we started officially dating other people. And man did the tides turn! He couldn't live with the idea of my possibly being in love with someone else. He would bring me little gifts every day. I was now the proud owner of so many stuffed animals I could've opened a Toys "R" Us. I guess people really don't know what they have until they lose it to a six-foot tall handsome businessman.
So when I heard the recent news of Huma Abedin leaving Anthony Weiner (opens in new tab) for sexting ANOTHER random babe on the Internet, my heart sank. I am all too familiar with the intuitive scrolls through the phone and the second-guessing every word he says and the promises that everything will change—the promises you want to believe long after you've stopped believing them.
I finally realized that there was nothing I could do to control this behavior. And it looks like Huma realized that too. We're both better for it.
Follow Marie Claire on F (opens in new tab)acebook (opens in new tab) for the latest celeb news, beauty tips, fascinating reads, livestream video, and more.