So, A Guy Asked Me to Use a Dildo—on Him
"I enjoy a kind of sex that people don't usually associate with straight men," he said.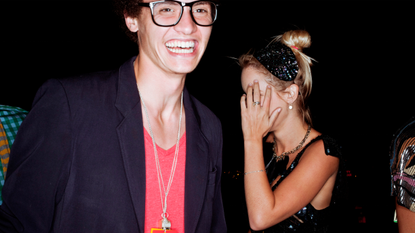 (Image credit: Archives)
Marie Claire newsletter
Celebrity news, beauty, fashion advice, and fascinating features, delivered straight to your inbox!
Thank you for signing up to . You will receive a verification email shortly.
There was a problem. Please refresh the page and try again.
When a pale-skinned, wild-haired guy asked me out on Nerve.com (opens in new tab), I almost passed. For one thing, he described himself as a filmmaker, and the black-and-white photos of him lying on a bed of ivy were downright weird. But when he invited me to see my favorite indie band, Bright Eyes, I called Art Boy and we got to talking. The conversation rocked: He was a Renaissance man who was as excited to talk about postcolonial literature as he was the best way to make brownies from scratch. I ignored the fact that he occasionally used words that sounded like Martian, and agreed to meet him.
I was surprised by how much better he looked in person than in his pics—his nose was handsomely Roman, and his hair was messy in a sexy, bohemian way. By the end of the night, we were locked in a sweet kiss.
A few weeks and a few equally great dates later, we were walking up the stairs of his apartment building, talking about the statuesque men we'd just seen in a modern-dance performance, when I suddenly wondered if Art Boy's appreciation for their rippling muscles was more than merely aesthetic. "Wait, are you bi?" I asked.
"Nope," he said. "I like pretty girls."
But later, when we were lounging on his couch, he dropped a bomb: "I enjoy a kind of sex that people don't usually associate with straight men," he said. Then he poured us some port and explained: He had a thing for intercourse wherein his female partner was the aggressor. Or, to put it bluntly, he liked to take it from behind by a woman in a strap-on.
"How'd you figure out you were into that?" I asked, once I'd found my tongue. Apparently, a gorgeous female teaching assistant in college liked to underscore their power dynamic by giving him the business.
"And you enjoyed it?" I said.
He nodded. Then he took the glass out of my hand, started kissing me, and two months of the best, most conventional nooky of my life ensued. I assumed his strap-on days were over.
But then one night he showed up at my place with a rubber replica of the male appendage, attached to a belt. After stepping into the contraption like I would a pair of shorts, I caught a glimpse of myself in the mirror and couldn't help but laugh at how ridiculous I looked. The things women have to do now to date, I thought. Guys had asked me to try everything from joining a threesome to putting my tongue in the last place anyone would want to put her tongue. And now—this. What ever happened to white sheets, Nina Simone on the stereo, and skin against skin?
As I moved my hips and did my thing, I felt strangely removed from the experience. The kinky deed seemed unsexual and anything but intimate—after all, my primary erogenous zone was covered up by a giant fake penis.
Our romance didn't last much longer—not because of the sex, but because things never seemed to extend beyond the sex. When I ended it, he griped, "Modern heteronormative dating rituals can be so teleological."
"Sorry, I don't speak robot," I said.
"Well, heteronormative means classic male-female relationships. And teleological means geared toward a specific goal, like marriage."
I rolled my eyes. I'd strapped on a dildo for this guy, and still he was calling me conventional.