How to Find the Perfect Summer Fling
4 helpful suggestions to finding the perfect temporary lover.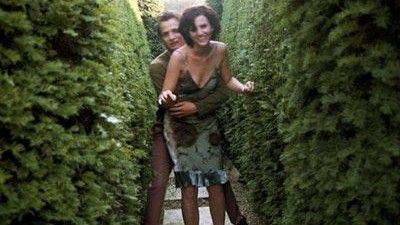 (Image credit: Taxi/Maria Spann)
A hot (and very sweaty) topic among my friends these days is the question of the summer fling. One of us (who shall remain nameless and even porn-star-nameless) seems to be having one. This startling development moved our posse to convene a meeting of the Summer Fling Working Group in the hopes of determining a few factors that should be in place if you want to have the best of all possible summer flings.
1. There should be a hard-and-fast expiration date. For a truly harmless and lighthearted summer fling, your dude should be in town only for the summer — or else you should be temporarily in his neck of the woods, and leaving in September. Why? If you're both going into it knowing it will have to end when the season does, there's less of a chance anyone will get hurt — and more of a chance you'll both have a laid-back good time. So if you're doing research abroad, live it up. If he's a teacher taking a long vacation in the college town near you, enjoy! Work has you on location in Los Angeles or Paris for the summer? Now is the time to meet the locals!
2. He should be easy to communicate with. This affair should be all about fun — and because you both know perfectly well it can't last forever (see point No. 1), nobody needs to freak out about whether or not you're getting too close. So you should be with a guy who likes to communicate just as much as you do — whether that means texting each other good night or emailing frequently during the day or simply conferring once a week to make your plan for Friday night fun. If you're feeling like you have to bottle yourself up, or hold back from asking him to do the summer stuff you're excited about (like having that picnic in the park), let him know he needs to lighten up if he wants to be good fling material.
3. There should be an age difference. Now, I'm not saying I'd go kicking anyone out of bed just because he was born within twelve months of you. But since it's just a fling, it frees you up to go way out of your usual age range — in either direction — because there's no concern about the difference in years becoming problematic down the line. You can go for a younger dude without worrying that he will one day say, "You're great ... but we can't get serious because I only want to have children with someone my age." (Not that that has ever happened to me. Not in the last three months, anyway.) You can also have a fling with someone older. He'll adore you for your beautiful youthfulness — and you won't have to worry about him dying before you get anywhere near your 20th wedding anniversary. Because this is a fling, people! And not a trial engagement.
4. Try someone who's not your type. As you're not taking this seriously, I encourage you to experiment with someone who falls outside the realm of people you'd typically consider boyfriend-worthy. Personally, every time I date a guy I think is "wrong" for me in some small way, or "not my type," I'm pleasantly surprised. There was, for instance, the guy who was a little too artsy ... who was great in bed. Or the one who was not smart enough ... who was great in bed. Or the one who was way too short for my taste ... who was AMAZING in bed!
Now, I know what you're going to say: "But Maura! Summer flings aren't so easy to come by." I know, I know. But if you look for them — and you open your mind to guys who are only stopping through town or are outside the norm for you — I bet you'll be surprised at the dating opportunities that pop up.
More From Marie Claire:
50+ Dating Ideas for the Best Date Night Ever
Short Hairstyles & Haircuts for Women
21 Long Hairstyles You'll Love
Marie Claire email subscribers get intel on fashion and beauty trends, hot-off-the-press celebrity news, and more. Sign up here.