Is It Wrong to Date Someone Who Likes You More Than You Like Him?
Is it possible to like each other equally from the get-go, or is it kind of necessary for the vast majority of the population to do this?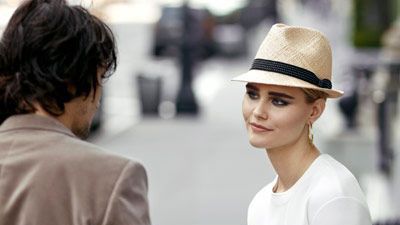 (Image credit: Patric Shaw)
Marie Claire Newsletter
Celebrity news, beauty, fashion advice, and fascinating features, delivered straight to your inbox!
Thank you for signing up to Marie Claire. You will receive a verification email shortly.
There was a problem. Please refresh the page and try again.
A certain romantic conundrum has been on my brain for a while:
Isn't it unethical — or at least kind of mean ... or at least a little deceptive — to date a guy if I can tell he likes me more than I like him?
At least one of my friends thinks it is. If I ever say anything like, "Yes, that dude I met through OkCupid is pretty cool, and he seems to totally dig me, but I'm not sure I see it lasting any longer than three months, if that," my friend will come back with, "It's not fair of you to string him along! You should either break it off or let him know that you might feel less serious than he does."
And because I think my friend is mostly right — and because that is CERTAINLY the kind of advice I give him when the roles are reversed — I usually do break it off.
But lately, because I've been thinking seriously about my problems with commitment-phobia, I've started to wonder if my "ethical stance" about not dating anyone who likes me more than I like him is actually coterminous with my fear of getting into a serious relationship.
If you're wondering what the hell I mean by that, allow me to show my work, as my algebra teacher might have said:
It's more likely I could get into a serious relationship with a guy who actually likes me — and the idea of being in a serious relationship is scary to me. And my "fear of intimacy" gets sublimated into a lack of attraction to the guy who actually likes me. So voil! I remain free to get hung up on "douchebags" (by definition, dudes who are less into me than I am into them, naturally). And so I remain single. And I remain FREE.
And even though I I'd love to be in a healthy relationship ... the truth is, the idea of uniting my life with another person's kinda freaks me out for a million reasons. Which maybe I'll get into tomorrow.
But for now, let me get back to my original question. Tell me, folks: Do you think it is, in fact, unethical — or at least kind of mean — to date a person if you can tell he or she is more into you than you are into him?
Or do you think there is always going to be some kind of imbalance — and that the only way any romantic relationship ever evolves is if both people deal with the fact that one person likes the other more, at first, but they're both willing to move forward to see if things even out?
Do you think there should be a gender exception when it comes to this issue? Like, is it okay for one person to like the other more only if that person is a man — since, according to conventional (or at least old-fashioned) wisdom, men are supposed to be the pursuers?
Or do you simply think that when a relationship is meant to be, it's meant to be, and there's no sense of disparity?
Celebrity news, beauty, fashion advice, and fascinating features, delivered straight to your inbox!