Is Frugality a Turnoff?
Pretending he had an eating disorder to avoid taking a woman out? That ain't frugal -- that's cheap!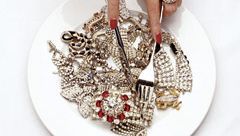 (Image credit: S. Krouglikoff/Getty Image)
Here we are, in the midst of the Great Recession — and even now, when we should admire people who can save money, frugality is a turnoff.
The online bank ING Direct recently conducted a survey that asked participants to name words that might come to mind if someone offered to set them up with a person described as frugal. Of the respondents, 27 percent answered "stingy." 15 percent said "boring." Only 3.7 percent said sexy.
DO WOMEN FIND FRUGALITY MORE UNATTRACTIVE THAN MEN DO?
It seems, however, that there is a gender divide when it comes to the question of the palatability of frugality: For instance, 56 percent of men thought being frugal was smart, whereas only 42 percent of women did. And a mere 20 percent of men thought frugality implied stinginess, whereas 33 percent of women did. This indicates, to me, that most women want to be wined and dined during a courtship — so they don't like the idea of being introduced to a man who is tight with a dollar, and therefore might take them on a sub-par date.
WHY FRUGALITY IS UGLY IN A DATE BUT ATTRACTIVE IN A PARTNER
However, eHarmony has some good news for frugal daters: They're more attractive when it comes to the long term. As the New York Times recently mentioned, the online dating site looked at the 30 million matches it made in July, and found that both men and women were 25 percent more likely to have a potential mate contact them if they identified themselves as a saver rather than a spender.
This seeming contradiction in data sets — between the ING findings and the eHarmony stats — actually makes sense to me. I think it has to do with the way the ING study was set up. If someone told me she wanted to set me up with a dude who was frugal — and that was the only adjective she used to describe him — I would, of course, assume he was cheap, and assume he was going to calculate how much I owed on our drinks-and-appetizers bill, right down to the tax.
Which is what happened to me on a date I had with AN ECONOMIST who worked for THE WORLD BANK. Boy, oh boy. Talk about not being worth the money. I mean, I practically wanted to say, "I had three of the spring rolls, and you had two, so maybe we should go 60/40 on that, rather than 50/50?"
But if I were looking at a man's online dating profile, and I learned that, among other things, he was a saver, that would be appealing. Because I want to meet a man who will take me out to dinner but who will also be responsible financially.
Lauren Weber, author of the memoir In Cheap We Trust: The Story of a Misunderstood American Virtue, is more open-minded than I am. She thinks that a dude who is, well, kinda cheap, can be a great long-term prospect.
THE MAN WHO PRETENDED TO BE ANOREXIC SO HE WOULDN'T HAVE TO PAY FOR MEALS!
As Lauren puts it: "My friend dated a man who claimed to have an eating disorder in order to avoid taking her out for dinner. That is clearly going too far!"
(And I thought I'd been out with some cheapskates.)
"But," Lauren continues, "a thrifty man can make a great partner. He's responsible and not drowning in debt. He's down-to-earth, and not terribly concerned about superficial things like the kind of car he drives or the size of his, ahem, flat-screen TV. My last serious boyfriend couldn't pass a Dumpster without climbing into it — and I loved that about him. He was quirky and, even though he was tight with money, he was generous with love and affection. In the end, that's really what matters most."
WHY I LIKE MEN WHO TAKE ME OUT — AND SAVE
I agree with her about what's most important. But if I was out with a dude who wanted to dive into a Dumpster, I would let him go for it — and then I'd keep on walking. (Even if — I will admit — I do love me a good yard sale.)
I like men to treat me to dinner and dates — particularly early on in the courtship and particularly if I know they make more money than I do — even if they are younger than I am (which they usually are).
Probably, that's at least partly sexist. It's also partly being a writer-type who has never made much money. But a good chunk of it, too, has to do with the fact that during most of my youth, my father would symbolize his feelings of love and care by being the "breadwinner" — and the food-giver. Frequently, he would say, "I feel like as long as I can put food on the table, I've done my job."
TREATING SOMEONE DOESN'T HAVE TO BE EXPENSIVE
But treating someone doesn't have to be expensive — so long as it isn't (sorry, Lauren) cheap. For instance, one Junior Mint I recently dated was a medical student, so he didn't have much money — but he got student tickets to a great play for our first date and to a cool concert at Carnegie Hall for our second. He didn't blow the bank, but he did make me feel pampered.
What do you guys think? You know I want to hear your stories about ... YOUR CHEAPEST DATES EVER.