Dylan's Muse and Your Favorite Love Songs
The woman who inspired some of the most famous ballads of all time has passed away.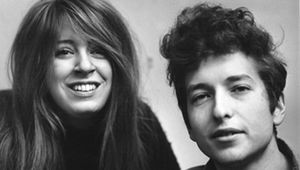 (Image credit: Michael Ochs Archives)
The woman who inspired some of the most memorable rock love songs of all time — and who appeared on one of the most iconic album covers ever — passed away last Friday. Suze Rotolo, who was 17 years old when she began dating Bob Dylan in 1961, died of lung cancer at age 67. She appeared with the harmonica-playing legend on the front of his 1963 record, The Freewheelin' Bob Dylan.
In Dylan's 1994 memoir Chronicles: Volume 1, he wrote: "Right from the start I couldn't take my eyes off her. … We started talking and my head started to spin. Cupid's arrow had whistled past my ears before, but this time it hit me in the heart and the weight of it dragged me overboard."
The love-struck Dylan wrote many of his early love songs (so it seems) to or about Rotolo, including one of his most famous tunes, "Don't Think Twice, It's All Right," and one of my favorites, the gorgeously heart-breaking "Boots of Spanish Leather."
All this has gotten me thinking: What are your favorite rock love songs?