Living Together Left Me $26,000 in Debt
He wanted to be a pilot, so she financed his dream. But somehow their wedding never took flight.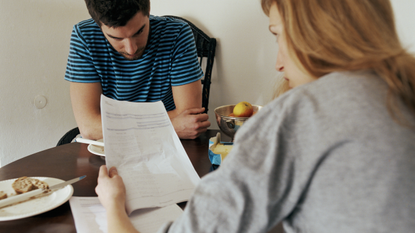 (Image credit: Getty Images)
In December of 1996, when I was 23, I met Chris online. He lived in Honolulu, where I grew up, but I had just moved to Seattle for work, so we'd talk on the phone for hours, laughing until our stomachs hurt. One night I said, casually, "I had the best clam chowder tonight. If you ever come visit, you should try it." "Amy, I work for an airline," he said. He arrived on Valentine's Day.
When he met me at the airport, I was pleasantly surprised. He was cuter than his photo, with striking green eyes, and we felt like old friends instantly. That weekend, we went to the mountains, met my brother and his wife for dinner — and had clam chowder. It was perfect.
He came back in April. In the meantime, I got a call about a PR job in Honolulu. It seemed like serendipity. Chris flew up to help me pack, we shipped my stuff on an airline discount, and I got an apartment through a friend of my mom's. He stayed that first night — and never left.
I didn't mind. Our lives fit seamlessly. He was sweet and romantic — sent flowers to my office for no good reason, brought me my favorite fast food (mahimahi from Kakaako Kitchen) when I worked late, and ate with me. We loved to cook together, too. In fact, I remember the day I knew I wanted to marry him. We had friends over for a barbecue. I laughed as Chris fumbled with the coals as he tried to set up the grill, then dripped marinade all over the patio. I could see us doing the same thing 60 years in the future.
Which is exactly what I wanted. I had a career. I was independent — I'd moved to Seattle by myself. But I'd also watched my parents — married for 42 years — grow old together. I wanted that bond, and Chris seemed to, also. Early on, we helped his best friend and his girlfriend plan their wedding. One day, as I pored over bridal magazines with her — while keeping one eye trained on gowns I liked — Chris seemed to read my mind. "You should be looking at those, too," he said. "This could be coming up for us soon."
We began to plan. I made a guest list. We even had our perfect invitations picked out: a vintage cartoon, Dick and Jane-style. "See Amy and Chris," the front read. Then you'd open it to see the two of us in a tux and a big, white wedding dress: "See Amy and Chris Get Married." I couldn't wait. But there were things Chris wanted to accomplish first. Six months in, he told me that he wanted to go to flight school. It was a big leap. Up until then, he'd been a baggage handler. But I've never met anyone who loved airplanes like he did. On our lunch breaks, we'd sit at the airport watching planes take off while he quizzed me on things like the difference between a 747-200 and a 747-400: One, apparently, has little fins called winglets; one doesn't. Now his career was growing winglets, and I wanted to be supportive. He worked while going to school, so he was making some money, but I was making more. It was sort of understood that I would float us until he became the big-bucks pilot. So I paid our rent, the utilities, and the payment for my car, which we shared.
Flight school was fun for us both. We flew to neighboring islands so he could log flight time; I got to see my family on the Big Island. "You're my best friend," he told me the day he graduated. "I couldn't have done this without you." After, he got a job with a local commuter airline.
By now, we'd been together two years, and I hoped the next time he took me flying would be to pop the question. But, ironically, once Chris earned his wings, I felt him pulling away. Instead of hanging out with his flight-school friends the way we used to, he now went out with them alone. They were going to talk about "flying stuff," he said; I'd be bored. Instead, I was beginning to feel used. Chris was working 12 hours a week, in contrast to my 16-hour days. And yet, I'd come home to clothes on the floor, dirty dishes in the sink, and him, glued to the computer, playing Flight Simulator. "Wow," I'd say, "What did you do all day?" "I got the high score!" he'd reply.
Our wedding remained a mirage. If I asked about it, there was always a new milestone Chris wanted to pass — become a jet pilot, make captain. "Be patient," he'd say, "I want to surprise you." I was surprised: Five years had flown by, and we still weren't married. I didn't get it. Why did he need to have his whole life together before saying "I do"? I thought being young, in love — and bumbling through it together — was half the fun. Yet, though I ran meetings at work, ran a household, and organized events that took over entire islands, I was too scared to confront my would-be fiancé — scared to push him away.The year Chris finally became a jet pilot, we stopped flying together. He took his mom to Las Vegas all the time, but it was too hard to get me a seat, he said — I wasn't family. One day, my mom sent me a book about a man who loved airplanes more than his fiancée. My parents hated that I was just living with him, but I'd done it against their wishes, and I was determined to make it work. I'd already downgraded my wedding fantasy: Gone were visions of a big party and my perfect puffy dress. I replaced them with a smaller, simpler ceremony. After all, I rationalized, we'd been together so long, who needed a big party? I knew his friends; he knew mine. That May, yet another one tied the knot. "You'll be next!" she laughed. It was a running joke. But I felt like the punch line. Finally, I confronted him.
"Where do you see your life in five years?" I blurted out.
"I don't know," Chris said.
"C'mon," I pressed. "Do you see yourself in a house? What do you see?"
"I think I'll have a house," he said slowly. "And I'll be a captain. And I'll have a better car."
I couldn't believe it; I didn't figure anywhere in his five-year plan.
"Do you see yourself married?" I asked.
"I don't think I do," he said carefully.
"Why didn't you tell me?"
"Don't you like this the way it is?" he asked.
"I think you need to leave," I said.
It's been two years now, and I haven't really dated anyone since. For months, I cried like crazy, for the lost time, the lost dream — who I'd become waiting for him, what I'd put on hold. Because after I dried the tears, this is what I saw: I had been 23, and hopeful, when Chris first stepped off that plane. At 31 I was single again, scarred, and starting from scratch. Worse, perhaps. I had far more debt — $26,000 — than when I met him. Not to mention the $36,000 he owed me in back rent alone — which he acknowledged, and I tried, in vain, to collect. If we were married, it would be different. After all, I did the time. But I was never his wife, and I had no recourse.
I thought about it a lot. When, exactly, our relationship froze; why I was willing to prop us both up for so long. I don't think I'm alone in this. I've seen plenty of smart, strong friends go to amazing lengths to keep broken relationships aloft. But I do, in part, blame myself. Sure, I was good to Chris. I was good at supporting his dreams, and absorbing his debts, but at my own expense. I hated myself for that. So I took a long, hard look at the should-haves: ultimatums I didn't issue, signs I refused to see, and why I didn't pull the rip cord much sooner. All I can say is that it's curious how myopic we become in the pursuit of love — and particularly marriage. I didn't need it. I wore the suits. I was the breadwinner. But, I had to admit, beneath the career woman was this retro me, the Amy in that vintage cartoon, who really wanted it — clamored for her big dress, her turn to cut the cake, but also for something more enduring: the commitment I imagined marriage would provide. It's why I pinned my hopes on Chris for so long. I still hope to find it. Only this time, I won't try to will it into existence. I'll look for someone willing to give it in return.
Follow Marie Claire on Facebook for the latest celeb news, beauty tips, fascinating reads, livestream video, and more.
Celebrity news, beauty, fashion advice, and fascinating features, delivered straight to your inbox!