Diary of a Hookup from Hell
Abby and Peter spent a drunken night together. Awkwardness ensued. Here's how each saw it.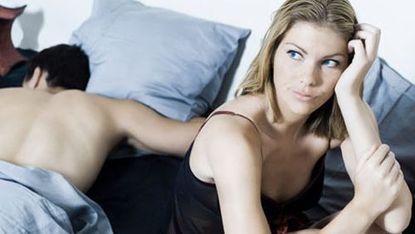 (Image credit: FRANCK CAMHI)
Marie Claire Newsletter
Celebrity news, beauty, fashion advice, and fascinating features, delivered straight to your inbox!
Thank you for signing up to Marie Claire. You will receive a verification email shortly.
There was a problem. Please refresh the page and try again.
SHE SAID Abby, 26, editor, New York City
SATURDAY 8 p.m., friend's place: Having a drink before we head to a birthday party for Peter, a guy I used to date. We have friends in common, so I see Peter every couple of months. When we drink, we hook up. But the last time we did, it was pretty clear that he thought I felt it meant more than it did.
11:30 p.m., Peter's place: Already tipsy. Head to the roof, where the party is.
2 a.m.: Peter decides it's time to break out the scotch. He pours two glasses.
3 a.m.: Things get fuzzy. People go home. Kissing with Peter commences.
4 a.m.: Clearly I'm sleeping over....
SUNDAY 8 a.m., Peter's bed: Naked Peter jumps out of bed as his alarm goes off. He mumbles something about sticking to a sleeping routine, throws on clothes, and runs out of the room.
9:30 a.m.: I'm up. My head hurts. And I can't find my purse, which means I can't leave his apartment. Ugh.
10 a.m.: I head up to the roof, where I figure Peter is hiding. He's cleaning like a madman. Refuses to make eye contact and insists we get some food. Then he mutters something hostile about having to buy me breakfast because I can't find my purse. What a gentleman.
11 a.m.: We text a friend to see if she accidentally grabbed my purse.
12 p.m.: Friend doesn't have the bag. Finally find it in Peter's dresser drawer.
12:30 p.m.: I make to leave. Peter goes in for a casual high-five. Nice.
TUESDAY 12:00 p.m., work: Send jokey e-card to Peter. "Happy Birthday to someone I feel incredibly close to when intoxicated." Figure this will help make things less awkward next time I see him.
12:30 p.m.: Get angst-filled e-mail back. Peter thanks me for the birthday wishes, apologizes for the weekend, blames the alcohol, and says it can't happen again. I hate that he feels the need to tell me all this. As if I'm to blame.
1 p.m.: Send sarcastic e-mail back: "I always have drunken sex with my good friends. I did that with Jenny last weekend!" I have to let him know I didn't think what happened meant anything. Which I thought was clear from my first e-mail but obviously wasn't. Ugh. Guys.
HE SAID Peter, 30, editor, New York City
SATURDAY 11:30 p.m., roof: I'm celebrating my birthday, and the party's going strong. Abby arrives. She's a girl I dated about a year ago and have hooked up with a couple times since — often thanks to alcohol. The last time we did this, I had to avoid her for a week to make sure we didn't have to talk about it.
12 a.m.: Talk to Liz (a girl I'm interested in) and her friends. Try to charm them....
1:45 a.m.: Liz is leaving.
2 a.m.: The beer's gone, so I go down to my apartment. Abby's there. We talk. I get myself a scotch. She wants one too.
3 a.m., roof: Abby sits next to me. Her plans are clear, so I kiss her. She always was a good kisser. I may regret this in the morning, but it's my birthday and nobody else got me a present.
3:30 a.m.: Set the alarm clock for 8 a.m. It'll be a good way to get her up and out.
SUNDAY 8 a.m.: Alarm goes off. I tell Abby she can go back to sleep but I need to get up because Dr. Oz says you should keep to a sleep schedule.
8:15 a.m.: I take a shower. She's not leaving, so I don't know what to do. I go up to the roof and start cleaning.
10 a.m.: Abby comes up and offers to help me clean, but I tell her it's fine. She can't find her purse. Which means she can't leave. I hope she doesn't ask to shower; I don't want to have to wash an extra towel.
10:15 a.m.: I'm starving, so I ask if she wants to eat. No brunch, because then we'd have to spend the meal talking. So we grab bagels. Since she doesn't have her wallet, I pay, grudgingly.
12:15 p.m.: Abby finds her purse. In my underwear drawer. I'm starting to think she "lost" it on purpose.
12:30 p.m.: At the door, Abby goes in for a hug. I give her a high-five. Figure it's a clear signal.
TUESDAY 12:00 p.m., work: It's my actual birthday. Abby sends me an e-card. The message suggests that she plans on more Saturday nights together. I do not.
12:30 p.m.: I write back. I apologize and tell her that Saturday has to be the last time anything like that can happen.
1 p.m.: She replies with a joke, so she must be cool with it ... but at the same time, she seemed cool with our breakup before. I don't respond. There's really not much else to say. Still, I realize that if I hook up with her again, I'm a jerk.
Celebrity news, beauty, fashion advice, and fascinating features, delivered straight to your inbox!