Like Mother, (Not) Like Daughter
How does a ripped-jeans-wearing, makeup-hating tomboy come out to her beauty queen of a mom?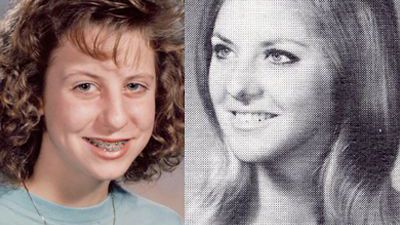 (Image credit: Courtesy of Stephanie Fairyington)
I was 28 when I decided to tell my mom that I liked women, especially one named Mary, my new girlfriend in New York City. My father had just died, and I didn't want to keep the secret anymore. But I would have to reveal it in a letter. There was no other way.
For one thing, I feared her wrath. My mother already had plenty of issues with my life choices: my sloppy clothes, slouchy posture, shaggy hair, and lowly standard of living in a city too expensive for my paycheck. But more than anything, I was afraid of disappointing her, which, from my first moment of consciousness, on March 3, 1976, I felt destined to do.
My mom was a towering, Type-A perfectionist who cultivated her good looks at pricey hair salons and mani-pedi parlors. She jonesed for product like a junkie, and could rattle off the pros and cons of the latest facelift or injectible in mind-numbing detail. My dad, a soft-spoken civil engineer from Buenos Aires, had always been happy to give her center stage, lavishing her with the things she loved most: golf, diamonds, and a beautiful home in San Diego.
I, of course, was a tattered-boot-wearing, jean-slumming urbanite who hated dresses and all things girly. In high school, I wore old-man trousers, beat-up wingtips, and no makeup (despite my supersized zits). I had braces and a perm that made me look like a poodle. I'd spend my lunch hour hunched over books in the library, occasionally chatting with misfits like me: drama geeks, deadheads, homesick ESL students. But while high school was my nightmare, it had been my mom's triumph. She held the various honors of "biggest flirt," "best sense of humor," and "best figure" over the years, and was in the running for prom queen her senior year in 1968. There's a photo of her in a sweet, short-sleeve, just-above-the-knee dress with a red-velvet ribbon in her hair, radiating a Marcia Brady smile that seems to say: "Yes, I'm pretty. I'm popular. Life is fabulous." And for her, life in sunny southern California was fabulous: She surfed in Mission Bay, partied with the cool kids, and dated a handsome array of guys — Eddie, David, Jerry, Chris — including the boy who was voted best-looking in her class.
Next to my mom, I felt like a toothless troll.
A regular source of friction: our Saturday-afternoon shopping trips to the mall in Escondido, California. "Oh, try this skirt on — it's so cute!" she'd say. Or, "This lipstick would look great on you." And the perennial favorite: "Let's get your hair done!" (Picture Ellen DeGeneres in a denim mini, pink lipstick, and big hair, and you'll have an idea of how I would've looked if she'd had her way.) I didn't often decline her invitations to these femininity fests, but I always felt like a drag queen (or worse, a football player), awkwardly lumbering around the shoe department in high heels. Being out of sync with my mom was a constant reminder that I was different. And at the time, in my mind, that was the same as being deeply flawed.
My senior year, I fell in love with a straight girl named Chelsea, a top student who lettered in soccer and basketball and had big brown eyes and dark, flowing hair. Our romance endured four years, entirely in my own mind. My mom, meanwhile, peppered me with advice on how to attract guys: "You look beautiful without makeup," she'd say, "but makeup accentuates a woman's beauty. And men are visual. You've got to use your feminine wiles."
Revealing the secret I'd carried around for a decade would only make the space between my mother and me grow wider, I thought. I couldn't imagine dropping the G-bomb in person and dashing her fantasies of a white wedding, of the intimate mother-daughter chats we'd have about the men in our lives. It would have to be done in a letter. Indeed, four days after I sent it, the call came:
Me: "Hello?"
Her: No answer. Just crying.
Me: "Mom?"
Her: "Stephie. I got your letter." More crying. "Does your brother know?"
Me: "Yes."
Her: "When did you tell him?"
Me: "When I was 16."
Her: "Does everybody know but me? Did Daddy know?"
Me: "No."
Her: "Why am I the last to know?"
Me: "I didn't want to hurt you."
Her: "What about Curtis? You told me you were infatuated with him."
Me: "Her name was actually Lisa Curtis."
Her: "And Andrew?"
Me: "Ann Pangan."
Her: "What about children ... my grandchildren?"
Me: "Mom, I'm not infertile."
A sigh.
Her: "Do you have a girlfriend?"
Me: "Yes."
Her: "What's her name?"
Me: "Mary."
A moment of silence.
Mom: "Well ... what's she like?"
It was as simple as that. I had expected anger, judgment, estrangement — everything but acceptance.
Soon after, I met my mom and her new husband for a vacation in Branson, Missouri, a town pulsing with Republican family values. I was a bit anxious about seeing her there, fearing she'd absorb the cultural climate around her and level me with disapproval. But she didn't. She made a couple of off-color jokes about my being gay — like affectionately referring to me as her lesbianite (a riff on sodomite) — and managed to break the ice.
Ever since then, our relationship has grown. I'm no longer evading questions about my personal life. I tell her about my girl troubles in the same way I'd tell her about my boy troubles if I were straight. She can see that having a queer daughter isn't so different after all. Of course, that doesn't stop her from occasionally grabbing a billowy blouse off the rack and saying, "I think you'd look great in this." Although now she'll follow up with, "But I know it's not you."
Stephanie Fairyington is a research editor and freelance journalist who has written on gender and sexuality for ELLE, The New York Observer, Time Out New York, The Huffington Post, Dissent, Utne Reader, Advocate, and OUT.