80 Creative Second Date Ideas to Keep the Spark Going
You can do better than dinner and a movie.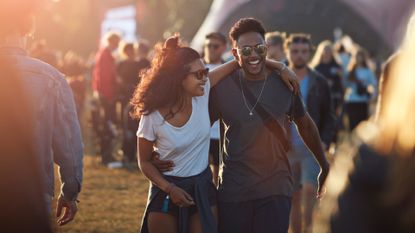 (Image credit: Getty Images)
Now that you've gotten the awkward first date small talk out of the way, there's room to get creative on the second one. Yes, you could play it safe and opt for a traditional dinner, but it pays to think outside the box. A new shared experience can help you get to know your date in ways you wouldn't be able to, say, chatting over a three-course meal—not to mention, those get expensive! Unfortunately, coming up with creative date ideas isn't as easy as feels like it should be. It's easy to say you don't want to just do dinner and a movie, but when it actually comes to planning something more out of the box, you're not alone if you completely freeze up.
Luckily, you don't have to live in a real-life romantic comedy to plan something special in the second date department. All it really takes is a little extra effort and some soul-searching about what you truly love to do (and what you think your date will truly love to do, based on what you learned about them on the first date). And, if you're still stuck, you've come to the right place. Ahead, we've compiled 50-plus second date ideas. They all guarantee fun, get the conversation going, and/or ensure there's no mid-date awkwardness, plus many of them double as genuinely cheap dates (that don't feel cheap). Happy dating!
1/80
Go to an Amusement Park
If there's an amusement park near you, hit it up. Thrill rides are a fantastic excuse to get cozy.
2/80
3/80
Go to a Dog Park
Even if neither of you have a dog.
4/80
Try Archery
You'll be like real-life Cupids.
5/80
Climb a Rock Wall
The couple that gets sweaty together stays together.
6/80
Do an Escape Room
You'll be forced to work together and learn a lot about how your date thinks in the process.
7/80
Go to a Carnival
You don't have to go to an all-out amusement park with roller coasters to have fun. Carnivals are one of those timeless traditions that feel just as exciting on screen as they do in real life. Play some games, eat too much cotton candy, and take a trip on both the ferris wheel and the carousel.
8/80
Do a Boozy Paint Night
There are about a thousand companies that specialize in hosting these events and you'll bond over your artistic talents (or lack thereof).
9/80
Watch the Sunset
Free and romantic.
10/80
Do a Color Run
Only the most fun, most whimsical of all 5Ks.
11/80
Visit a Botanical Garden
When it comes to beautiful places to walk and talk for hours, botanical gardens pretty much top the list.
12/80
Go Ice Skating
Hand-holding is 100 percent guaranteed. Need we say more?
13/80
Do Karaoke
A person's go-to karaoke song says a lot about them. Are you more of a ABBA "Dancing Queen" or Gloria Gaynor "I Will Survive?"
14/80
Make It Dessert-Only
Find an over-the-top dessert place you've been dying to try.
15/80
Visit Your Favorite Bookstore
Much like their favorite karaoke song, the type of books they're interested in determine who they are as a person. Don't like Didion? Thank u, next.
16/80
Go to a Hockey Game...
If it's already cold outside, you might as well get tickets to watch your hockey team play. A little competition never hurt anybody, and you can get cheap seats in the 400s section.
17/80
...Or a Baseball Game
On the other hand, once spring rolls around there's nothing better than watching some baseball with a hotdog and soda in hand. Ticket prices will be pretty cheap earlier in the season, which starts in March.
18/80
Go to an Outdoor Concert
If they enjoy your favorite music, they'll pass the test—and can now go on a third date with you.
19/80
Go Kayaking
Though this could get incredibly awkward (falling into the water, unnecessary feet-touching, etc.), kayaking is the perfect opportunity to test out his or her teamwork skills. If you end up on the complete opposite side of your destination, you know what to do.
20/80
Hit up a Rooftop Bar
If you live in a city where you're lucky enough to experience the incredible views, why not do it with someone new? Find a rooftop bar that fits the vibe (whether that's cozy intimate or more of a crowded scene) and soak it in together. Who says you have to stay at just one bar, either?
21/80
Play an Outdoor Sport
Toss around a Frisbee in the park or hit up the basketball court for some one-on-one. Teamwork and the natural endorphins are guaranteed to pull you closer.
22/80
Take a Drive
If you really vibed on the first date and want to have some alone time beyond your neighborhood or city, plan a scenic drive somewhere with #views. Spread out a picnic or pack some snacks for the ride.
23/80
Grab Brunch
If you want a less stuffy environment than a dinner setting, where there's mimosas aplenty and no pressure to stick around for the rest of the day, try going for a day date to brunch on the weekend. For fellow angsty people, you can at least get the date out of the way and then go about your day instead of sweating it until evening.
24/80
Hit the Beach
Plan a beach date with a group of friends or just the two of you. Pack some snacks and sunscreen at high noon, or head out to the sands for a sunset stroll.
25/80
Take a Ferry or Water Taxi
Wind blowing in your hair plus picturesque views of the skyline are the ideal mood-setters for a date. Take a ferry or water taxi to an unexplored part of your city if you want to make it a longer day trip.
26/80
Scour Yard Sales and Outdoor Flea Markets
Summer is ripe for yard sales and outdoor flea markets. If you both have a bug for finding cheap records or furniture, take a walk around your neighborhood for the latest sidewalk sales or peruse the odds and ends at a nearby market.
27/80
Go Skating
Even if you're not exactly blessed with great balance, you and your date can at least keep each other upright with a couple's skate at your nearest roller skating rink.
28/80
Set Up a Bonfire
This one's great for a single or group date. Load up some drinks and snacks, then take to the beach or someone's backyard for a bonfire.
29/80
Visit Your Local Botanical Garden
Do some strolling in a beautiful botanical garden that's more scenic than your average nature walk. If you've brought snacks, take them to the gardens outside and settle onto a bench to chat.
30/80
Rent Bikes
Whether you're in a city or the countryside, renting bikes is a great way to explore where you live and get exercise at the same time. If riding the open road isn't your thing, find a trail that provides more shade and requires less planning.
31/80
Attend a Gallery Opening
Galleries are great events for dates because there's usually not an entry free and you can score a glass of wine. Plus, the surrounding photos and art will provide instant conversation cues to transcend basic small talk.
32/80
Go Wine Tasting
Here's an easy way to grab a drink and feel cultured at the same time. A wine tasting tour will teach you a thing or two about grapes, vintages, bouquets, and after a glass or two, him.
33/80
Check Out a Local Ghost Tour
Ghosts tours are great out-of-the-box dates for many reasons: they require both of you to tap into your imagination, suspend disbelief, and get the adrenaline pumping.
34/80
Find an Outdoor Public Pool That's Open Late
For a racier warm-weather date, venture for a dip at sunset. Little kids will be gone, and there's something exciting about being in a pool after dark.
35/80
Go to the Zoo or Aquarium
Zoos and aquariums are fun options for dates when you want a creative setting. Enjoy some light banter under the calming blue lights of an aquarium or trade stories as you take in all of the sights and sounds of the wildlife.
36/80
Shoot Some Pool
A local dive-bar can provide a lot more entertainment than a stuffy cocktail joint. Split a pint and play some pool to mix things up. Or, when that gets old, you can always play a game of foosball or darts.
37/80
Explore the Local Farmers Market
The range of tasting options at a farmer's market will give you plenty to talk about and sample. If you're feeling extra ambitious, round up some fresh ingredients while you're there and cook a meal together.
38/80
Play Some Mini-Golf
Take a card from your youth playbook by organizing a friendly game of miniature golf. Stakes will be low and there will be plenty of chances to banter while you recover golf balls from tough nooks and crannies (it's bound to happen).
39/80
Go Bowling
Who cares about gutter balls? If you're worried about striking out, set up the bumper guards or get competitive without them. Grab some beers and pizza to make it a night.
40/80
Play Trivia Night at a Bar
Amaze your date with your catalogue of random facts about history and pop culture and bond over your shared knowledge of obscure SNL skits. Plus, if your team wins, drinks are usually on the house.
41/80
Take the Train
See how well the two of you do with public transportation. Choose a beach or a historical site just outside your city—nothing more than an hour away—and get to know each other on the ride.
42/80
Kick Back at an Arcade
Even if Ms. Pacman wasn't part of your childhood, an arcade date playing old-school games is bound to loosen you up and create a fun, interactive atmosphere. And if you know a local barcade, you can sling back some IPAs at the same time.
43/80
Go Apple Picking
Some quality time in nature never hurts. Come fall, this is the perfect way to stroll in the outdoors while enjoying some delicious apple-cider donuts.
44/80
Stage Your Own Film Festival
You don't have to Netflix-and-chill on date #2, but you can set up a cozy movie night that guarantees you some privacy. Settle on a film or a couple episodes of a television series (if you're scrambling for options, a comedy will lighten the mood) and order in some pizza.
45/80
See a Live Music Show
After dinner, head to a local show to see some live music—but do your research, since a random band that can't play their instruments can be a serious mood-killer. Here's an opportunity to find out more about his musical tastes and to see how you both gel in a performance setting. This one doesn't have to be your favorite band.
46/80
Go Boating
Sailing can be precarious unless one of you has some prior expertise. If you want to keep it simple, rent a paddleboat in the park to reinvent that scene from 10 Things I Hate About You when it's sunny out.
47/80
Visit a Museum
Pick a museum that suits the mood you want to set. Attend an opening you've both wanted to check out or explore the galleries of a museum with enough options to keep you entertained for more than one hour. It's an added bonus if you have any special knowledge you've studied up on (looking at you, art history majors).
48/80
Have Your Palms Read
Whether you believe in the occult or not, a palm reading is sure to spark some interesting conversation. Just don't ask any questions about your love life.
49/80
Go Horseback Riding
For the uninitiated, find a local stable and schedule a riding lesson. Or, ride out unchaperoned into the sunset if you already know the ropes.
50/80
Enjoy an Adventurous Meal
A date option that works for foodies is trying food that's a little out of your comfort zone. Never shucked an oyster before? Always wanted to try Ethiopian cuisine and know a local restaurant with stellar Yelp reviews? Let yourself enjoy a little cultural adventure and learn some things about each other's willingness to take risks. This one's also a great chance to order a spread of different options and to sample it all.
51/80
Booze It Up at a Biergarten
A staple of German culture, Biergarten literally means "beer garden." Stretch your cultural muscles and test your tolerance with this age-old Teutonic festivity.
52/80
Take a Picnic to the Park
This idea's a tried-and-true classic. Grab a blanket, make some sandwiches, and hit the green. After you're done eating, lay back in the sun and people-watch.
53/80
Make Fireplace S'Mores
If you're running out of cold weather ideas, get the fireplace going (or a mini grill for city dwellers) and make some s'mores.
54/80
Attend a Poetry Reading
Poetry slams can go either way: they can be an enlightening experience or a fidgety nightmare if the poetry is just bad. If both of you are literary people, it's an easier pill to swallow, but if not—come with an open mind and a backup option in case you need to slip out halfway through.
55/80
Cook Dinner Together
Here's your chance to really show off your cooking skills and your mean mac n' cheese recipe. If your partner's the better cook and you're more of a Seamless girl, sit back and take the sous-chef role. You'll deal with the chopping and peeling, then relish the experience of eating an amazing meal you helped create.
56/80
See a Stand-Up Comedy Show
Laughing releases endorphins, which sets a great tone for the night. But be sure to sit in the back—a good comedian will pick up on even the smallest hint of awkwardness and exploit it.
57/80
Brave a Burlesque Show
A little skin can be a good thing, so find a local burlesque group and catch a show. Take note though: This one's a racier second-date option, and not made for those who blush easily.
58/80
Race Go-Karts
If you like your dates with a jolt of adrenaline in the mix, invite them to a go-cart showdown where you can try your hand at some hairpin Fast and Furious turns.
59/80
Explore a New Area
Agree on a part of your city or town that you've never seen before. Stop in to the local sights, try the food, and get a feel for how to navigate the neighborhood.
60/80
Volunteer to Walk a Dog
Take your date to the local animal shelter and offer to walk a pair of lovable pups. Animal shelters are always looking for volunteers, and you'll be able to gauge his patience with animals.
61/80
Plan a Board Game Night
Board game night is a great option for days when the weather sucks and you really don't feel like going out. Order in and take a stab at some Trivial Pursuit and a couple card games, or school him with a competitive game of Scrabble.
62/80
Hit the Slopes
If you live near a ski resort, snowboarding or skiing is a fun way to get to know each other and show off your adventurous side. (Note: not ideal for beginners.)
63/80
Go Stargazing
It may be more difficult if you live in the city, but once you've ventured out into areas with clear skies, you can test out your astrologer skills—no telescope required. Wear some warmer clothing, stretch out on a fleece blanket, and try to spot as many constellations as you can. Very romantic.
64/80
Take a Long Scenic Walk
Whether you're hitting a beach, taking a short hike, or following a waterfront path, the key here are the views. The walk will give you plenty of time to get to know each other and the sights will feel special when you're sharing them with someone else.
65/80
Attend a Food Festival
A well-fed person is a happy person, which makes the appeal of taste festivals kind-of a no-brainer. Take a stroll through the street carts, sample each other's food, and simply enjoy each other's company.
•••
For more stories like this, including celebrity news, beauty and fashion advice, savvy political commentary, and fascinating features, sign up for the Marie Claire newsletter.
66/80
Watch an Outdoor Movie
The summer is prime time for outdoor movies—grab a blanket and a cooler and find one near you. They're just as entertaining as going to a theater, but you get the added bonus of cheap snacks and outdoor air.
67/80
Go on a Hot Air Balloon Ride
While this may not be the most affordable date idea on this list, it is guaranteed to impress your date. As long as neither one of you are afraid of heights, nothing sounds as romantic as watching the sunset from the sky. Bring along a bottle of wine, enjoy the view, and mentally prep your third date.
68/80
Play Bingo
Bingo isn't just for your grandma. Take your date to a bingo hall and play a few games. The more into it you are, the more fun it is. You may even score cool prizes to win for your date
69/80
Play a Game of Pickleball
Pickleball is the rec sport taking over the nation. Join in on the fun on your next date. Head to a court and challenge your partner for a couple of one-on-one games. Not only is it a fun way to get active, but a little competition can certainly get the sparks flying.
70/80
Hold a Card Tournament
What's better than going to an actual casino is playing casino games at home and not losing all of your money. Grab a pack of cards and play a few of your favorite games. To make it more interesting, add some fun stakes. Loser can buy the winner dinner or plan the third date.
71/80
Dance the Night Away
Is there anything more fun than going out and dancing to your favorite music? We'd wager no. Pick your favorite club with the best music and bust some moves on the dance floor. At some point, dancing does require getting close to one another *wink, wink.*
72/80
Go Paddle Boating
Got a lake or pond nearby? Rent a paddle boat and enjoy the scenery. It's an activity that takes a combined effort, plus you'll be secluded enough to have some deep convos.
73/80
Paint Some Pottery Together
Depending on your artistic skills, you could start from scratch with some clay and build your own piece. But if you're lacking in the arts department, painting a mug or vase can be just as fun. Your date can give you painting inspo, then you both get to go home with a new piece of kitchenware that serves as a cute memento of your date.
74/80
Catch a Movie at a Drive-In Theater
Yes, these are still a thing and they can be a fun way to shake up date night. Since you more than likely don't live in super close proximity to one, enjoy the road trip, stop on the way for snacks, then settle in for a classic flick. Just don't forget the blankets.
75/80
Go Axe-Throwing
Maybe your date has had a long week at work. Or maybe you're dying to show off your throwing skills. In either case, ax-throwing works as the perfect date activity. Lots of venues have a BYOB rule, too, just don't go overboard while handling a dangerous weapon.
76/80
Play Bartender for Each Other
Getting drinks at the bar isn't nearly as fun as making them yourself. Each of you can pick your favorite cocktail or choose a recipe you've been dying to try, then challenge the other on how can make the best drink. If you're not too confident in your bartending skills, you can always sign up for a mixologists class together, too.
77/80
Attend an Open House
Pretend you're an already established couple and find the most outrageously-priced open listing you can find. While you're touring the home, you can both share your ideas for your dream house. You'll quickly discover whether or not you share similar decor styles
78/80
Make it a Double Date
If your partner is cool with it, make your second date a double date. Adding your bestie and their significant other into the mix can help if the conversation stalls. Plus they will be able to tell right off the bat if you're vibing well with you date since they know you the best.
79/80
Attend a Drag Show
Objectively, drag shows are fun, hilarious, and entertaining as hell. Whether you go for a brunch or evening show, your date is practically guaranteed a great time. Make sure to bring some dollar bills, though, so you can tip the hardworking queens!
80/80
Have a Karaoke Session
By the second date, hopefully you're starting to loosen up around one another, meaning its the perfect time to hit up a karaoke bar. Challenge each other to a sing-off with your favorite tunes. You'll sound even better depending on how late into the night you go.
Celebrity news, beauty, fashion advice, and fascinating features, delivered straight to your inbox!