The 16 Best Vibrators On Amazon, Hands Down
Good vibes, delivered straight to your door.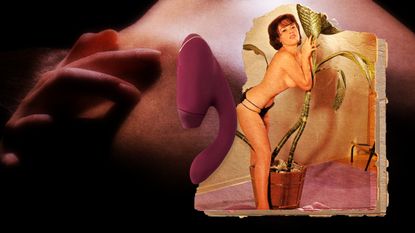 (Image credit: Brittany Holloway-Brown)
As much as I love shopping in real life and getting to check out products firsthand before I commit, sometimes I know exactly what I want, and I know I want it delivered straight to me. This also goes for vibrators—the most popular sex toys of all time. Once I understood how to use each type of vibrator, I felt more comfortable shopping online, and soon realized that many of the best vibrators sold on the internet are available at Amazon. This includes remote vibrators, clitoral vibrators (like bullet, wand, and clitoral suction vibes), g-spot vibrators, anal vibrators, and rabbit vibrators. In short, no matter what your ideal vibe is, you can have it delivered straight to you (in two days! What a time to be alive!) without having to locate your nearest brick-and-mortar sex shop.
However, Amazon boasts an insane amount of products, and it's important to be discerning—particularly when buying a product that's intended to touch some of you and your partner's most sensitive body parts. Thus, we've consulted sexperts and sexologists and have combed through hundreds of products and reviews to bring you the very best vibrators on Amazon right now.
The Best Clitoral Vibrators on Amazon
Many women prefer clitoral stimulation over penetration, and there are a variety of vibrators on the market that cater to this preference. In fact, much new sex toy technology, such as suction and air pleasure, is made to stimulate the clitoris in particular. Below, some of the most innovative and highly recommended vibrators on Amazon for your best clitoral experience yet.
The Best G-Spot Vibrators on Amazon
While the existence of the G-spot remains a highly contested (mostly because mainstream science consistently fails to invest in research on female pleasure), it's undeniable that many people with vaginas enjoy the G-spot stimulation that comes with penetration. Therefore, there's a myriad of vibrators made for such internal use, and the selection caters to beginners, advanced users, and everyone in between.
The Best Dual Stimulation Vibrators on Amazon
When it comes to stimulating the clitoris and the G-spot, there's really no need to choose just one. Below, the best rabbit vibrators on Amazon for dual (and even triple!) stimulation that'll knock your sexual socks off.
The Best Anal Vibrators on Amazon
For more, visit our Sexual Wellness section, where we unpack topics around consent, kink, sex toys, and more so you can have your safest and very best sexperiences yet.
Meet the Experts
Marla Renee Stewart, MA is a professional sexologist and intimacy/relationship/sex coach. In addition to working as a speaker and author on these topics, she is also a sexpert for the sexual wellness brand Lovers ,owns a sexual education company called Velvet Lips, and is a faculty member at Clayton State University, where she teaches Sociology and Women's and Gender Studies. Co-Founder of the Sex Down South Conference and a board member of both PARK Reproductive Justice NOW! and the Diverse Sexualities and Research Education Institute, Stewart is passionate about bringing together diverse voices in order to spread sexual education and liberation.
You may also know Stewart from the media: She has been featured on over 60 podcasts and and television shows, making appearances on the likes of Netflix's Trigger Warning with Killer Mike, VH1's Love & HipHop Atlanta, GPB's Personal Injury Court, and Oxygen's Bad Girls Club: Atlanta. In addition, she also sits on the Boards for SPARK Reproductive Justice NOW! and the Diverse Sexualities and Research Education Institute.
Canadian-born Angie Rowntree is an award-winning indie filmmaker who pivoted into ethical porn when she founded Sssh.com, a porn site that exclusively produces ethical, feminist material. The site has won numerous awards and is the longest running feminist porn site on the internet.
Originally from Macedonia, Dr. Zhana Vrangalova has always been interested in transcending traditionalism and cultural boundaries in order to foster better relationships and self-esteem. Now, in addition to teaching at NYU, she offers online courses to help people be their most authentic selves and engage in fulfilling relationships.