The 15 Best Rabbit Vibrators of 2023
No bunnies were harmed in the making of this list.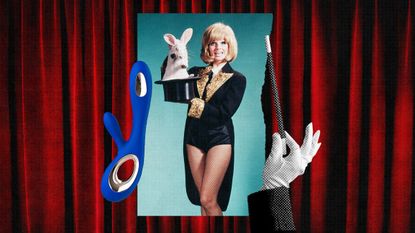 (Image credit: Future)
When it comes to finding the best vibrators around, many people gravitate to the rabbit vibrator. This popular sex toy is designed for those who enjoy both clitoral and G-spot (or internal) sexual stimulation simultaneously, and it got its name from its dual components, which often look like rabbit ears. Angie Rowntree, the founder and director of ethical porn site Sssh.com, reminds us that we may be familiar with the vibrator because of its memorable cameos in popular culture.
"The Rabbit [went] viral by 1998, when Sex and the City saw Charlotte opting to stay home with her rabbit instead of deal with another bad date," she says. "These days, however, the market for dual action toys has radically expanded your options―and bunny ears are quite optional."
Indeed, rabbit vibrators now come in a variety of different shapes and sizes, and can be used during alone time or for partner play. Many are also more inclusive by offering strap-on and anal rabbit options, so that no matter what your sexuality, identity, or kink preference is, you'll undoubtedly find something that suits you.
Keep scrolling for the best rabbit vibrators according to sex experts and verified user reviews, and check out our guide on how to use a vibrator if you need a refresher on the logistics of it all.
Deals on Rabbit Vibrators
When it comes to the products Marie Claire recommends, we take your faith in us seriously. Every product that we feature comes recommended by a MC writer or editor, or by an expert we've spoken to. Learn more about how we review products.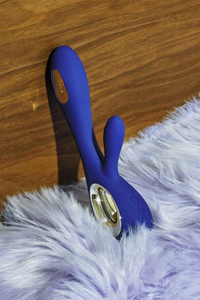 LELO Soraya Rabbit Wave Vibrator $259 $167 | Amazon
This sexpert-approved vibrator boasts three motors and eight vibration settings for what Angie Rowntree calls "the ultimate blended orgasm."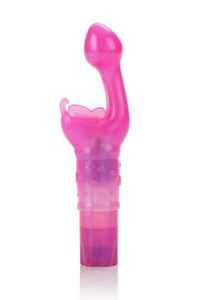 Adam & Eve Butterfly Kiss $20 $13 | Adam & Eve
Reviewers recommend this heart-shaped option for both newcomers to sex toys and experienced toy users. Reviewers love it for its ability to deliver strong, consistent orgasms as well.
The Best Rabbit Vibrators
Best OG Rabbit Vibrator
CalExotics Jack Rabbit Signature Silicone Thrusting Rabbit
If you want a traditional rabbit vibrator, check out this one, which played a pivotal role in vibrator history. Rowntree explains that while rabbit vibrators and bunny-shaped clitoral stimulators hit the market in the 1980s, the toy "didn't become popular with US consumers until around 1994 when Susan Colvin brought the Jack Rabbit toy design to her newly formed company, CalExotics." Behold, the classic.
Pros: sexpert-approved; thrusting; customizable vibration settings
Cons: isn't quiet
Customer Review: "The material it's made of feels so freaking soft. I've only used it twice and each time has been memorable. The thrust feels amazing and WHOA! Those little ears! This is my first Rabbit and I went big or home and this has made me a fan of Rabbit vibrators." -Adam & Eve
Best Rabbit Vibrator for Beginners
We-Vibe Nova 2 App Controlled Rechargeable Rabbit Vibrator
"The We-Vibe Nova 2 is a great rabbit vibrator for beginners, advanced users, and partner play," says sex educator and Lovehoney sex expert Javay Frye-Nekrasova. "The adjustable arm's flexibility allows for people to adjust it as they need regardless of experience level. The handle length allows for partners to take control of the toy and use it on their partner."
Pros: sexpert-approved; can be controlled via mobile app; waterproof; free of latex and phthalates
Cons: some customers say battery life isn't long enough
Customer Review: "Aside from the usual We-Vibe delights (great, easy to use app, and soft touch silicone), I am thrilled by how the shape and design really hit both the internal and external spots without feeling 'pokey'...I cannot recommend this baby enough." -Lovehoney
Best Latex-Free Rabbit Vibrator
Lovers Juicy G Dual Vibrator
"Most great vibrators are made of silicone and this one is as well. If you're allergic to latex, no problem, as this vibrator does not contain any and it's phthalate-free, which means that it won't cause cancer," says Marla Renee Stewart, a sexpert for Lovers. "On top of that, it has a 50-minute run time if you want to have a long session and it has a 5-year warranty."
Pros: customizable vibration speeds and settings; sexpert-approved; good for all experience levels; easy to grip and use
Cons: some users who enjoy penetration find that it's not girthy enough
Customer Review: "My partner and I have never found a vibrator with settings that are gentle enough for me AND strong enough for them. This one has settings that are PERFECT for both of us!" -Lovers Stores
Best High-Tech Rabbit Vibrator
Rowntree loves this product, which she calls "cutting-edge." Furthermore, she says, "Lioness 2.0 is designed to deliver not only pleasure, but real biofeedback. The toy can be synced to their app and provide you with real data about your pleasure, because Lioness reads your pelvic floor movements (contracting and relaxing) as you reach orgasm." Talk about state-of-the-art!
Pros: high-tech; customizable; great for all experience levels
Cons: expensive
Customer Review: "This product is the bees knees. Able to track your orgasms and bodies responses to pleasure using 3 separate sensors. The app allows you to really get into the nitty gritty of what helps or hurts your orgasms. With tags like #smoked cigarettes or #got-high, even #stressful day, the Lioness is the cum nurse you never knew you wanted." -Lioness
Best Luxury Rabbit Vibrator
Evolved Dancing Pearl Rabbit
"This sleek, modernized Rabbit is made from luxurious silky silicone that meshes with your body temperature," says Rowntree. "It still has 'vibrating pearls' that dance up and down the length of the shaft like the original Rabbit too, and the tip is also designed to hit all the right spots inside. The shaft and bunny ears have 3 speeds and functions that can be controlled separately so you can further customize your pleasure."
Pros: free of phthalates; customizable settings; sexpert-approved; silicone; waterproof; phallic part feels realistic
Cons: large and girthy, so some beginners find it overwhelming
Customer Review: "First off, it's adorable. The color, the luxury feel of the silicone, the charger, everything. It's fairly quiet; the beads are definitely louder than the vibrator. I had never used/owned a dildo before, and was made aware that this was uncomfortable for some women. When using it for me, I found it to be a bit uncomfortable at first, but with some lube it's really fine. The beads are a bit intense, which I loved in use with the vibrator." -Amazon
Best Triple-Action Rabbit Vibrator
LELO Soraya Rabbit Wave Vibrator
"LELO's Rabbit Wave is technically a 'triple action toy' with 8 vibrational settings, and three motors for the ultimate blended orgasm," Rowntree describes. "A 'non-bunny' Rabbit, the Soraya features a fully flexible arm with ultra-powerful vibrations for your clitoris–no matter what your body type. The Soraya's slightly curved shaft is also ideal for internal G-spot massage, as its 'WaveMotion technology surges in a finger-like motion' to deliver ultimate pleasure."
Pros: sexpert-approved; customizable; can be used hands-free; massage-like feel
Cons: big and girthy, so some beginner users find it overwhelming
Customer Review: "Wow, this truly is another level of toy. Absolutely worth the money—I don't generally enjoy rabbit-type vibrators but this was a 10/10. This is coming from someone who for many years has relied on an old school Magic Wand. The fact that you can use it hands-free is a huge plus. Buy this!" -LELO
Best Rabbit Vibrator for the Small Clitorises
Evolved Bunny Buddy Dual-Action Vibrator
"If you have a small- to medium-sized clitoris and you like penetration, I suggest getting a rabbit vibrator like the Evolved Bunny Buddy," says Stewart, who explains that the toy "uses the ears to maximize the stimulation of the clitoris."
Pros: sexpert-approved; waterproof; phthalate-free; ten customizable settings; curved shaft for a realistic feel; anal-safe
Cons: some users ssay it's difficult to charge
Customer Review: "All of the settings are actually useful vs others where I would only use one. My new favorite. I'm a beginner and this has made me fall in love all over again. It hits all of the right spots and the results are way more than I expected." -Lovers Stores
Best Rabbit Vibrator with Air Pulsation
Javay Frye-Nekrasova specifically recommends this option, saying, "For advanced users looking for multiple forms of stimulation the Womanizer Duo offers the best of both worlds with Air Pleasure technology and vibration."
Pros: non-phallic, so inclusive for all sexualities; high-tech; luxury; sexpert-approved
Cons: none identified
Customer Review: "I recently purchased the Duo for my wife. She has a little difficulty when it comes to orgasm with toys.
She was kind of hesitant about using this product. I told her, 'Let's use it for just a few minutes and see how you like it. If you don't, we will not use it.' After 4 minutes I attempted to take it away and she stated, 'Don't you dare move it'...Needless to say she is an extremely satisfied customer. Crazy intense orgasm." -Womanizer
Best Doctor-Recommended Rabbit Vibrator
LELO sexpert and NYU professor of Human Sexuality Dr. Zhana Vrangalova says that LELO's Ina Wave 2 is "the way to go" for those looking for effective, high-quality "dual clit/vagina" stimulation.
Pros: quiet; doctor- and sexpert-approved
Cons: some users found the clitoral arm too firm
Customer Review: "Quite possibly the most impressive technological trifecta in the vibrator industry. This supple, ergonomically pleasing, and gently contoured fella does not waste time with moldings...It sticks to simple curved engineering harmony with premier materials and motors." -Amazon