Hallmark's New Valentine's Commercial Features a Real Lesbian Couple
And is painfully sweet.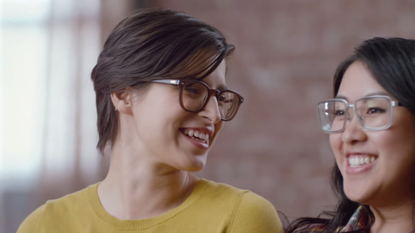 (Image credit: Hallmark)
We're pretty much swooning over Hallmark's Valentine's Day commercial: Starring a real-life lesbian couple, it reminds us not only of the things we should be saying to our partners all year long (trust us—watch below), but also of the fact that more companies are hopping aboard the #loveislove train, and celebrating diversity and the LGBT community at large.
The snowball of change is rolling downhill and gathering speed (last month, we were thrilled to see Tiffany & Co. feature a gay couple in their engagement ads)—and is even making headlines elsewhere today: Obama's new budget proposal for 2016 includes a key change that would allow married same-sex couples to receive Social Security spousal benefits even if they live in a state that doesn't currently recognize same-sex marriage.
Watching this Valentine's Day ad—seeing how these two women care for one another, their doting dedication to each other's happiness—it's hard to imagine how anyone can call into question the validity of their love. And that's exactly Hallmark's point.
Check out the video here (don't worry, you still have time to rethink your V-Day card):
You should also read:
Tiffany & Co. Features First Same-Sex Couple in Engagement Campaign
Is the Final Frontier of Marriage Equality When Women Can Get Down on One Knee?
Elizabeth Kiefer is a features editor at Cosmopolitan, where she focuses on enterprise stories, narrative reporting, and cultural coverage for the magazine's print and digital platforms.