Is the Final Frontier of Marriage Equality When Women Can Get Down on One Knee?
Is the Final Frontier of Marriage Equality When Women Can Get Down on One Knee?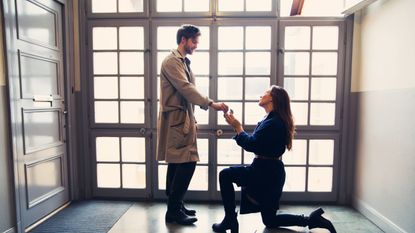 (Image credit: Archive)
We were pretty jazzed when Tiffany & Co. featured a real-life (and remarkably handsome) gay couple in their recent engagement campaign—it's so wonderful to see companies endorsing the fact that love is love, no matter what that love looks like. (Although we also can't help but point out that by retiring the status quo, marketing departments are also benefiting their own bottom lines. What can we say: It pays to be inclusive.)
But despite the rah-rah feel of this moment, there's still something bugging us about the marriage industrial complex. We're all for two handsome men tying the knot, but we can't help but wonder when it will be socially acceptable for a woman to get down on her proverbial knee and propose that she and her male partner make the leap.
From the day a little girl starts tromping around in her mother's too-big high heels and a dress-up veil, the story goes: Someday, someone will drop down and romantically ask the question to which the only answer is yes. And while the world is a different now than it was when we were that age, this is an area where we haven't made a whole lot of progress. When it comes to co-parenting, career balance, and the sharing of household chores, we're in the modern age. But a woman asking a man for his hand in marriage? Still relatively unheard of. Even the most feminist-forward of guys seem to feel as though someone's stepping on his matrimonial toes.
So yes. It's thrilling to see couples of all kinds being featured in print ads and the Times Weddings Announcements. But little girls need a new fantasy—one where they have just as much power to pop the question as the next guy does. When "will you?" is something anyone can ask, we'll actually be on our way to equal footing in everything that comes after "I do."
You should also check out:
These Will Be the Biggest Feminist Issues of 2015
Falling in Love with My Transgender Husband
Surprise Surprise: Republican Men Don't Want a Female President
Elizabeth Kiefer is a features editor at Cosmopolitan, where she focuses on enterprise stories, narrative reporting, and cultural coverage for the magazine's print and digital platforms.