Tinder Use Reached an All-Time High on Valentine's Day
Here's to last-minute V-Day plans.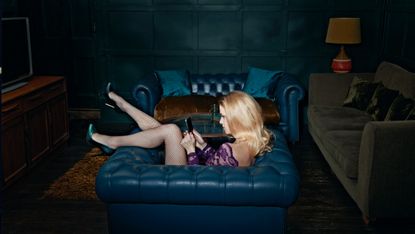 (Image credit: Getty Images)
It's silly to believe you need to be in love to love Valentine's Day, which is basically just a 24-hour excuse to eat too much chocolate and watch too many rom-coms. But if you do happen to be single, the Hallmark holiday can feel like a blaring reminder that you're alone—again, still, whatever.
Which explains why the dating app had its busiest day ever on February 14th, according to Vanity Fair (opens in new tab). Swipes, matches, and messages were all up—in fact, Tinder saw a 60% increase in matches with users who used the app on Saturday.
Interestingly (though maybe not surprisingly), things were back to normal on Sunday, and not just because half-price Valentine's candy serves as an excellent distraction. Jessica Carbino, a sociology Ph.D. candidate and Tinder researcher (which is apparently, awesomely, a thing), told VF.com (opens in new tab): "While individuals anticipate an event and modify their behavior due to the stimuli (Valentine's Day), user behavior is not sustained after the stimuli is gone. This may be because lasting behavioral changes require multiple steps, including steps that are very directed, and Valentine's Day may not be a sufficiently strong stimuli for this change to be a sustaining one."
Props to anyone who woke up on V-Day and decided to find a last-minute date, though—that takes balls (er, ovaries?) and we like it.
You should also check out:
This Video of Every Guy You Meet on Tinder Is Genius (opens in new tab)
How One Woman Toured Eastern Europe Using Tinder (opens in new tab)
Bad News: If You're Breaking Up Anytime Soon, It's Probably This Week (opens in new tab)